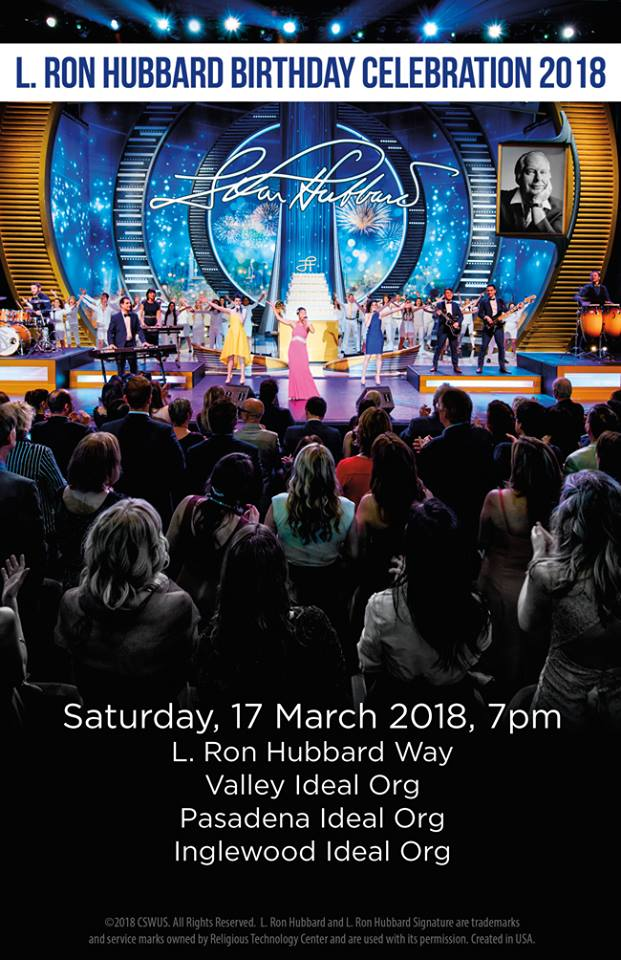 It is hard to imagine 10 or 20 years ago that the March 13th event in LA would NOT be held in the Shrine Auditorium.
It was one of the BIG events that was always held in a big venue.
Back in the day, there were also big events for Auditor's Day and May 9th held at the Shrine Auditorium.
The Auditor's Day event was first to go. It was too close to the IAS event and too soon after the Maiden Voyage — AND it was not a big money-maker and celebrating auditors was not high on Miscavige's priority list. First Dear Leader stopped attending, then it became a "local" event (ie no central televised event with "Int speakers") with videos, releases and props sent out to each org. Nowdays I don't even think they do that.
Next was the May 9th celebration. It was one of the "big" events Miscavige did — but he abandoned that one too. Again, not a big money-maker. It's also now become a "local" event.
Miscavige focuses on March 13th, the Maiden Voyage (4 separate events in one week on the Freewinds), the IAS and New Years.
March 13th is always held at the Ruth Eckerd Hall in Clearwater. It holds 2300 people. The same number have attended that event since the 90's. It's one of these "don't ask" questions — "how come if scientology is expanding so much and Flag is bursting at the seams they have not moved to a larger venue?" There are plenty of them in the local area. One time a year Dear Leader comes to personally address the assembled sheeple, you would think with their claimed 12,000 scientologists in Tampa Bay they would need a larger facility when they hit 10X expansion some years ago…
And in Los Angeles, March 13th was always held at the Shrine (capacity of 6300). It used to be that the event there was EXPECTED to fill the hall. It never did.  But at least the lower level could be filled and a decent amount of people on the second level at the front.  They then started moving it to the Kodak Theater — a smaller venue. They have now downgraded it to L. Ron Hubbard Way and the individual orgs…
Hardly straight up and vertical, let alone 47X,  greater expansion in the last 5 years than the 50 years previous combined or any of the other goofy utterances that have been spouted asserting scientology is taking over the planet.
There is not a single indicator of scientology expansion, anywhere. The ONLY thing they hang onto like a well-chewed bone is the "new orgs opening" (really old orgs in new buildings) and the amount of square feet of (empty) space. And that is, of course, utterly meaningless. If that was a true measure of amazingness, then KMart/Sears with hundreds of millions of (empty) square feet is Miscavige's true "ideal organization." Maybe that IS the model he is trying to emulate?
OOOPS:
My apologies to those expecting Thursday Funnies this morning — I JUST discovered it is Thursday today! The Funnies were even ready to post. I will do them on Sunday.
I have been moving to a new house this week and it has caused chaos in my world. I lost a couple of days out of my life I think….