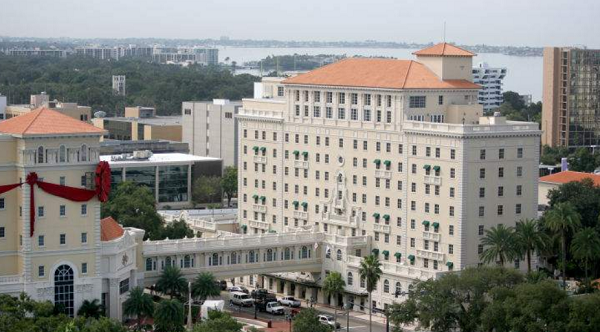 The "Mecca of Technical Perfection" (they don't seem to use that name any more, even though it was bestowed by L. Ron Hubbard himself) is becoming more and more desperate.
Yesterday I included information about the shrinking world of scientology evidenced by the curtailed Maiden Voyage celebrations.
Today we have more evidence from the "top of the Bridge" where they are now delivering the "Personal Efficiency Course"…
This is described at the What is Scientology website as follows (emphasis mine):
For many people, happiness is an elusive quality. Surveys show that "being happy" is what a majority of people want most in life. This fact begs the question: Why are some people happy and others not? And what can be done when happiness seems unattainable? The first question is perhaps best answered by understanding exactly what happiness is. As to the second question, the answer requires understanding the obstacles to personal happiness and learning how to overcome them. This understanding may be found in a service offered at every Scientology church: The Personal Efficiency Course. Taken either on a part-time schedule over a period of five days or more intensively over a weekend, this course provides answers to many of the problems and obstacles encountered in life and gives attendees the opportunity to test the principles for themselves. It is here, often for the first time, that the student experiences the gains available from auditing. This is done on a turnabout or "co-audit" basis where students audit each other on basic Scientology processes. In short, this course offers both personal experience and an analysis of the "basics" of life, in very real and practical terms. While there are numerous basic courses in Scientology that address specific problems or aspects of life, the Personal Efficiency Course is broader and more fundamental. It is for anyone who has ever wondered if there was more to life.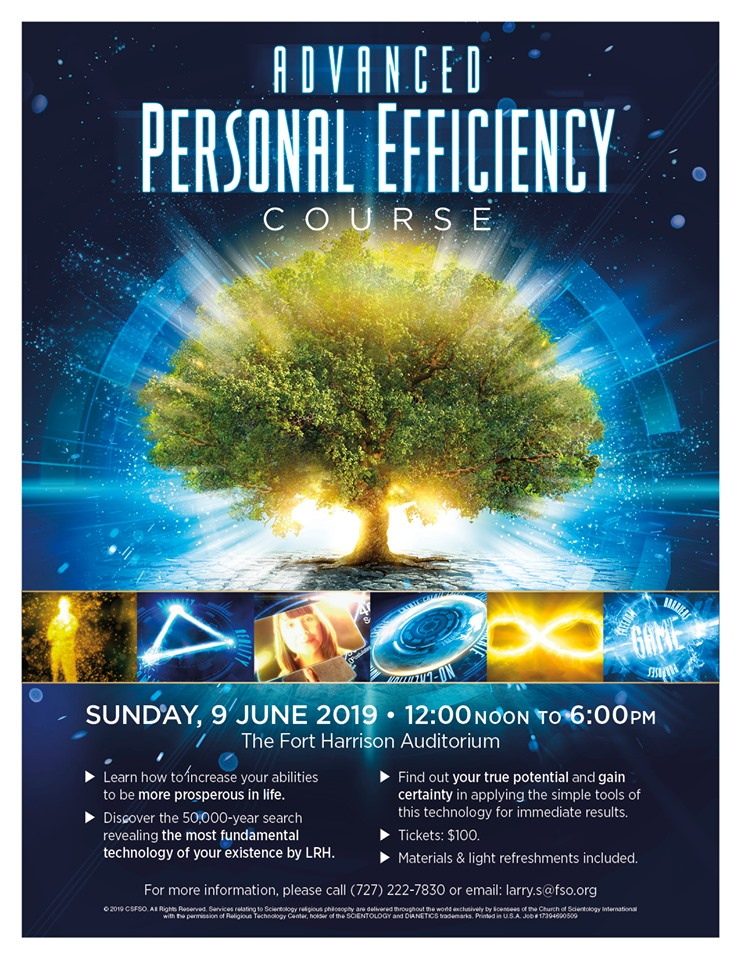 It is quite incredible to see "Flag" promoting and delivering an Introductory Course. This is NOT the public Flag is supposed to service. If there is anyone in Clearwater who needs a scientology introductory course, they should be in the Clearwater Mission (oops, that shut down), Bellair Mission. Or at the Tampa double St Hill Size "ideal org."
I guess they are hoping to get some suckers who will invest $100 to learn how to be "more prosperous in life" — but they are competing directly with the ChanMan and various other Clearwater luminaries who are delivering prosperity seminars at the WISE building down in the Potemkin Village on N. Ft Harrison.
Just to give a bit of background about the "PE Course"…
It was created by L. Ron Hubbard in Dublin Ireland in 1956. He had headed over there when things got a little bothersome in London…
He wrote about it this way on 14 February 1956.
DUBLIN OFFICE BEING CREATED
While three lords and the leader of the opposition in the House of Commons petition the Home Secretary to permit me to stay in England for yet a while, we are nevertheless going ahead with the establishment of an office in Dublin, Eire. This office is located at 69 Merrion Square. It is not at this moment but will be within ten days a mail address. This office is the swankiest address in Dublin. The Park Avenue, the Harley Street of Dublin is Merrion Square. This is where all the medical boys hang out. The Dublin Office is a huge central room which holds about 70 people and four smaller offices surrounding it. The total cost of this is £4.10.0 per week. This is our fall-back point in case of atomic attack and will be completely equipped for dissemination of publications and will be known as the HASUK Atomic Energy Healing Division Emergency Station, Dublin, Eire. This is one small toe-hold up on the ladder toward our next step in dissemination. Right here as I stand we've got the problem of radiation whipped so you see where we're going, so let's go. We've got our auditor profiles rising steadily. We can put our own people back on their own feet. We can actually practically tailor make good executives. We have never since I have gotten us out of this last auditing slump got better results. We can prove what we're doing and predict what we're doing, and now we've got our hands on the monopoly of radiation healing throughout the world and we certainly had better make the best of it. We are going to go big-time simply because we are over the humps of research and are ready to smash through all barriers.
Pretty typical Hubbard braggadocio. Being chased out of England is explained as taking up residence in the "swankiest address in Dublin" and without a trace of irony he proclaims to have "the problem of radiation whipped" (yet if this is so why the need for a "fall-back point in case of atomic attack"?).
When scientology purchased this building and opened it as a completely unnecessary "National Affairs Office" (there are virtually no scientology affairs in all of Ireland — the "ideal" org on the outskirts of Dublin is an empty shell), David Miscavige hisself jetted in to announce in his best Shermanspeak:
In fact, in February of 1956, when L. Ron Hubbard first arrived in Dublin's Merrion Square to create The American College of Personnel Efficiency—a model for the first introductory course in Scientology—he observed that the Irish winter was lingering. "If the weather is cold, the Irish heart is warm," he wrote. "The country and the people could not be improved upon."
Hubbard waxed enthusiastic about the program he developed in Dublin to bring in the working class and test them then offer services to help them solve their problems — but he cautioned not to actually solve anything, simply to give them a taste so they could be sold auditing.
Now, 60 years later, apparently scientology has come full circle. That bait is being tossed in the direction of those at the very top of "the Bridge" with the hope that some of them will be hooked.
You would think with the massive "international expansion" that Miscavige keeps talking about and "all the new churches of scientology being opened" (actually "ideal" orgs being moved into new buildings), Flag would be bursting at the seams with public at the top of the Bridge. Nobody would have time to mess around with something like this.
But the harsh reality is evidenced by the number of people on the streets of Clearwater, the dark rooms at night in their hotels, the empty parking lots and the declining population of scientologists in the local area. Scientology's last "King's Landing" stronghold is looking very vulnerable to the fire breathing dragon that is the growing public awareness of their abuses.
News just in, while I was writing this, a new poster arrived. Arte Maren of Guardian Office fame (also "I went to jail rather than testify pursuant to a subpoena from the FBI") has announced a competing "Prosperity Seminar" at the WISE office — but this one will set you back $300!! Seems there is some sort of "games condition" going on. Back in the day no fool would dare try to compete with Flag on anything. But back in the day Flag would never have engaged in such low level foolery. The Commodore must be spinning in his grave like a rotisserie chicken.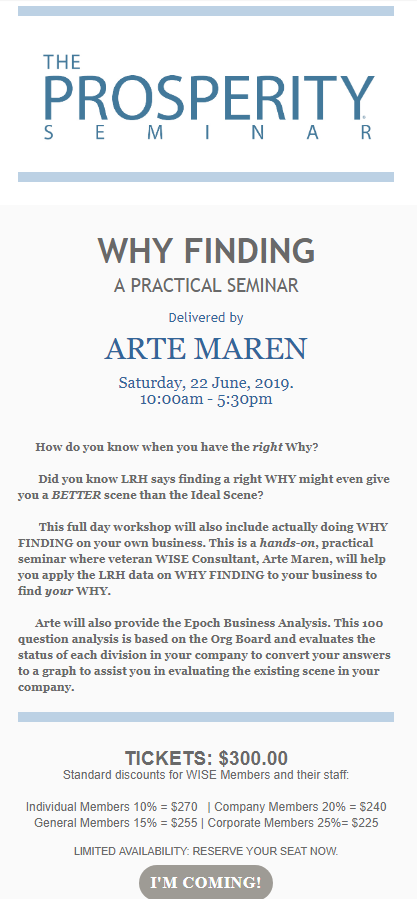 If anyone still believes scientology isn't all about money, they obviously don't read the promotion they send out because it is almost exclusively focused on how you can make money….