A bit of history to introduce another of the methods Hubbard used to try to gain acceptance and win friends and influence people.
In 1974 when the Apollo was experiencing continuous problems maintaining "safe ports" (in fact, in the previous year Hubbard had fled the Apollo when things got too hot in Morocco and moved to Queens NY using a fake name until he deemed it "safe" to return to the ship — now plying Atlantic Portuguese and Spanish ports) he hit on a "bright idea" to gain "acceptance" for the Apollo.
He pulled together musicians (and then dancers) and formed two musical groups — the Apollo Stars and The Troubadors. The latter were "second billing" and primarily served the purpose of a backup band for flamenco dancer Paco Suarez.
The Apollo Stars had the purpose of "creating safe ports." They were a way of generating "positive PR" for the Apollo.
In fact, Hubbard wrote many scientology policies and Flag Orders based on the experiences of the Apollo Stars — focused on how to create "safe points" and gain acceptance.
The modern day "Apollo Stars" are the Jive Aces.
Scientology uses them to promote scientology — this is just one example on the official scientology video channel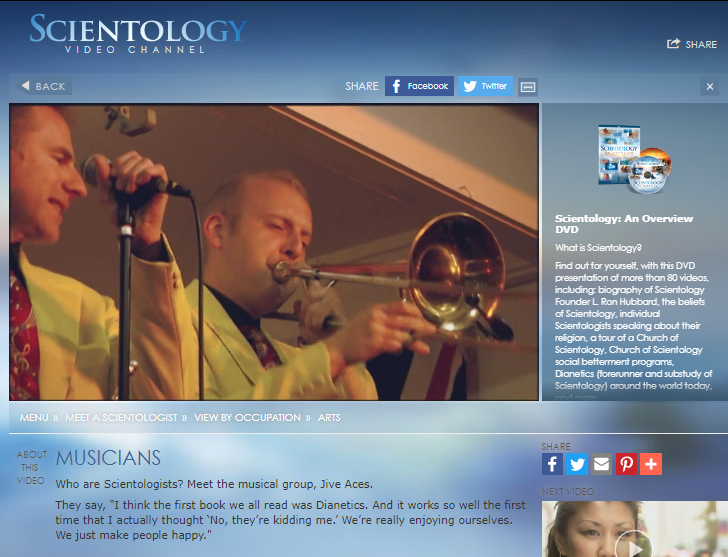 What this doesn't say is that the members of this group — just like the Apollo Stars — are all Sea Org members. Their entire purpose in life is to forward the aims of scientology. Entertaining people, selling records or entering talent competitions are seen ONLY as a means to the end of being able to better promote and gain acceptance for scientology.
If this group (or any of its members) decided their "real purpose" was to pursue a career as a musician, they would be in the RPF in the blink of an eye.
Often they promote "Anti-drugs" — a favorite ploy of scientology, rather than coming right out with their scientology pitch.
This makes it a little disconcerting to see they are on a "US Tour" — appearing at NON scientology events, as well as the expected scientology ones. I wonder if these venues have any clue about what the Jive Aces REALLY are?