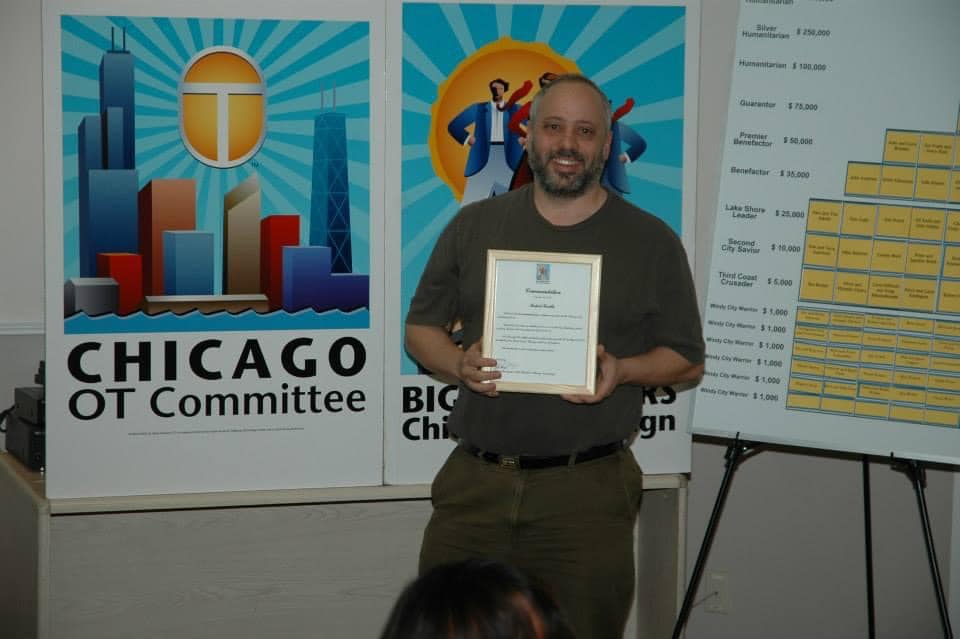 The obvious answer of course is "empty buildings," but I found the background of this shot interesting.
These days, buying statuses in the IAS and "Ideal Org Program" has become the new "thing" – status in scientology used to be measured by OT level gained and before that by auditor training level. There has always been a heavy emphasis on attaining perceived superiority since the first days of Dianetics. These days status in scientology is attained through money, not training and auditing.
The goofiness of stuff that passes for status in scientology is sometimes hard to fathom — the gaudy IAS bowling trophies and zany dress ups and euphemisms for money ("we got 500 miles closer to touchdown") of the Ideal Org boondoggle.
Above shows a chart for Chicago. They have a few dozen "Windy City Warriors" who have coughed up $1000.
It seems like less than 10 (a single row) "Third Coast Crusaders" for $5k
Same number of "Second City Saviors" at $10K
and "Lake Shore Leaders"  for $25K
Then a drop off for the $35K "Benefactor" level and even less "Premier Benefactors" at $50K
Then nobody on the Guarantor or Humanitarian list (though I guess they could be off screen — it's a weird way of doing a board)
But what is really strange about this photo is that this guy is so proud of getting a commendation for handing over some cash for an "ideal org" that has already been BUILT and is sitting empty awaiting to be anointed by Dear Leader. They just never stop trying to squeeze money out of the gullible.
It's the scientology way that has been distilled down to its essence. Money buys status.