You used to see scientology spokespersons in the media. I was one of them for many years. So was Heber Jentzsch.
I escaped. Heber was put in The Hole and became so physically incapacitated he could no longer appear in public (and Miscavige didn't trust him anyway).
Tommy Davis was the "it boy" for a while, but he also departed, though he remains a Miscavige brown-noser ion his post-Sea Org life.
If you look on the scientology website they list a number of "spokespersons" who actually don't speak: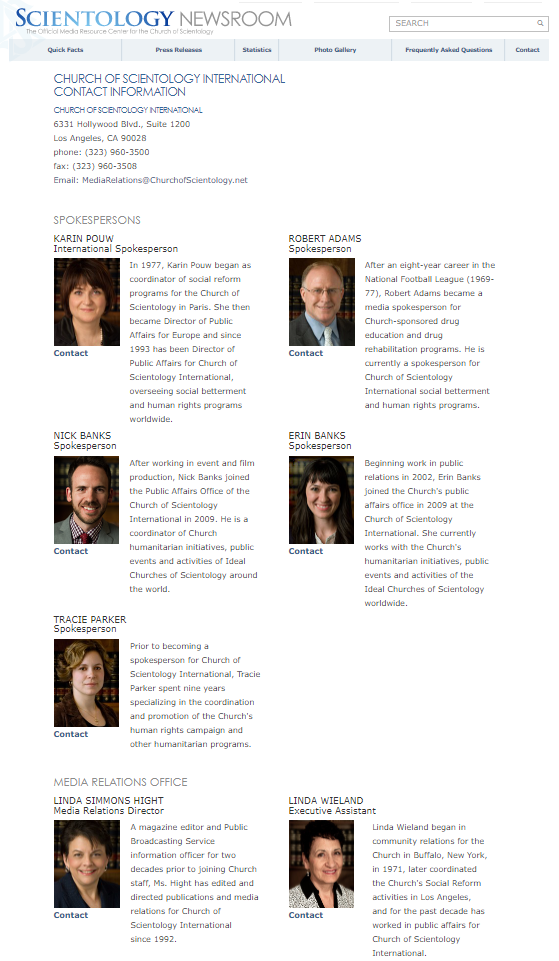 Karin Pouw was never allowed to talk publicly, though her name continues to be put on letters she doesn't write pushing the propaganda lines for Miscavige.
Bob Adams has been a "spokesman" for decades and has not been seen in the media that I can recall.
For a minute Erin Banks showed up at Ideal Org openings and interacted with "friendly" media, along with her husband, Nick Banks. They haven't been heard from in years.
Tracie Parker is the daughter of long-term OSA tax guy, Jim Morrow. She has been seen at various events for Drug Free Marshalls and that sort of thing, but is not a spokesperson for the media.
Linda Simmons Hight has her name affixed to letters occasionally, like Karin Pouw, but again isn't seen in the media. Linda Wieland is entirely invisible.
This is their "dream team" lineup of "spokespeople" who never speak.
And let's not forget "Fast Eddie" Parkin, who was the "man on the street" there for a while, then became the "face" of the STAAD League, and subsequently disappeared entirely (maybe he "volunteered" to do the RPF?)
The only other "spokesperson" is Pat Harney at Flag. She slinks around but never appears in the real media — when she approached an Aftermath camera crew and their producer in Clearwater asking them who they were, she would not even give her name and ran away so as not to be caught speaking on camera!
How is it that the organization claiming they have the "only workable technology of communication" can be so incapable of offering up anyone to speak on their behalf?
All they have to fall back on is their catholic (she goes to pains to let the media know she is NOT a scientologist?) lawyer who has been paid tens of millions over the years to be scientology's "voice" in legal and PR matters. Would any REAL religion have a non-member as their public spokesperson. Even the Rajneesh and NXVIM could do better than that!
PS: Of course, it goes without saying that David Miscavige himself is never going to make any appearance in the media again. He could not stand to be asked the hard questions — starting with "Where is Shelly?"