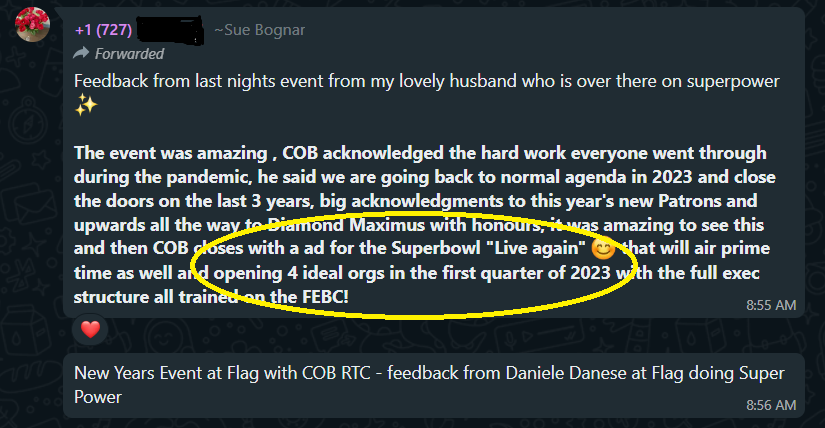 I included this Facebook message in my post yesterday concerning the fact that Captain Miscavige was at Flag on New Year's Eve delivering this briefing.
I did not make mention of other significant things she mentioned.
A new IAS status — Patron Diamond Maximus with Honours. What comes next? They're running out of idiotic titles, every new one they come up with sounds more and more like a Monty Python skit.
Another Super Bowl ad! Woohoo. They have been SOOOO effective. And the sheeple think they are being seen across the nation "A billion people watch the Super Bowl so that means a billion people will hear the good news about scientology." They don't understand that they purchase LOCAL ad time in select markets like LA and Tampa where most of the whales are. They also don't monitor social media to note the INSTANT deluge of negative comments when these air.
Opening 4 ideal orgs in the first quarter…
Another empty promise that will NOT come true (COB's postulates need a little polishing). Chicago may finally open (really bad weather timing to hold an event in Chicago any time before April). Don't know what other orgs are even close? Pt Elizabeth? If he would spend the money and not wait for Canada to try and raise it they might be able to get Toronto done. These full FEBC Exec structures are a total pipe dream. They may have rounded up enough people from all over the world for Chicago, but not for any of these other miserable orgs that are still trying to "go ideal."
Miscavige knows that it doesn't matter what he promises, the sheeple will forget. He will do one ribbon yanking and that event will become the "big news" talked about at the next event, not the fact that they didn't get 4 done. And 4 new ideal orgs would still leave them at less than 2 per year as there haven't been any new buildings completed since Ventura in Feb 2020.
The ideal org program continues to be a dismal failure in every respect other than increasing Miscavige's statistic of total money in Sea Org Reserves.