Scientology continues to demonstrate it's irrational, dangerous attitude towards the current pandemic.
They just don't get it.
As the old saying goes, even if you put lipstick on a pig, it's still a pig.  Even if scientology pretends they are totally in compliance with societal norms and expectations (in fact, they exceed them and did so faster and more efficiently than anyone on earth), they just cannot help themselves when it comes to displaying their real "pig."
The pressure is still on to "get stats up" — that will never change. So, these recruiters are feeling the heat to bring more people in to join the ranks of those who eat, work and live communally. The same people who are not ever mentioned in scientology's propaganda about what a wonderful job they are doing to protect everyone on earth. Those who are still living 4, 6, 8 or more to a room and sharing showers. Eating from communal trays of food. Traveling to work together in buses. Mustering together side by side.
If for no other reason than wanting not to contract COVID-19 (let alone a life of pointless stress, deprivation and abuse) — now is NOT the time to join the Sea Org. (You will note this email is dated 7 April 2020).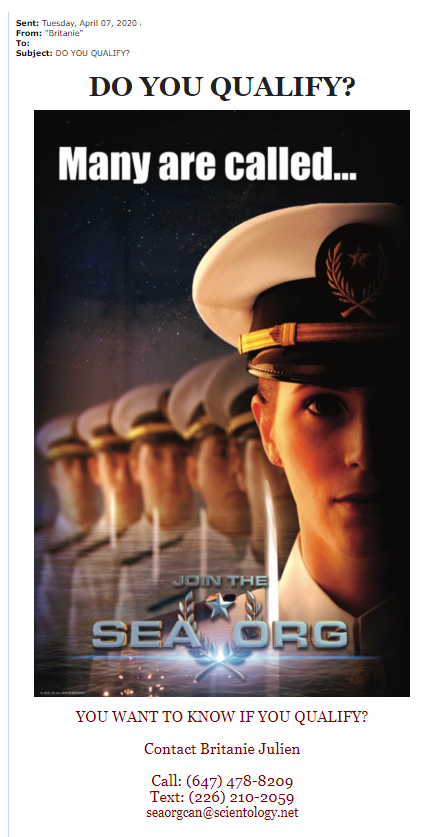 But then, because this is Thursday Funnies day without the funnies, here is the next most insane thing you could sign up for…
I wonder if scientology even has an inkling that every cruise ship in the world is NOT cruising? If they do know they are probably sneering "wog ships don't have the tech to deal with a situation like this."
Who knows what the status will be in July.  But I can assure you, even if they doused the entire Freewinds in Decon 7 I would not put my children on a plane to go hang out on the Measlewinds for more than a week. And I certainly would not be booking it now. But of course that doesn't stop them from sending out their crazy pitches. Like I said, the pressure to get stats up is not abated.