More proof of just how epic the milestone accomplishments are in the shrinking world of scientology.
Applying standard admin tech to the letter, 13 years after being declared "ideal" and 10 years on from their first "SH Size" declaration, Tampa has been working on their backlogged CF for months and months. Perhaps a year.
It has been heavily promoted and pushed as a top priority for this model org (how it could be "model" when they promote their "squirrel admin" is a question for another day).
For some reason there is always a great deal of attention paid to "getting CF in PT" as opposed to say, getting people into the org and onto services. Or heaven forbid, charity work in the community.  Not really my call, but it seems me that more effort paid to trying to expand your customer base is a smarter strategy than effort devoted to filing backlogs of old piece of paper that serve no purpose. Especially when you see the sort of letters that are sent out by illiterate letter regges using thes invaluable central files. "Hello. Wondernig where your on the Bridge and if you is planning to come back sometime soon? ML Tiffany" There is no incremental income generated from all this effort.
But, be that as it may, Tampa has been charging ahead on their "CF Project."
And how much have they accomplished?
Well, according to this new promotional piece they have now completed, TA DA….
…the letter "A."
Seriously. This amount of effort and they are through the FIRST LETTER OF THE ALPHABET? At this rate, they will be done with "CF" around 2050.
Way to go model ideal SH size org that is leading the way for the straight up and vertically expanding scientology "movement."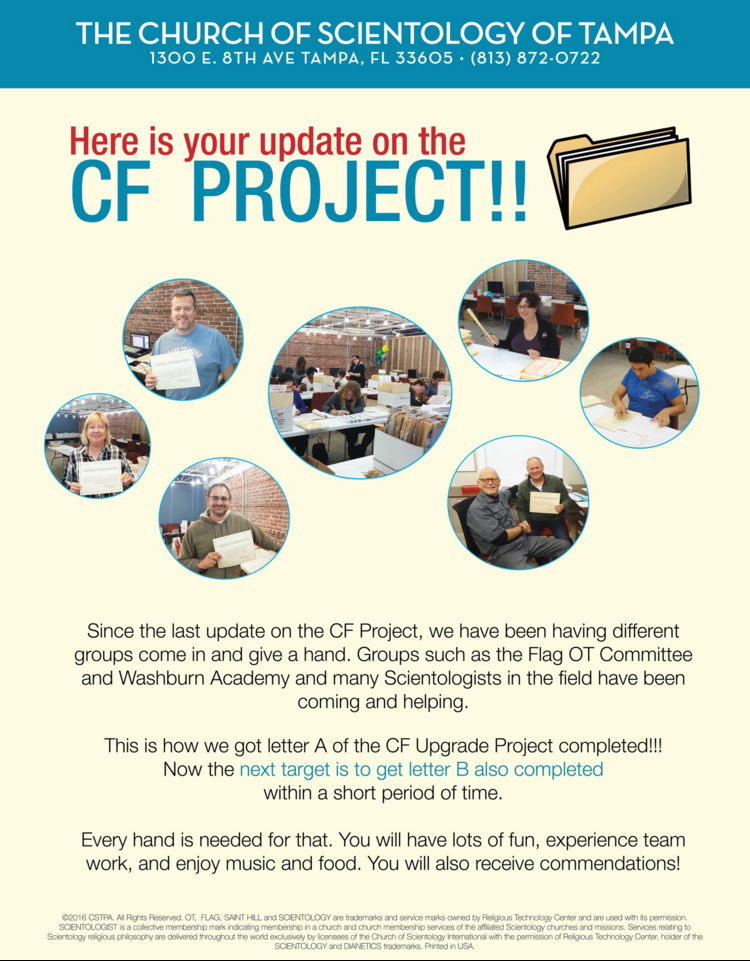 And of course, Tampa is just ONE.
Bet these guys are almost complete with Aa – Ac. They are shooting to complete the letter "A" before the end of the year.
Let's gett'er (?) done!!!