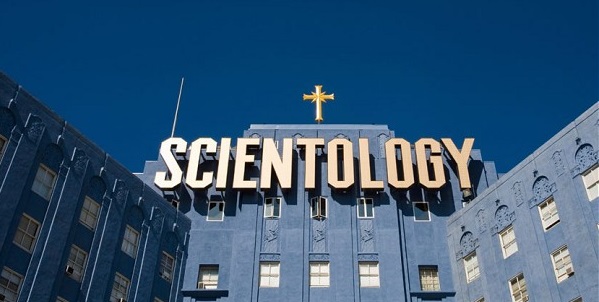 It's Saturday, time for some Terra Cognita…
Being Declared in Scientology…Kind of
"Being declared" in Scientology—short for "being declared a suppressive person,"—lets one know he or she is an evil, despicable, and degraded being, and that everyone associated with this person should disconnect from him or her immediately.
LRH said an SP is someone who, many lifetimes ago, got squashed so severely that he or she took on the valence of his suppressor. He listed the characteristics of these people in HCOPL 7 August 1965, Suppressive Persons, Main Characteristics.
"Nobody puts baby in a corner."
Just to be clear, I am not an SP. Never have been. Don't plan on becoming one. Got roughed up a bit but was never squashed or assumed the valence of some evil, comic book overlord. In a galaxy, far, far away.
Nobody labels me but me. (Except my spouse occasionally—but always with good reason and never in writing.) Scientology can slap whatever label they want on me; their ridiculous tags make no difference in my life. I don't play by their rules anymore. I don't accept their crazy, suppressive proclamations. I am who I perceive myself to be, not who some cult says I am. Especially, an organization run by a megalomaniac and administered by sycophantic kids without the slightest idea of life outside its walls.
If I say I'm "not declared," I'm not declared. Nobody declares me but myself.
"If it isn't Written, it isn't True." LRH
According to church policy, declare notices are supposed to be printed on goldenrod-colored paper and distributed widely so all Scientologists will know with whom to avoid and cut all communication.
I've never received anything in writing declaring that I am an SP. Nothing. No proclamation. Not one shred of paper. Not a word from the town crier. I've never even received a phone call or email advising me of this life-demotion.
This lack of You've-Got-Mail can't have anything to do with logistics. I live within miles of the local org. Most of the staff commutes past my neighborhood on their way to and from the org every day; it wouldn't take but minutes to stop by and slip a notice under my door mat. Everyone has my phone number and email address, too. Despite what some might think, I'm easy to reach and far from incognito.
Granted, all my old Scientology Facebook buddies unfriended me some time ago. But still, I'd have thought a short courtesy call would have been appropriate.
On the other hand, I still receive Scientology mail from AOLA, various FSM committees, and most of the church's subsidiary organizations like the The Way to Happiness and Narconon. So I can't be total scum, right?
But the question remains: If I've been declared, why haven't I received any kind of a notification? You'd think a person of my questionable character would have been declared by now, right? So why hasn't the local EO—ethics officer—ordered me into his office and showed me a goldenrod? Why hasn't he phoned me? Dropped me an email? Sent up smoke signals? Asked the Dir OSA in the office next door to handle me? Several answers come to mind.
Not telling people they've been declared has become standard church policy. And with good reason. Parishioners would be aghast if they realized how many good people have been declared. Some might even begin to question the tech and policy.
The church knows that my declaration would be completely out-reality (wouldn't make sense) to everyone who knows me and thus, would shed questionable light on Scientology management and their justice procedures. The last thing church leader, David Miscavige, wants is for his followers looking too closely at him and his former master's squirrel policy.
Another reason for keeping mum is that no one has the balls to confront me in person—which doesn't say a whole lot about "ethics presence" and the EPs of the Bridge to Total Freedom. No doubt, a Fear of Communicating with Declared People Rundown would handle their trepidation.
Going, Going, Gone……..
I suspect the church thinks that if they just leave me alone, I'll fade away into the sunset. No one wants to create another Rinder/Ortega/Shelton/Remini type of person. Not that they have much to worry about. I was never a high ranking Sea Org member; I'm not an award-winning journalist, movie star, or YouTube celebrity. I've never written a book or made a movie about Scientology. Except for my family and a few friends, I'm not on anyone's speed dial. I'm fairly obscure as homo saps go.
And by the way, neither of my two Comm Evs recommended nor resulted in me being declared an SP. Unless I'm missing something, a Committee of Evidence has to recommend that a person be declared for such an action to occur. If I was declared, apparently I was declared in absentia, without a Comm Ev, without a hearing, without so much as a chat with an MAA. Which means someone within the church arbitrarily decided I was enough of a threat to banish me from the flock. Yikes!
Local Ethics
I haven't heard one word from a Scientology staff member since an MAA at AOLA read me the findings of my Committee of Evidence almost two years ago. I wasn't declared at that time but telling her that I thought David Miscavige was the real SP in the woodshed no doubt hastened my disgrace.
You would have thought the EO at "my" local org would have contacted me by now. That he wouldn't allow a declared SP running around his town stirring up trouble by posting unflattering commentaries on the Internet. Either he was ordered not to contact me or has very tiny balls. I suspect the latter.
The Office of Special Affairs
You'd think the woman manning the local Office of Special Affairs (OSA) would have contacted me and told me to desist in writing these inflammatory essays. To stop slandering the church. To discontinue tarnishing its stellar reputation. You'd think she would have called me into her office to try to talk some sense into me and convince me that associating with the likes of Mike Rinder and his ilk was all wrong. That's her job, right?
Isn't she supposed to "safe point" Scientology in her area? Isn't she expected to stop people like me from spreading lies about the church? She's been a Scientologist for decades and on the job for five or six years so she isn't a rookie. And yet, I've not heard one peep from her. No notes. No phone calls. No emails. Nada. I haven't even seen her spying on me from across the street. Isn't her job to handle me? She hasn't even threatened me with a lawsuit.
If her stat is something like "number of positive inches about Scientology in the local press versus number of damaging inches…" the poor girl must in a condition of Confusion by now.
As part of OSA, I assume she's tasked with keeping up to date with all anti-Scientology media—especially with any originating in her own backyard. I have a hard time imagining her reading Mike and Tony, and listening to Chris every day without some of their words rubbing off on her. Could a person absorb all that "entheta," day after day, and still believe DM is the savior of Scientology, the church's stats are in power, the tech works, and that ashtray is really gonna rise up from that chair with sheer intention? Does she still believe that one day she will become cause over all matter, energy, space, and time?
To be fair, she is a nice person. When I knew her, she was always positive and upbeat. She always seemed like a good wife and mother. She's not a bad being. Somehow she got roped into a post without knowing the full ramifications of what she was getting herself into. For all I know, she's been having doubts about Scientology and fence posts have been poking her in the ass for a while now.
Maybe she's scared of the consequences of walking away. Maybe she's afraid her husband and all her friends will abandon her. I sense her poor soul getting darker by the day. I feel sorry for her and her untenable situation. If you're reading this, give me a call.
Does the Church Know Who Terra Cognita Is?
As long as I'm quoting movie lines, it would be "inconceivable!" for Scientology management not to know who I am. They'd have to be idiots not to have figured out my real identity. I'm about as anonymous as a red Crayon in a box of black pens.
Last Words
Show me the money! I mean…goldenrod!
Still not Declared,
Terra Cognita