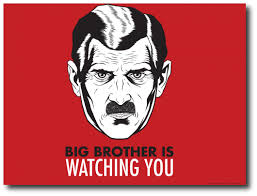 The "friendliest place in the world" is losing its lustre. In fact, it is becoming downright creepy.
This is from the latest "OT" Committee Meeting Minutes — my highlighting in red:
"Emmett Osborn, OTC Dir IAS Field Dissemination, come up to brief us about the winners of the recent IAS Game with the prize of a special pin for getting 2 status upgrades, 2 Lifetime Memberships or a donation on $10,000. He presented gifts of special lapel pins, engraved pens and one-of-a-kind shoulder bags to the winners, Kaye Champagne and Tom Cummins. Emmett re-briefed us on the new IAS Game that was first announced last week, for every Flag OTC member sign up four others on the IAS monthly debit program for $100 per month. Emmett reminded us that FSM commissions would be available for those signing others up for this.   
Kaye said to go to graduation this week and asked that we pass the word along.

Some forms were passed around to fill out and submit to the FSO along with photos of oneself, because just like the outer org trainees all have photo ID "Passes" we will all need them as well. These Access Cards will be needed, and if w

e can all get ours done early, it will avoid us being in the "Rush" to get everybody done when the New Flag Building opens

."
Ignore the vulture culture pins, pens and bags. That's old news. But take a look at that second paragraph!
It seems Voldemort is panicked that "unwanted" people might enter his new palace. Heaven forbid, maybe even "wogs" could get in….
So, all Scientologists are going to be required to have "ID TAGS" that will allow them to be identified, herded and monitored.
You may remember in the mid-90's the church made a MASSIVE stink by (falsely) claiming that Scientologists in Germany would have to "wear identification." In fact, this claim was used by the IAS to collect MILLIONS of dollars "to handle the suppression in Germany."
Wonder if this is now going to come full circle and the IAS will start regging public to "handle the suppression in Clearwater" where Scientologists are being forced to wear ID tags "just like the Jews in Nazi Germany"?
A Voldemort Tent and Palace Pass.  What will they think of next?