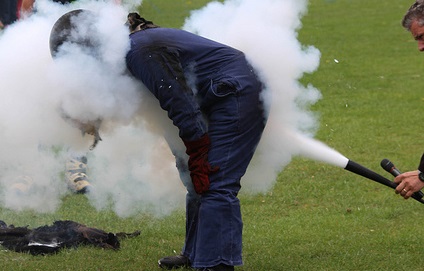 Oh, the "impacting force" of it all…
This document, though Quinn the Eskimo apparently doesn't realize it, is a scathing indictment of the scam that is the "ideal org" program.
The building was purchased in April 2009. That is more than 5 years ago. Yet this is the highest priority, most urgent thing in the world of scientology. This is, according to Quinn, one of the most important "ideal" orgs on earth, just a couple of miles down the freeway from CSI, ASI, CC, PAC Bridge and Bridge Publications.
This urgent, highest priority program that is so important to clearing earth, just got around to space planning and designing the building they have owned for 5 years… Doesn't seem too urgent to me.
And soon they are going to start the "man-up phase." Some reason they haven't manned up before now?  Even since GAG II when they finally got "standard tech" for the first time? That's 9 months ago now and they haven't manned up with all the auditors that are flying through their training, 100% within checksheet time .
If they had spent a tiny fraction of the money they have thrown away on the white elephant building to pay auditors, supervisors or others a decent wage, they would have plenty of staff. Hell, they could even get Bart Simpson to start a staff scholarship program — "join staff and we will provide you with enough money weekly for food housing and basic expenses to the tune of the difference between your staff pay and $1000 a week."  If they hired 50 auditors/supervisors and delivery staff (making them the BIGGEST Class V org on earth) — that would be $50,000 a week.  Or $2.5 million a year.  Bart has poured more than this into an unopened building.  But instead of the money just being wasted on designs for marble floors and mahogany desks, those people would in theory be delivering services and MAKING INCOME.  The "clearing" of the Valley would be happening.
Then Quinn comes up with a wonderful line that construction will not start until all the funds are in place "per policy." Hah. What a joker and degrader this guy is. What policy? This whole activity could hardly be more "off policy."  But even with that, the truth is that the church has this money in hand 1,000 times over. So, why delay it further? Because this is the carrot to get people to hand over their cash. No unfinished building = no income. Simple as that. And it is a reason for the slow down in new "ideal orgs" as "COB" had a cognition that once he yanks the ribbon on a building, the money dries up. They are trying to solve it with the "Alliances" where existing "ideal" orgs fundraise for other not yet "ideal" orgs, but that isn't working out so well. Those tapped out bloodless near-corpses gave everything they had to get their ideal org and now they are being told they have to get someone else's too. You can only go to the well so many times and Miscavige and his minions have worn a path that resembles the Marianas trench.
Then Quinn presents some very creative math. They're only going to dump $16.2 million into the renovations of this white elephant. That's a bargain, remember, it is 100,000 square feet (when they cannot utilize 5,000 now). At this point, they "only" need another $9.2 million (it took 5 years to get 7 million, Valley appears it will be without an ideal org for some time to come….). He explains that Bart Simpson and the rest of her Springfield "team" is going to match $3 million. So that only leaves $3.2 million. Somehow he managed to "disappear" $3 million, trying to make the target sound "easy". Just another $3.2 million sounds so much better than $6.2 million. To the flogged horses of the Valley I am sure this comes as great news. "Instead of another 200 miles with a 300 lb rider, you only need endure another 100 miles (though when you get there, you will still have another 100 miles to go).
To Quinn, it's just another number. And all anyone has to do is "decide" to "move up in status."  It's really easy. The money is just a consideration.
Funny, if it is really so urgent that the very future of Los Angeles hangs in the balance (and the other 8 "ideal" orgs in LA aren't getting anything done) then I have a brilliant solution. Quinn, why not bestow some status on CSI or RTC or the IAS — "magnum superior being" or something — and have them stroke a check so the renovations can begin? It won't even make a dent in their bank accounts.  But more importantly, their home city can then be "salvaged."
Don't tell me CSI, RTC and IAS don't believe that this is important enough to invest any money in? It is one of the most important ideal orgs in the world (though nobody has yet explained why?) After all they will OWN the asset? Even then they don't buy this story?
This whole pitch highlights the hypocrisy of David Miscavige and his band of merry moneymakers. They operate on the age old principle, "Do as I say, not as I do." There is absolutely no evidence that they buy the bullshit they feed the public to convince them to turn over their money. If they did, these ideal orgs would ALL be done by now because Miscavige would have ordered the checks be written. Funny, he doesn't even follow his own "why" that orgs that are not ideal are like auditing rooms without meters, havens of out tech squirreling. He is content to just carry on with the majority of his orgs squirreling — yet HE is the person who touts himself as the one ultimately responsible for the standard application of scientology on planet earth.
It's either one way or the other:
A.  ideal orgs are absolutely essential because not being ideal is a violation of "KSW", perpetration of out tech AND there is no hope for clearing the planet — in which case, all the billions they have accumulated should be invested in making every org ideal NOW.
B. ideal orgs are a joke and and simply an excuse to suck money out of people without having to deliver any service in exchange — in which casethe church won't spend its money on them but will keep insisting that public give it to them with the promise of a brighter tomorrow (that never comes).
The answer to A. or B. is evident to anyone who is willing to look.
What a joke.