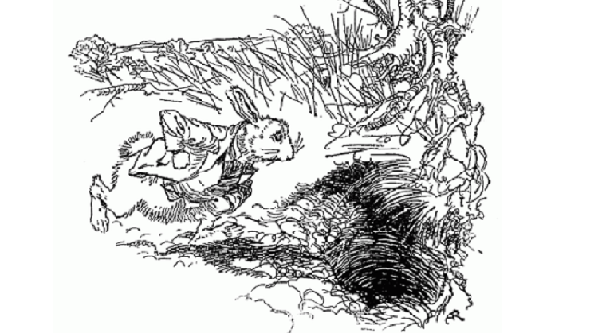 Here is a perfect example of scientologist cause and confront from a posterchild for OTishness, our old friend Barbara Dews.
A Special Correspondent sent me this email exchange and if you read down the thread (earliest at the top) you will see BD going from a shark smelling fresh blood, to a somewhat concerned deer caught in the headlights to a rabbit that scurried down her hole in abject terror.
This is cause over life. This is how to confront and shatter suppression. This is how to be OT so you can go OT.
Barbara epitomizes fundamentalist scientology. So dead certain that she knows the answers to everything, until asked to confront the real world.
Interesting demonstration of SP cause over OT.
To: Barbara Dews
Hi Barbara –
Do you know who I would contact about a Selectee that needs an FSM?
I need some help with that?
Thanks you
ML and ARC
Mary K
Hi Mary,
I could make a recommendation with more data if you want.
Love,
Barbara Dews
Flag Service Consultant
Barbara –
Okay, someone in Clearwater, Florida would be nice. Someone who is OT VIII, GAT II, a recent Super Power Completion and all three L's would be really nice. We have had some bad luck with so many others.
Are you OT VIII? Did you do Super Power and all three L's?
 Are you in the Sea Org? How long? What is your post?
ML
Mary
Hi Mary,
I'm New OT V and done Super Power and 2 L's.   I am a Sea Org member not a FSM at all.   I'm a registrar for Flag that works with FSM's to help them get people up the Bridge.
In CW I would recommend wither Deb Hulthen or Micheal Phillips.    Both are OT VIII and super successful FSM's.    You can ask them if they have done Super Power or L's.
Micheal Phillips 727 xxx xxxx   Xxxxx@tampabay.rr.com
Deb Hulthen    727 xxx xxxx Xxxxx@verizon.net
Let me know how that works for you.
Love,
Barbara Dews
Flag Service Consultant
Hi Barbara – thank you for the data. I tried so hard to get them to call these people but after they watched the HBO Documentary "Going Clear" – they won't pick up the phone. Should I write up a KR? So frustrating! I had a few other people stop talking to me after they read Leah Remini's book. Sigh….sick of this!
ML and ARC – Mary
Hi Mary,
I would suggest that you put your attention on the positive. Both of these attacks were really stupid and should be ignored. I also wouldn't assume that is why your guys went out of comm.   Who is it that you are trying to handle?
Love,
Barbara Dews
Flag Service Consultant
Barbara – Hi and thanks for the really good advice. I do stay positive, by the way, no matter what but I totally get what you saying 🙂  
I talked to my friends who saw Going Clear about an hour ago and unfortunately, they are now out of Scientology.
They were actually fairly new to Scientology and did not do a whole of services lot but they do have a lot of money so I was hoping they would go up the Bridge. They are Christian's and said they will stick to their faith. I tried to tell them it does not matter if they are Christian's – they can still do Scientology.
They said the information they saw on the documentary was very upsetting and they do not want to discuss it but that we are being lied to about many things but they would not tell me. They told me to confront it myself and just watch it and decide for myself. At least they were not trying to persuade me into leaving or something suppressive like that.
Have you seen that documentary? I am now curious so I think I am going to watch it tonight.   We have HBO.
You would not know any of the people due to they were fairly new – but if they had gone to Clearwater to FLAG – I would have connected you up with them for sure. 🙂
As far as the other people that read Leah Remini's book about Scientology – they won't call me back so I think I will let them go. Who needs all of that entheta anyway?
Well, that is it for now. Thanks for your help Barbara. I hope you have a good week and weekend.
Love,
Mary
Hi Mary,
You have had some losses.     I didn't personally see the documentary but I was briefed on it.   It was pure bad things.   I wouldn't watch it.    People that believe things like that also believe that all Catholic priests are pedophiles.   You can look up more data on this under freedommag.com or org or something.   There is data on this there.
I would like to see you not be effect of this and know the tech of how to handle such things.    Where do you live? (So I can direct you to some help)
Love,
Barbara Dews
Flag Service Consultant
Hi Barbara – Thanks for your concern. Yes, it surely is a huge loss for me. I worked so hard and long to get them in.
I am really confused so please bear with me. I mean this with a sincere heart because I want to go OT too and do Super Power and the L's   I have my heart set on it and am saving my money so that I can do it.
If you are OT – I thought that meant you are at cause and can confront and handle anything. Why would you not obnose for yourself and make up your own mind? LRH says to do that to keep your own personal integrity?
Another thing that hit me was our church has a website that is so hateful. I am embarrassed, in all honesty.   Where is the love and care for humanity if we are the only ones who understand what makes people evil and can help them etc? Why the hate?
I thought we believe that all people have the right to think and speak freely and no one but God has the right to stop it? I am not sure why the need for such hateful comm out to the World. I think it makes us look bad, personally, and would take that down.
The other thing that came up for me is that Alex Gibney did many documentary's and even did one on the Catholic Church about the priests who are pedophiles. He was nominated for several Emmy's and is well regarded amongst his peers. What do you mean "people that believe things like that also believe that all Catholic priests are pedophiles". I saw the documentary – and it did not portray anything except what happened that was factual. It was very well done and facts were well documented. One can't argue with the truth.
I also watched "Going Clear" last night. Do bear with me, Barbara – I must say, it was very well done and I have some things to research now regarding our Church. I can handle what was in it too. I am not leaving yet but I will do some fact finding myself and make up my mind on my own. I think I need to talk to some members who were in for a long time and left. What happened to them? With policies such as "no entheta", "no case on post" and other tech that prohibits free speech – no one really knows what happens to people and why they leave.
I have a right to know all and certainly can handle what ever it is. The truth will set me free. I am not so disabled that I need someone to think for me. I want to think for myself.
I highly recommend, Barbara, that you review your tech. LRH says to obnose for yourself.    I am keeping my personal integrity and you should get yours back. I mean that with lots of love because I know your heart is in the right place. You should see Going Clear.
ML and ARC
Mary
Don't write me anymore.   I am blocking your address.
Love,
Barbara Dews
Flag Service Consultant
Barbara – I do appreciate your help.
I have been reviewing the PTS / SP tech.
Most of it makes sense but one should be able to use it on Scientology Organization, no? Why would that be a high crime?
Only the truth will set you free. Do your doubt formula for real and get honest and straight. One is not at cause if one is "briefed" on how things are. One must obnose for themselves and make up their own mind
Watch some You Tube videos on North Korea – they too are told what to believe.
See how that worked out for them.
Make up your own mind. Look don't listen. LRH
I am free Barbara and can do whatever I want to do. You are trapped. I am sad for you and the other slaves.
ML and ARC – Mary