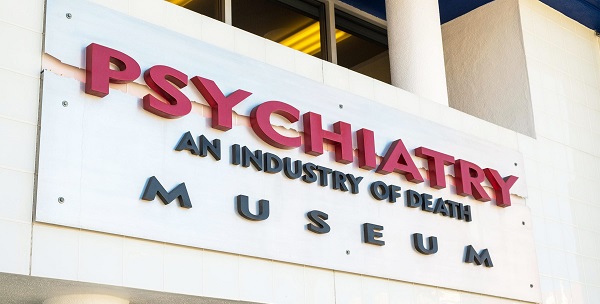 This is the sort of thing that is announced with enormous fanfare by the IAS with "this is what your donations buy".
When something like this is found, CCHR jumps on it and claims it as a "psych prosecution" and not only that, it is "President of the Alaska Psychiatric Association." It will be added to other incidents they can scrounge up from anywhere they can find them and become part of a typical announcement in the category of "CCHR Wins" — "this year more psychs were prosecuted than ever, a total of 1,047, thanks to the leadership of CCHR" and then at the end "You contributions to the IAS make these wins possible."
In fact, CCHR did nothing. They just scanned the media for any mention of psychiatry.
Not only that, Mr. Sonkiss is not being prosecuted for any misdeed as part of his profession. His arrest has nothing to do with protecting the public from the abuses of psychiatry, the fact he is a psychiatrist is incidental to anything. He has not even been convicted and there may be much more to this story, as is alluded to by his defense attorney.
But you can be sure — this will not deter CCHR from using this in their "stats" and hyping it as a "major victory."
The fact that scientology has been touting the magnificent accomplishments of CCHR in "obliterating/annihilating/decimating" psychiatry for decades, yet it continues to grow and these claimed accomplishments have had no impact on them whatsoever, should be a clue that these "victories"are nothing but hype.
This is a microcosm of exactly how they lie.
From: records@psychsearch.net
Date: June 20, 2020
To:
Subject: So… a psychiatrist walks in a grocery store
Psychiatrist Joshua Sonkiss is past president of the Alaska Psychiatric Association.
Anchorage Daily News
Alaska psychiatrist is accused of punching a man because he wasn't
wearing a mask in a Juneau grocery store
By Michelle Theriault
June 18, 2020
A prominent Alaska psychiatrist faces a criminal charge for allegedly punching a man in the face for not wearing a face mask in a Juneau Fred Meyer earlier this month.
Joshua Sonkiss, 49, was charged with a single count of misdemeanor assault for the incident. He appeared in court Wednesday.
The 53-year-old victim, Bowen Dallmann, told police Sonkiss "punched him in the face" for "not wearing a mask" at the Juneau grocery store on June 1, according to a citation filed by Juneau municipal prosecutors.
The document notes a witness backed up Dallmann's account.
"Dallmann wanted to pursue assault charges," the citation says.
Sonkiss told police he "felt threatened by Dallmann," according to the citation.
Dallmann could not be reached Thursday.
What exactly led to the confrontation over mask wearing in a busy Juneau store isn't clear in the one-page citation. Neither Juneau police nor the municipal prosecutor's office responded to requests for additional information about what happened. Face coverings have become a sometimes fraught issue as people return to businesses during the ongoing coronavirus pandemic.
Public health officials recommend wearing masks in public when social distancing can't be followed, but many stores do not require face masks. Fred Meyer "encourages" customers to wear masks.
Sonkiss specializes in forensic psychology and chemical dependency and is a past president of the Alaska Psychiatric Association. He has held a variety of high-level positions around the state, including the director of the behavioral health unit at Fairbanks Memorial Hospital.
Bartlett Regional Hospital in Juneau said Sonkiss is a contractor there, but not an employee.
Sonkiss declined to comment Thursday, directing inquiries to his attorney, William Satterberg of Fairbanks.
Satterberg said he couldn't say much about the pending criminal case, or what exactly led to the confrontation between the two men.
"There's certainly two very definite sides to the story," he said.
+++
PsychSearch.net aka Psychs.com, a research division of DataSearch, Inc.
Support our work!   The World's Largest Collection of Records on Psychiatrists!
Join us on Facebook: https://www.facebook.com/groups/PsychSearch