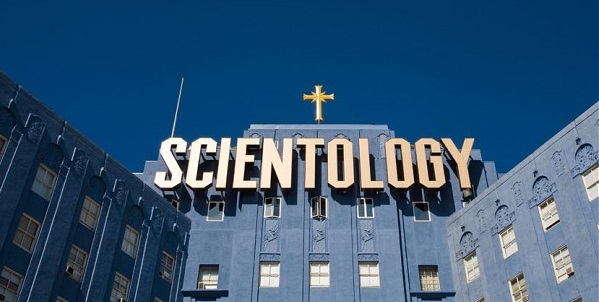 Our old friend Terra Cognita is back again this week…
Central Files and the Ability to Confront
Little is more important to a Scientologist than his ability to confront. According to founder, L. Ron Hubbard, all our problems since the Big Bang stem from our inability to confront. From the physical to the spiritual, seeing any problem as it really is can be vanquished by just looking at the damn thing—like really, really looking at it. In layman's terms: confronting the shit out of a problem makes it go away. Scientologists pride themselves on their ability to confront.
So when I saw a group of familiar faces posing for a recent flyer in Central Files at my old local org, I couldn't help saying something.
From the Horse's Mouth
L. Ron Hubbard, in his red Tech Dictionary, listed four definitions for the word confront:
an action of being able to face. (HCOB 4 Jan 73). 2. The ability to be there comfortably and perceive. (HCOB 2 Jun 71 I). 3. Confront itself is a result and an end product. It itself isn't a doingness, it's an ability. (SH Spec 21, 6106C27). And v. to face without flinching or avoiding. (HCOB 4 Jan 73).
You'd think that with such awesome ability, prospective acolytes would be lining up outside the doors of Scientology churches, and that these new "ideal orgs" would be bursting at the seams. That would be a big flunk! Unfortunately for the brethren, this ability to confront has been on hiatus.
Bodies in the Shop…or Not
Built on the shoulders of a Scientologist's ability to confront, is their ability to disseminate and bring new people into the fold. Since enrollment has been dwindling for decades, getting new people in the doors should be a top priority. Right? At the least, you'd think every staff and public person would be out pounding the streets, herding people inside their new, aseptic buildings with tales of enlightenment and galactic conquest. Which for people with such tremendous talent, should be easy and painless. And yet…
…for the last couple of decades, church leader, David Miscavige, has demanded that orgs concentrate on recovering people by updating Central Files. Which basically translates to sorting and organizing the personal files of everyone who's ever bought something at a Scientology organization—be it a single book or hundreds of hours of auditing. Every piece of paper in every file must be arranged alphabetically and chronologically; all addresses must be updated; thousands and thousands of unfiled papers and receipts must be patriated with their appropriate folders; and finally, all the old manila folders must be replaced by new, color-coded, doctor-office beauties. Except for watching paint dry, nothing could be more tedious, dull, dreary, and unnecessary.
Little takes less confront than filing. Making sure papers from 1975 go before those from 1976. The "A's" go before the "B's." The "C's" go before the "D's." And making sure all of Swen Johansen's receipts from 1969 are filed appropriately. Never mind that the friendly Norwegian only bought a single book while on holiday from Oslo. Never mind that he gave up and left it at the airport before flying home to Oslo. And never mind that he died last year at the age of eighty-nine at the family farm just south of the Arctic Circle.
Mold, Paint, and Donuts
Typically, Central Files is located in damp, windowless basements. Which means, aside from having to deal with mold allergies, those doing the sorting and filing are relieved from having to confront live human beings. They don't have to see, talk, or listen to new people, much less disseminate to them. Instead of having to confront live bodies and do something to boost the condition of their organization, they've chosen to confront old, worthless scraps of paper.
On the Terra Cognita Ideal Scale of Confront and Being Able to Look at Anything, Anytime, Anywhere, filing falls just below body death at -1.2. Filing is the opposite of fun and creativity. Not only is filing mind-numbing drudgery, hiding out in Central Files has become a refuge for all those staff and public who can't confront reality.
Broke? Credit cards all maxed-out? File! Can't bear to talk about Scientology to any of your friends anymore? File! The thought of body routing gives you the shakes? File! FSMing has become a four-letter word? File! Wondering where to vacation this summer? Central Files!
In the world of Scientology, filing has become a substitute for doing something that makes a difference. Sorting decades-old receipts will not boost income and will not raise a church's condition. Not one ounce. Not one iota. However organized and swell his new, neon-tabbed file looks, Swen is not coming back.
The Twenty-first Century and Watches
Not only is physical filing monotonous and unrewarding, it's massively inefficient—especially in today's world where all modern businesses have gone digital. Years ago, your local bank and every other Fortune 500 company decommissioned their filing cabinet-filled warehouses for air-conditioned server farms where important documents are stored digitally.
I'm not suggesting that keeping track of customer's likes and activities aren't valuable. Of course they are. Log onto to the Internet. Check out what the big boys are doing. Search for something on Amazon.
A few weeks ago, the seal on my old Casio G-Shock finally gave out and the watch filled with water. Being a modern, twenty-first century man, I immediately perused reviews for watches online. Ever since, I've been bombarded with advertisements from one brand after another. Just so you know, I finally settled on a Hamilton with a stainless steel case, black face with numerals, sapphire crystal, and leather strap. Swiss made! Love it! Ever since, however, I've been bombarded with ads and emails from half the known watch companies in the galaxy. Advertisements from Bulova, Tag Heuer, and Marcab Distinguished Timepieces pop up on every site I visit. Today, one need only glance sideways at a website to be added to their mailing list.
Last Words
Sadly, many who thought Scientology would fulfill their dreams of hooking up with a soul mate and play a part in making a better world, end up in Central Files—where personal relationships are rarely forged, and fresh folders have done nothing to correct a planet, slightly off-kilter.
Not only is Central Files a haven for all those staff and public who can't confront the real world, it's a sanctuary for all those who can't confront the cult to which they belong.
Still not Declared,
Terra Cognita