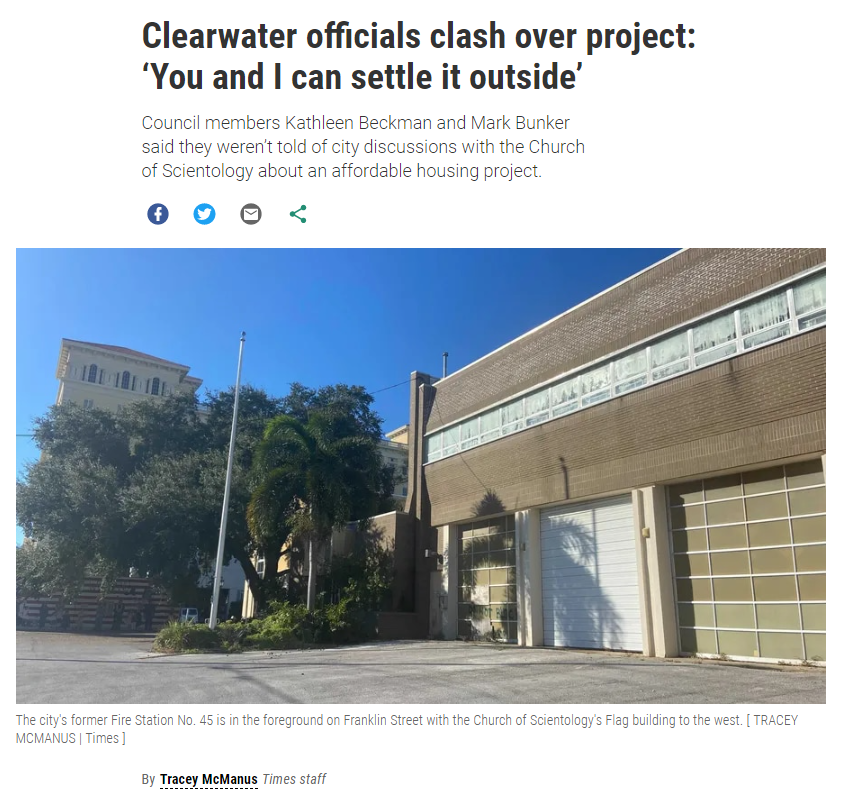 The latest reporting from Tracey McManus highlights the tensions in the city as they try to deal with the maneuverings of David Miscavige.
The Mayor and City Manager are on one side, and the City Council on the other in the battle over parcels of downtown property scientology wants.
Tracey's earlier report goes into more detail about the plans to build affordable housing across the street from Miscavige's office and the termination of that planned construction after Miscavige got involved.
Now, City Council members (notably Mark Bunker and Kathleen Beckman) are upset that they have been kept in the dark about discussions with scientology, though the project was something the City Council had voted on to move forward. Mayor Frank Hibbard lashed out at Bunker "You and I can settle it outside." According to L. Ron Hubbard, that sort of reaction is the result of a "Missed Withhold" — he has been doing things he doesn't want found out about and someone almost discovered them… Whether you buy that or not, clearly the situation is messy.
Last week Bunker tweeted about how the City Manager, Jon Jennings is "sincere in wanting to fix downtown" and I responded with the following:
Being sincere is not a shield against the manipulations of a sociopath. It might actually make someone more susceptible.
Jennings should read Martha Stout's excellent "The Sociopath Next Door."
This is good advice that I am repeating here.
When you are dealing with a sociopath, chaos and upset ensue. Miscavige does NOT have the best interests of the City of Clearwater in mind. He is 100% exclusively and only interested in what is good for him and scientology.
Sadly, the man who cannot be served with a legal subpoena because he is being hidden by his flunkies who lie that they "have no idea where he is, where he lives or where he works" is sitting right in downtown meddling in the affairs of the City of Clearwater like he owns the place (not quite yet, but he is working on it).