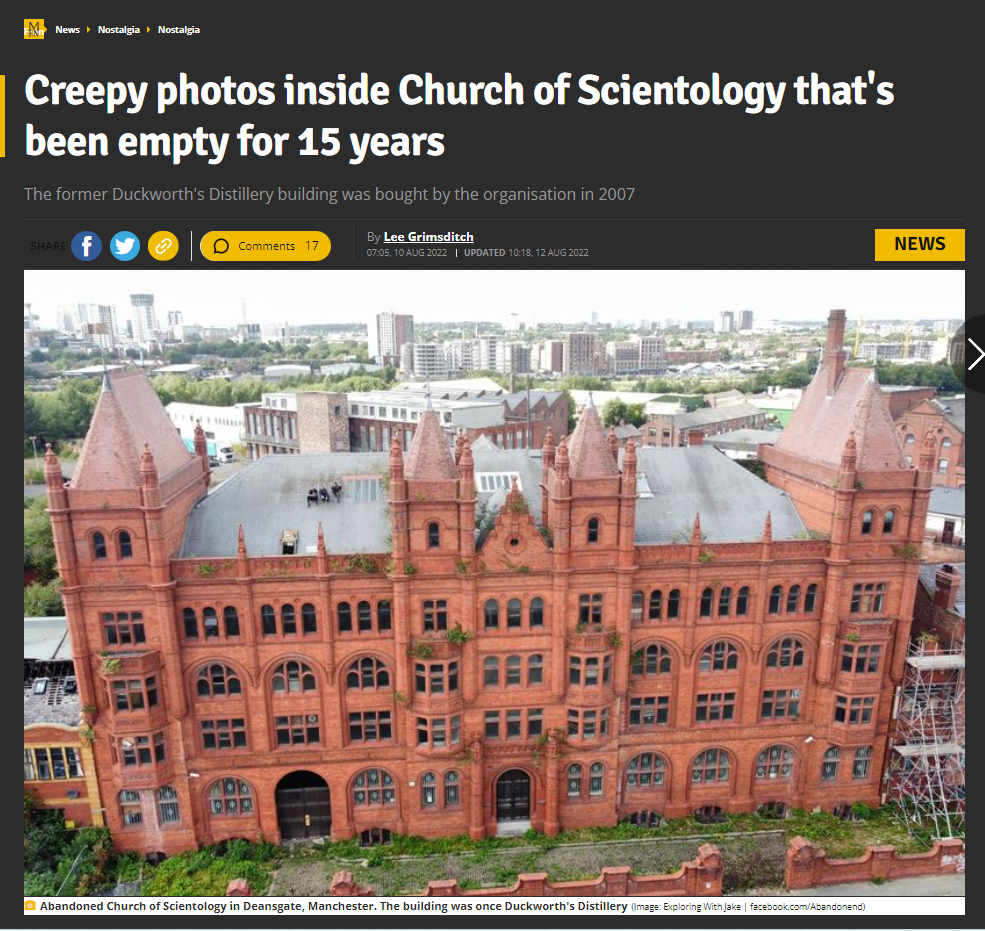 This recent article is in stark contrast to the hype churned out by scientology about the oxymoronically named "ideal org program."
David Miscavige has claimed this program is the key to Planetary Clearing, and a lot of people have given a LOT of money (and continue to do so) buying his bs.
Scientology also claims the "new churches" prove that scientology is more popular and in demand than ever.
If either of these two things were true, scientology would not own "abandoned" buildings all over the world, that they have failed to occupy, in some cases, for decades.
Manchester is by no means the only one — not even in the UK.
Both Sunderland and Plymouth have abandoned, derelict buildings too. They are making media for themselves for all the wrong reasons:
Scanning back, I can recall numerous other buildings that have been purchased with grand announcements and promises of soon to be "ideal orgs," and even one building, Toronto, that is owned by scientology that they moved OUT of, with claims it was going to be "renovated" — it's never happened and the org is located in some dump and is paying rent while the building they own sits derelict.
Boston org sold their building. Still don't have an "ideal org", though they have bought and sold another "ideal" building in the meantime that they never moved into. Still renting somewhere…
Battle Creek building was purchased in 2001! With much fanfare about it being the "original Kellogg spa hotel." Still empty and decaying.
Philadelphia has a boarded up building. So too New Haven. St. Louis insanity has been covered here a few times. Albuquerque. Chicago.
Remember Harare and Bulawayo? Cape Town, Durban, Pt Elizabeth? Adelaide? There are probably more.
IF this was the route to planetary clearing, Miscavige could denominate $5 million to renovate each of these buildings and not even make a dent in the pile of cash he is sitting on.
But that would pose an entirely new problem.
They don't have staff to man these orgs. Look at Chicago. Supposedly the next "ideal org" to open, they are trying to scavenge people from all over the world so they have enough people to man reception and usher anyone foolish enough to walk through the doors into the FART Div 6 displays and press the button for them. Imagine trying to find staff to man Plymouth? or Battle Creek? Or God forbid, Harare?
Of course, no scientologist ever LOOKS. They just listen to the hype and the life is sucked out of them dollar by dollar…