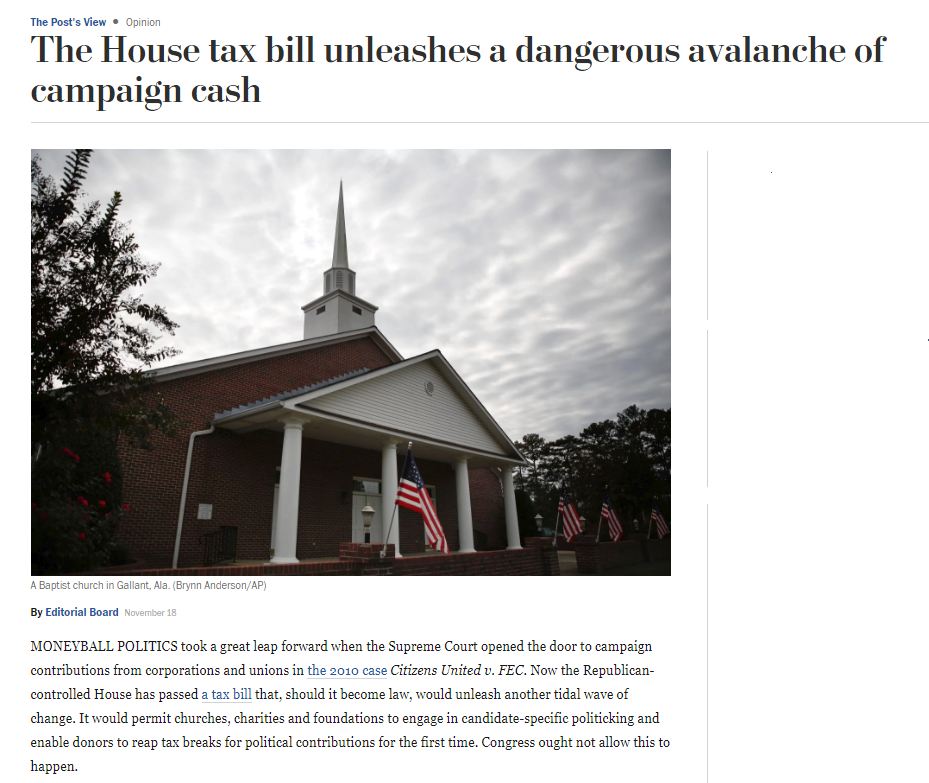 This is an editorial in the Washington Post.
Whether you are liberal or conservative — this should be of concern to you. If you are a Republican and supporter of President Trump, set aside your distaste of the liberal media and absorb the information contained within this editorial. It is important. It is not fake news.
From a purely tunnel-vision perspective, I do not want scientology gaining the ability to influence and buy politicians like they can buy lawyers and private investigators. The possibility of removing existing restrictions on politicking by religious organizations makes it even more imperative for the IRS to withdraw scientology's exempt status.
But on a broader view, as a citizen, I find the idea of hidden political contributions to be disturbing and wrong. It's a scary concept that someone could donate tax deductible money to a religious institution and because of non-existent reporting requirements for religious institutions it is untraceable. We already have massive political contributions and lobbying influencing public policy. Let's not make it worse by making it even more opaque and rewarding political contributions with subsidies by giving them the benefit of tax deductability.
And if you don't agree with my views, remember the US Constitution and the idea that this country was founded on a principle of separation of church and state. That alone should preclude this from even being considered.
Contact your representative and tell them you do not want this rollback of the Johnson Amendment provision to be part of any tax bill — whether you agree or disagree with other elements of it.
MONEYBALL POLITICS took a great leap forward when the Supreme Court opened the door to campaign contributions from corporations and unions in the 2010 case Citizens United v. FEC. Now the Republican-controlled House has passed a tax bill that, should it become law, would unleash another tidal wave of change. It would permit churches, charities and foundations to engage in candidate-specific politicking and enable donors to reap tax breaks for political contributions for the first time. Congress ought not allow this to happen.
The 1954 Johnson Amendment, named for LBJ, prohibits tax-exempt churches, charities and foundations under Section 501(c)3 of the tax code from endorsing candidates. The amendment has long been a target of evangelical Christian groups who yearn to amplify their conservative voice in campaigns, and President Trump promised in February at the National Prayer Breakfast to "get rid of and totally destroy" it. A provision tacked on to the tax bill by House Ways and Means Committee Chairman Kevin Brady (R-Tex.) would effectively roll back the Johnson Amendment, saying that such groups can keep their tax status if they engage in electioneering. The new language offers only vague stipulations that such campaigning should be done "in the ordinary course of the organization's regular and customary activities in carrying out its exempt purpose" and that its additional expenses be minimal. Neither of these is likely to be enforced by an underfunded Internal Revenue Service.
What the House bill really amounts to is throwing open an entirely new channel for campaign money to politicize churches, charities and foundations. Today, so-called super PACs are a massive force in politics, spending more than $1 billion in the 2016 election cycle. Such super PAC donations must be disclosed to the Federal Election Commission and are not tax-deductible. What if these donors are tempted to give their money to a 501(c)3 organization that beckons with a tax deduction and no disclosure? The givers won't hold back. Churches and church-affiliated groups generally don't even have to file IRS returns, so there will be no information about who these contributors are. Other 501(c)3 groups do file, but the donors are not disclosed to the public. The politicized churches, charities and foundations could become the latest vessels for dark-money politics. The House language is not in the Senate legislation, but it could survive to a conference.
The change is unwanted by large numbers of tax-exempt groups, who fear the corrosive impact. In a letter in September, more than 5,500 organizations in 50 states warned that repealing the Johnson Amendment would destroy their hard-won credibility as nonpartisan organizations. The change would also set a dangerous precedent, offering a federal subsidy — the tax deduction — for those making political contributions.
The churches, charities and foundations already enjoy the right to advocate for issues. There is no need to give these groups a new cash window and make them servants of special interests seeking to further warp the nation's electoral politics.