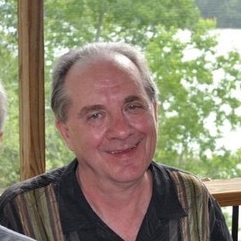 Dave Richards was one of a kind, and a giant among friends.
Tony Ortega did a post about him on Thursday thanks to Dave's great friend Ron Miscavige Snr.
I could not process the grief and bring myself to write anything coherent, so I am a couple of days late. But the delay only represents the shattering of my world when I heard the news of his passing. The only small saving grace was that he died peacefully in his sleep. But that made it even more shocking as there was no warning.
I met Dave on the Apollo in 1973. He was one of the really good ones. He was the Dissem Aide Flag Bureau at the time. I was a newbie and ended up as CO FB's Communicator (Secretary). I spent a good deal of time with Dave — Dissem Bu was a very hot area, Hubbard was developing his "Marketing Series" and whatever Hubbard had his attention on, so did everyone else. Dave made a very immediate and lasting impression on me. He was smart, composed and competent. He did not fluster (I saw many who became almost incoherent when Hubbard put the heat on them) — he just never lost his cool. There were plenty of "old hands" on the Apollo who made you earn your place. They were not very warm, even cold, to newcomers until they reached some magical, secret status of "one of us." Not Dave. He was polite, friendly and helpful to me from day one – just as he wa to everyone.
Dave was legendary in the scientology world for being the most successful Executive Director of the "Founding Church" of scientology (it was not the first, but was named that by Hubbard) in Washington DC. This was "Hubbard's org" in the US — the one he spent the most time at and the one he considered was "his." Dave was Hubbard's hand-chosen executive director.
When our time on the Apollo came to an end in 1975, Hubbard appointed Dave the Public Exec Sec of the newly formed "Flag Service Org" in Clearwater. When the days of the Finance Police came around, Dave was too old school to go along with their bullshit, and he left the Sea Org.
After I left in 2007 — 20+ years later — I reconnected with Dave. He reached out to me and when he heard I was in the Tampa Bay area, he introduced me to his old friend, Robert Almblad.  That led me to work with Robert and establish a friendship with him that I cherish to this day.
Our connection grew even stronger when my wife Christie finally met Dave. The shot below is Dave at our wedding.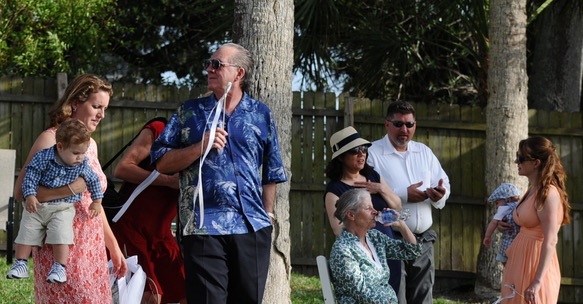 Dave's daughter, Meghan, had gone to Delphi with Christie. Meghan married Garrett Robinson — who was almost like a kid-brother to Christie as her parents and Garrett's parents were best friends and for a good period of their early years they all lived together in a single large house.
Dave connecting up with me (and his criticism of the financial rape being carried out by scientology and telling Flag Regges that L. Ron Hubbard would be ashamed of them) resulted in Meghan disconnecting from him. Christie connecting up with SP's resulted in her parents disconnecting from her. Yin and Yang. Dave and Christie instantly became best of friends. He was a surrogate father figure and she was a surrogate daughter.
Everyone who ever met Dave Richards felt the same way. A kinder, gentler and smarter man I have yet to find. He was always interested to hear about you, but reluctant to talk about himself. He was engaging, funny, self-deprecating and humble.
He had been a very successful executive in a large multi-national corporation but in recent years had wanted to keep himself busy so he took to driving an Uber in Phoenix. He told me how much he enjoyed it because it gave him the chance to meet and talk to new people every day. He didn't consider it "beneath him" — to the contrary, he was happy to be of service to people in exchange for their perspectives on life. He recounted how interesting it was when he drove people by the Phoenix "ideal org" and how virtually every person commented on it and many would ask him if he had watched Leah Remini's show. He chuckled and said "I never told them you were one of my best friends, because I made it a policy NEVER to offer an opinion about religion or politics, I was more interested in hearing what they had to say than thinking they wanted to hear what I had to say."
That was the humility of Dave.
The enduring heartbreak of his life was the fact that his daughter had disconnected from him. He could not know his grandchildren.
That is the cruelty of scientology.
According to his wishes there will be no Memorial Service. His body is being cremated and his ashes returned to his native Canada. Our thoughts are with his wife, Sandy and his family.
Though gone in body, his memory lives strong.