They are at it again: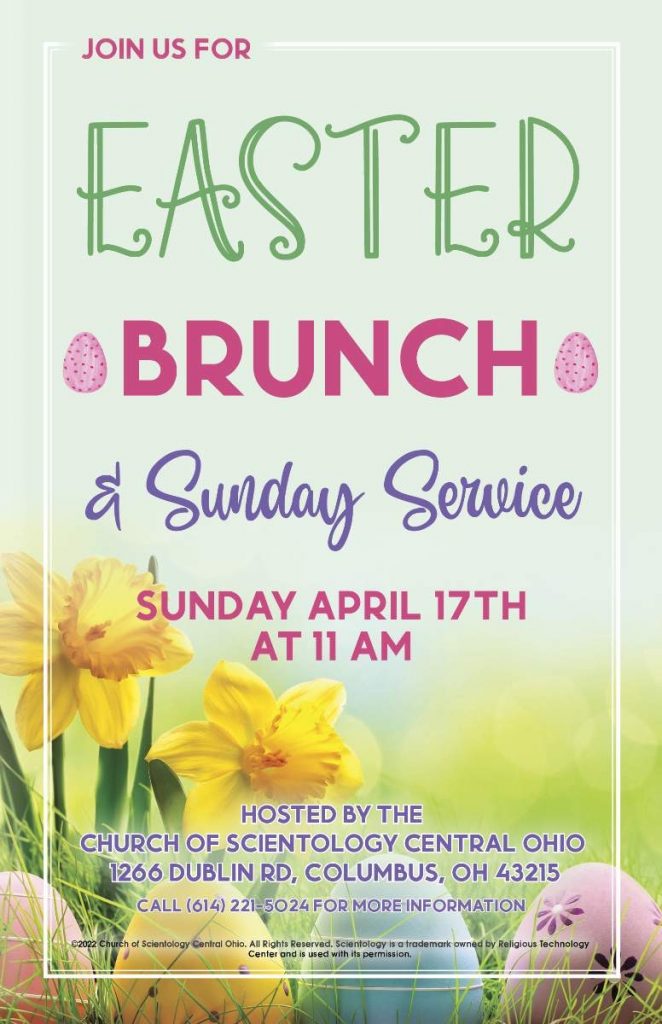 Scientology pretending it is aligned with Christianity.
Celebrating Easter is even more hypocritical than celebrating Christmas — which almost transcends a religious holiday in most Western countries. But Easter, like Passover is truly a religious day, there is no federal holiday designated for these occasions in the US.
This is the day to remember Christ on the cross. And a day for scientology to try to cash in on their "christian-friendly" PR line.
But what does Hubbard have to say about this occasion? I have written about this before Can Scientologists be Christians or Jews Too?
Let's start with his idea about aligning with and infiltrating Christianity:
"There is a difference between the CHURCH OF AMERICAN SCIENCE  and the Church of Scientology.  The CHURCH OF AMERICAN SCIENCE is a Christian religion.  It believes in the Holy Bible, Jesus is the Savior of man and everything that's necessary to be a Christian religion.  People who belong to that church are    expected to be Christians.  These two churches fit together. We take somebody in as a CHURCH OF AMERICAN SCIENCE.  It doesn't disagree with his baptism or things like that, and he could gradually slide over into some sort of better, wider activity such as the Church of Scientology and a little more wisdom and come a little more close to optimum.  Then if he was good and one of the people that we would like to have around he would eventually slide into the HASI.  So we have provided stepping stones to Scn with these organizations." — L. Ron Hubbard 4 Oct 54
But here is the real kicker — in the infamous Class VIII lecture called Assists talking about 3what was done to individuals on earth during the "Wall of Fire" 75 million years ago:
Anyway, every man is then shown to have been crucified, so don't think that it's an accident that this crucifixion .. they found out that this applied. Somebody, somewhere on this planet, back about six hundred BC, found some piece of R6. And I don't know how they found it either by watching mad men or something but since that time they have used it and it became what is known as Christianity.
The man on the cross. There was no Christ but the man on the cross is shown as every man so of course each person seeing a crucified man has an immediate feeling of sympathy for this man. Therefore you get many PCs who say they are Christ. Now there are two reasons for that. One is the Roman Empire was prone to crucify people. So a person can have been crucified. But in R6 he is shown as crucified. 
So, the core belief of scientology is that Christ not only didn't exist, he is a figment of the reactive mind…
But some may wonder — why then does scientology use a cross as a symbol?
It's explained officially by scientology:  "the cross has long been a symbol used by man and the scientology cross has 8 points to represent each of the dynamics." This is an "acceptable truth."
But that is not REALLY why scientology uses a cross. If it was intended to represent the 8 dynamics it would be an 8 pointed STAR with all arms equal. No dynamic is considered to be more important than the others, yet the "scientology cross" does NOT have them equal in length.
Hubbard placed an enormous amount of importance on the symbols contained in "the R6 bank" — this series of "implants" installed in everyone on earth 75 million years ago.  Here he is talking about this subject, again in 1968:
The whole population of the planet responds like a clock to R6 symbols. They respond to nothing else. They do not respond to reason. They only respond to R6 symbols. 
Now I could give you much of the symbolism and so on which goes along with this but you find it recorded. This, of course, man responds to an exploding volcano [shows a  DMSMH book front cover, which is an exploding volcano]. He responds to that. He understands that.
That's the real reason scientology uses a cross symbol.
It is the cynicism of scientology highlighted once again — though THIS is really what Hubbard says about Christ's crucifixion, they nevertheless seek to pretend otherwise and use Easter as a reason to get people to come in and give them money.