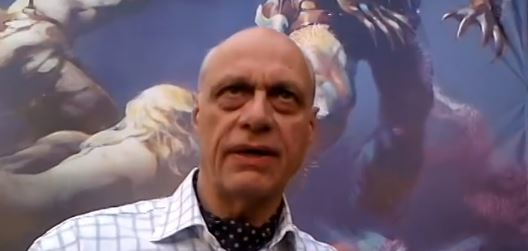 Just as I like to check in on my "daughter's" site, I also like to check in on Fast Eddie Parkin every now and then and his crazy Twitter feed.
Leader of the STAND League, Ed Parkin is an OSA flunkie last seen in public sitting in the gallery of one of the hearings on Val Haney's legal case taking notes to report back to the higher ups.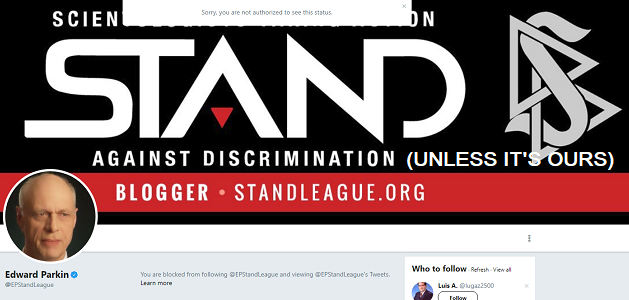 Let's just start with an amazing piece of hypocrisy. Parkin is known for jumping on the bandwagon decrying violence against Jews. But at the same time he supports hate-filled  anti-semitic rants from his bedfellows at the Nation of Islam.
And then there is this. Eddie tries to cloak himself in the idea that he is above hate by tweeting a quote from someone else.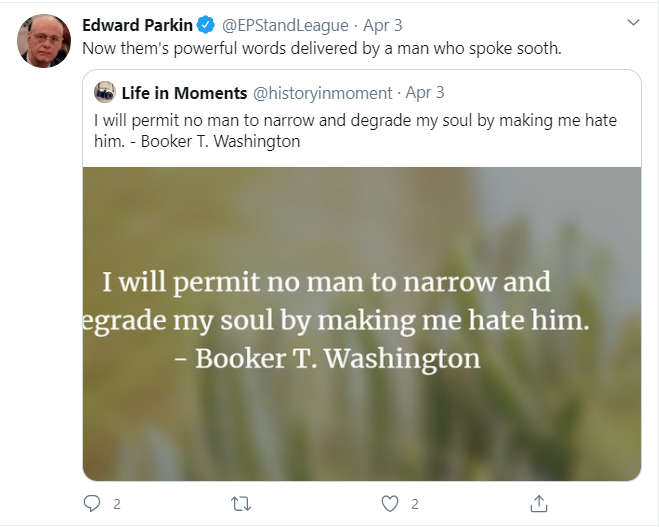 Now, with that quote in mind, here is his latest tweet: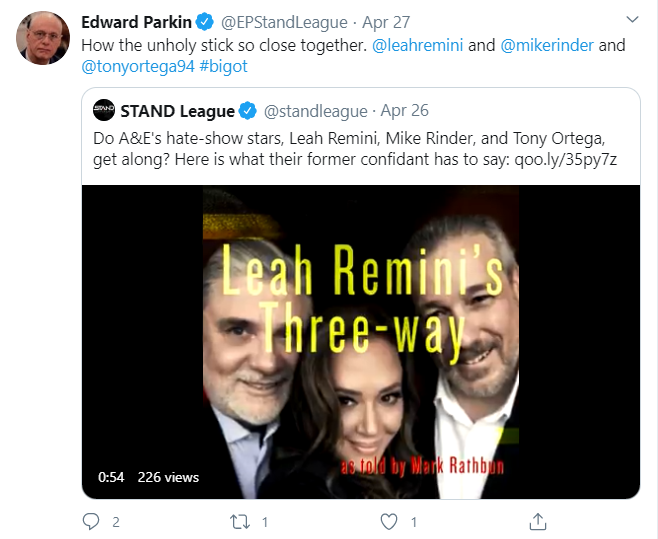 Three-Way? That's not hateful Ed?
And I love the fact your go-to guy is Marty Rathbun.
When it comes to Leah Remini, Mike Rinder or Tony Ortega every utterance he makes is filled with hate. Admittedly, he HAS met me. But he has never talked to Leah or Tony. So what is his vitriol towards them based on? He (and scientology generally) never responds to the facts that are presented about the abuses in scientology — they merely launch ad hominem attacks. Exclusively and only. He loves the term "bigot," even hashtags it.  I wonder if he considers the people who came forward about the abuses of Warren Jeffs to be bigots too?
And here is his previous recent tweet targeting Leah and me: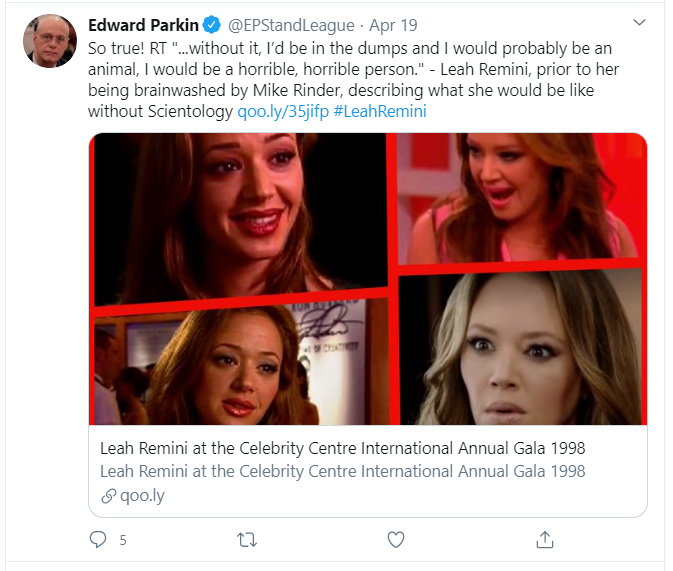 I brainwashed her? I thought "brainwashing" wasn't a "thing" because a LOT of people have reported the brainwashing done by scientology and you always deny it. Meantime, you are the ONLY person on earth who thinks I could brainwash Leah Remini.
Finally, for a little humor here, like everyone else in the Sea Org, Ed is an expert sycophant. But he goes that extra mile, stretching his brown-nosing beyond his seniors and COB to suck up to scientology "celebrities."
Kirstie Alley is one of the more unhinged people on FB:

And I bet Greta just loves being highlighted by him — though 4 likes in 10 days isn't setting the world on fire…

Thank you
To everyone who offered to help JB. It looks like his needs are taken care of for the time being. The generosity and heart displayed by so many was a reminder of how many good people there are in the world and it doesn't require a trophy or certificate from scientology to be a real humanitarian.