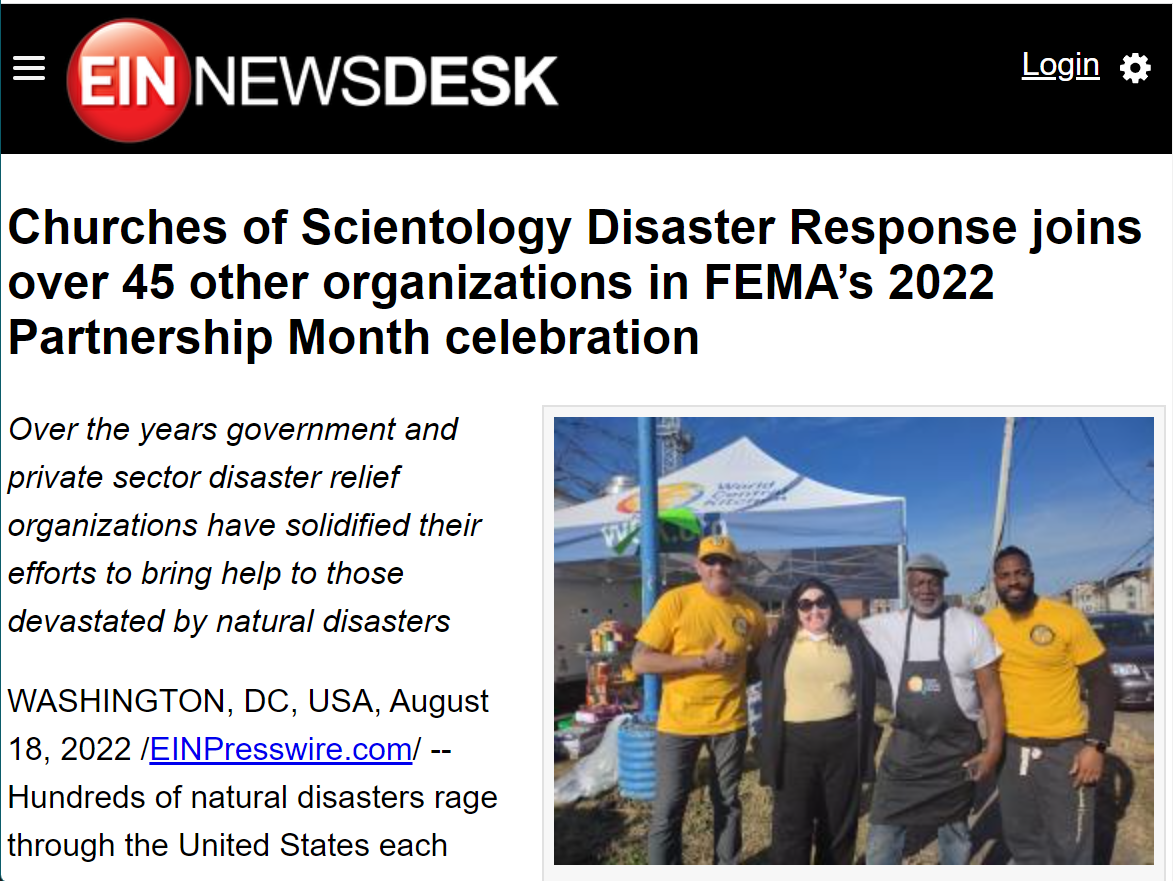 Pictured above is a recent Scientology press release…
Typical of scientology, they are trying to position themselves once again with the Red Cross, Salvation Army and FEMA (Federal Emergency Management Agency). This is a very important thing in the scientology world — "gaining acceptance" and "creating allies" who legitimize the organization. They hope these people will throw them some bones and recognize them in some way which they will then use when their abuses are exposed. "Look at all our good works, we could not possibly be abusing people. See, we are alongside FEMA and the Red Cross — if we were really abusing people would these organizations have anything to do with us?" is the implied message.
The videos of over 45 organizations, including the Churches of Scientology Disaster Response (CSDR), the American Red Cross, Adventist Services, Team Rubicon, and the Salvation Army, are featured on the FEMA website.
Rev. Susan Taylor, National Director of the Churches of Scientology Disaster Response organization and chair of the Washington, DC VOAD (Voluntary Organizations Active in Disaster), recently hosted the DC VOAD meeting, sharing the disaster work of their local organizations and emphasizing the FEMA Partnership Month's video exhibit as well as the many virtual meetings being held during the month's celebration.
Of course, there are NO specifics on what they have done. Just some photo ops. But the release goes on, again in typical scientology style, proclaiming how natural disasters are becoming more prevalent — to make it appear their efforts are legitimate and needed.
Natural disasters have increased over the last several years not only in number but length of seasons as well. Tornado season now extends into December as experienced by communities hit by December 2021's ten devastating tornados in western Kentucky.
Supporting this fact, an article on Bankrake.com noted: "Data from U.S. government agencies has proven that natural disasters are becoming more prevalent and storm-related property damage costs are increasing. 2020 and 2021 were the worst years on record for the most natural disasters. In 2021, 20 weather-related disasters totaled more than $1 billion in damages each and $145 billion in total combined damages overall, making it the third costliest year in history for natural disasters. 2020 recorded a jaw-dropping 22 recorded billion-dollar weather events. Not only are natural disasters becoming more common, they are also becoming more widespread. For instance, in 2021, Texas and other parts of the South experienced a winter storm event that caused widespread power outages and multiple pile-up car accidents. Also, in late 2021, the first known derecho in December to occur in the U.S. caused extensive damage in the upper Midwest."
And then, the final bit — how their "scripture" tells them to "help those in need no matter what the circumstances" (step outside the DC "National PR Office" or the DC "ideal org" and ask the people on the street what scientology has EVER done for them….
The Church of Scientology's long-term commitment to help is written throughout its scriptures. The Scientology Handbook, based on the works of L. Ron Hubbard, founder of the Scientology religion, defines the role of the Church of Scientology's Volunteer Ministers. Mr. Hubbard wrote, "A Volunteer Minister does not shut his eyes to the pain, evil and injustice of existence. Rather, he is trained to handle these things and help others achieve relief from them and new personal strength as well."
Scientologists assist people in hospitals recover from illness or injury, they help the underprivileged secure a valuable education by improving their ability to study, they heal troubled marriages, they salvage lives from drug abuse, they are active in criminal rehabilitation, in raising society's moral standards and they are on the scene to bring relief to those victimized by disaster.
By being part of the VOAD, scientology is linking itself with FEMA, trying to make itself seem to be on the same level as the Red Cross and Salvation Army.
The truth is that scientology "disaster relief" ONLY happens when there is a photo op and opportunity to try to get some good PR. And these disasters are ALWAYS an opportunity for some more fundraising.