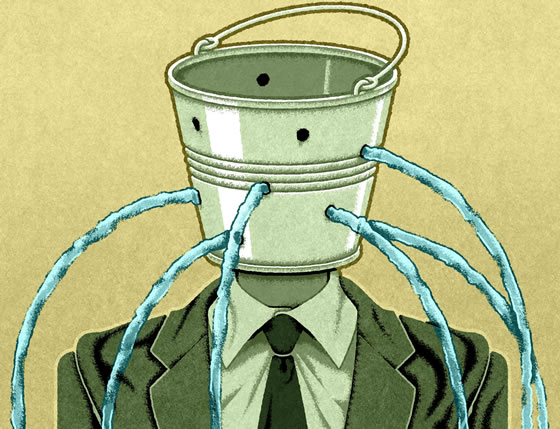 The leak plugging efforts just don't seem to be working.  They even have a full time person in OSA Flag assigned to get to the bottom of this situation. But the OTC Minutes just keep rolling in. And though they have taken out a lot of embarrassing statistical specifics, they still have what should be embarrassing details (I think most of these people are oblivious to how ridiculous they are). Part of the problem is that they can turn ANYTHING into good news and "huge impact" so they THINK they are relaying good news. The delusion is a sight to behold. They remind me of the proverbial fleas climbing up the elephant's leg with rape on their minds.
Let's begin with the mighty powerhouses at Flag. The biggest and baddest OT Committee in this sector of the universe.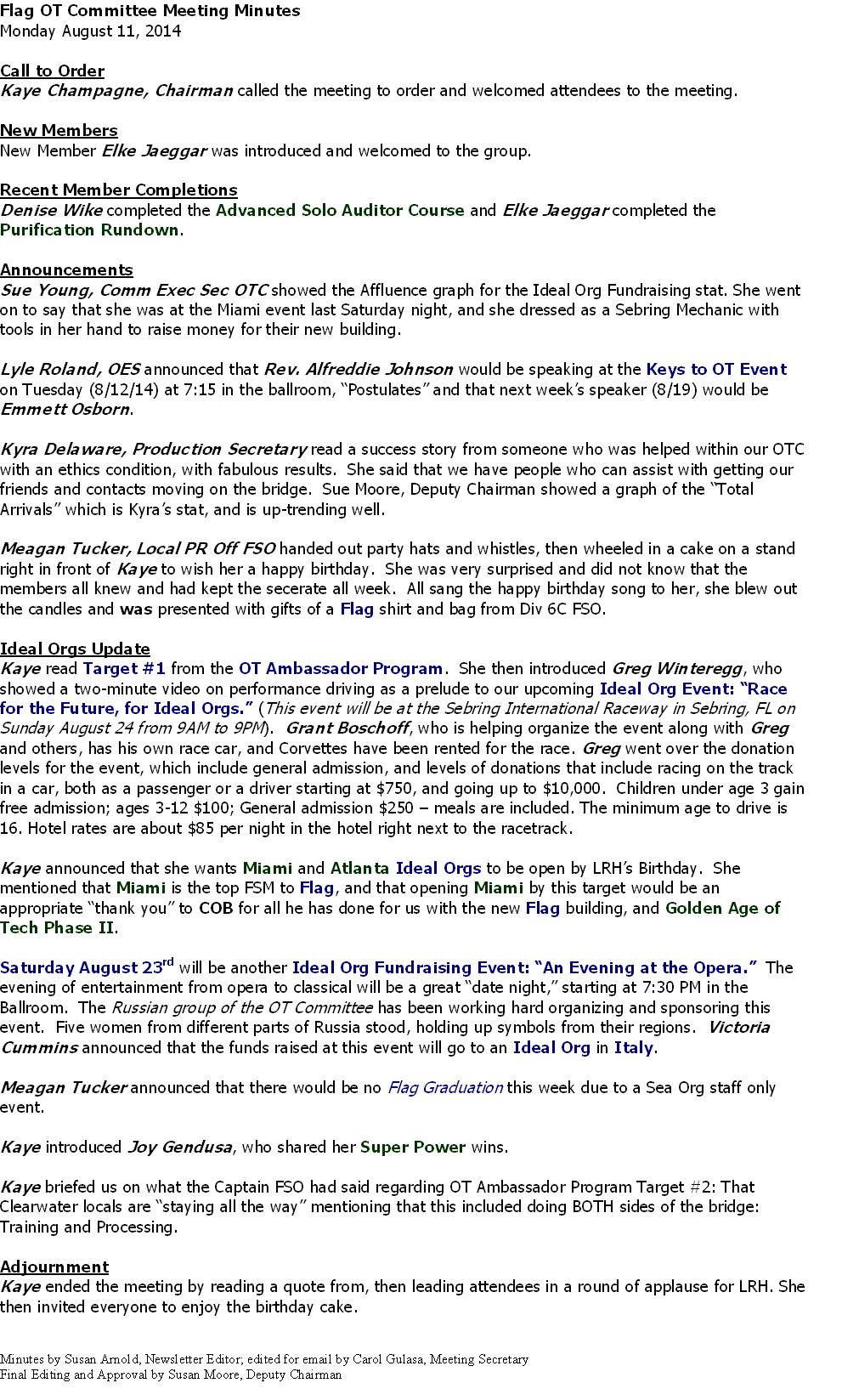 Two completions is pretty impressive, including a Purif for the OTs. Remember when they had the "game" of 100% of the OTC on service and they were touting that virtually everyone was on service? Hmmm, doesn't quite add up to two completions. But then again, there has been no mention of that game for some time, so as with everything else in scientology, when the pressure eases off things revert to their usual dead state. Oh, and one person was helped with an ethics condition. Woohoo.
Big news, ideal org fundraising is in Affluence. And the entire rest of the report is about "ideal org fundraising." It is the ONLY thing they really have going on. And this is FLAG.
Kaye "wants" Miami and Atlanta to be opened by LRH's birthday as an appropriate gift to COB. There isn't a chance of this happening, but she seems a bit confused about the identities of LRH and COB.  This is increasingly the case as Miscavige has been running scientology for longer than LRH at this point.
Now, from the "other" local Tampa OT Committee and here again, OT wonderwoman Kaye Champagne made an appearance to support the troops, she is flitting about to Atlanta and Miami and Tampa  (though they don't seem able to spell either of her names correctly). By the way, I wonder why Orlando never gets a mention? It's only an hour away and is the CLOSEST Org that is not ideal. Where is the Flag OT Committee coming to the rescue of Orlando?  It gets about as much attention as those orgs in France which are NEVER mentioned anywhere (except in the press).

                       Tampa OT Committee Meeting Minutes
                                 12 August 2014
 

Jill welcomed us all to the Tampa OT Committee potluck meeting! And special guest welcome to Kay Champaign, OTC Flag Chairwoman. Good to see Jim Thompson again. And always appreciate Mike Hoy's smiling presence.
 
GAT II

Kafir Barram, OES Foundation, came and shared some GAT II wins with us. 

Since Jan 17 Tampa Ideal Org has made 17 Clears (2 in one day!!), 262 grade completions and is the top SRD classroom in USA! But even more, what this means to planetary clearing – The impact is HUGE!!

It is a reality that Foundation will become Saint Hill size within the next 2 months. 

There are now 32 auditors-in-training and when they graduate every auditing room in the HGC will be filled and can handle 120 pcs. This raises our expectancy level to CLEAR the area!!!

Kafir needs our help:
1. CF Project needs to be brought up to PT and organized so 10,000 recoveries can be back on course!
2. FSM to keep org filled up! Get people on these services!
If you have any questions – Kafir would be more than happy to answer them. Thank you so MUCH, Kafir, for sharing these exciting wins with us. Very inspiring!
 
Book Selling:
Ocala this Friday!! There will be live bands, car show, food! Help out in VM tent and/or inside the Ocala Org.
Friday Night ALIVE!
Saturday Night ALIVE!
Saturday 2-7 Plant City Classic Car Show. Carpool from Clearwater with Mike Hoy.
Sunday Big Top Flea Market
 
4-D Campaign:
Jill read Marlin Anderson's report about the huge success at East Tampa Back-to-School Bash. There was a constant flow of people and 403 TWTH booklets were handed out. Someone shared that he received a TWTH booklet on his doorstep and is now on Overcoming Ups and Downs! We just keep hearing WINS people have from receiving TWTH and changing lives for the better. Mike Cardin and Ami Amolgy handed out 200 TWTH booklets on Sunday. They would LOVE your help 9-11 am Sundays.
 
Upcoming Events:
This Wednesday – Mike Fine speaks at 7 pm on "What is Love?" All proceeds go to Miami Org. Louise Cournoyer could use your help at the registration table.
 
Sunday, August 24 is Race for the Future. This is a fund raiser for the Ideal Miami Org. Kay shared with us the details of the event, and it is really going to be fun! Flag OTC is renting the Sebring race track and you can race real race cars on a real race track. There are various levels of participation, but don't forget the $$ that you are spending on this unique, exciting experience is for clearing the planet. 
 
Birthday Game:
#7 cumulative, but that can change…
 
New Business:
WISE is changing it's meeting time from Wednesday to every other Saturday afternoon. Rich Byrd will let you know the details soon.
 
Commendations:
Very Highly commended were: Brett Miller and Ingrid Collewijn for high high hours.
 
Ended with LRH quote:
 
"What a true friend does:
For one thing they stand up for one.
Give him counsel.
They help in adversity.
They safeguard his reputation.
Won't hear ill of him.
Share his triumphs,
Ignore his faults."   LRH
 
Minutes submitted by Deborah Otto.

###

Tampa – 4D Campaign Report – Marlin Anderson:

At about 9:15 am, OT VIII and Tampa OTC New Civilization I/C Marlin Anderson arrived at the Jackson Heights Youth Education Town in East Tampa to set up TWTH table for distribution at the East Tampa Back to School Bash on 8/9/14.

Tampa OTC volunteer Susan Hawley showed up at about 9:45 to help set up. The Flag Events Unit showed up at almost the same time as Susan, with still cameras and a video camera.

Before the event started at 10:00 we got into comm with people from two different organizations involved with suicide prevention, and they were extremely interested in what we had to offer with TWTH. Katrina Osborne of the Crisis Center of Tampa Bay asked for 20 copies of TWTH to give out to two teen groups through her church. Susan Burke was working with the same organization.

Marlin very briefly showed Susan a couple of chapters from TWTH, and told her that he was a volunteer with the Church of Scientology. She had only looked at the book for something like 15 seconds and then told me "This totally changes my opinion of Scientology." She went on to say that she had only seen the negative stuff in the media, and could see that we really did have a lot to offer. That was by far the fastest handle step Marlin had ever witnessed. 

The Foundation for a Drug Free World showed up a couple of minutes later and set up a table right next to ours. Rene Gomez and Yvonne Guevara came by first, quickly followed by Julieta Gil Santagostino, the ED of the group. 

Marlin had donated $100 for TWTH table, but the TAD table was a last-minute entry. He spoke to one of the organizers about a donation but nothing had been paid. Then right before the event started, Marlin was approached about how the overall I/C had noticed that we hadn't paid anything for the table. So Marlin gave them $100 in cash which they used immediately for gift cards to give out to the attendees, and everyone was happy. 

Marlin noticed that there were about 50 people waiting outside the building for the event to start, and when 10:00 came along we had a steady flow of visitors to our table. There were actually far more visitors to our table than in previous years. As before, prizes are the incentive at these events to get people to attend, but somehow they promoted this event better than in previous events. 

Marlin saw Kevin Adderley, director of the Peak Academy school and tutoring center, who had told Marlin at the safe summer event in June that he was using TWTH video at his school. Marlin pointed at the TAD table and told him that he could also get free material from them on drug education and he was very interested. Marlin then told Julieta that he was interested, and recommended that she go over and introduce herself. 

We brought lots of candy, which proved to be the most successful method of initially attracting people to the table. We also had a display showing the neighborhoods that we had thus far blanketed with TWTH in Police District 3 (high crime area – one-third of Tampa which includes East Tampa). 

Vivian Heyward, a community leader that Marlin had met in 2012 as part of the Stop of Violence campaign, came by the table and talked to Marlin. Vivian told him about a Stop the Violence march that is taking place on Sunday, August 17th, from 3:00 pm to 6:00 pm. She invited us to participate in the march. 

Around 11:00 am, two Tampa Org Div 6 staff members came by to help out, Harrison Thomas and Gage. Marlin stayed until 12:00, and also took some photos and video while he was there. Aja Anderson came along a little before noon to take over for Marlin. 

Marlin talked to Aja afterwards, and she said that they continued to have aconstant flow of traffic to the table. She also said that she had heard from Harrison that a guy came up to him and told him that he had received one of TWTH booklets on his doorstep from our house-to-house distribution, and that he is now on the Ups and Downs course at the Tampa Org.   

We didn't get a count for the TAD table, but could see they had lots of visitors continually picking up the booklets and signing the drug-free pledge. We got out 403 TWTH booklets. Just to get the significance of that number, we give out 1 booklet to each person, so factoring in instances of giving out multiple booklets from time to time, we had at least 350 people come to our table. Marlin doesn't recall ever having that much traffic at one of these events. We also gave out some TWTH DVDs and Scientology How We Help brochures. A very successful event for both TWTH and TAD!
A few points of note:
This is the "Model Ideal St Hill Size Class V Org" — the best of the best. The big daddy of ideal orgs clearing the planet.  In 6 months they have made 17 Clears.  That is LESS THAN ONE A WEEK.  They are responsible for a metropolitan area of 4.3 MILLION people. At one per month (which is more than what they are doing) it will take 4.3 million months or THREE HUNDRED SIXTY THOUSAND YEARS TO CLEAR TAMPA.  And their tag to this stat is: But even more, what this means to planetary clearing – The impact is HUGE!!
Really? Flea, meet the elephant.
And then, this perfect, SH size ideal org needs to get their Central Files up to date? Now how can that be?  They are ideal? AND SH size? AND a model for everyone else? And this is "so 10,000 recoveries can be back on course!"  They have had 10,000 blows from courses in Tampa?
Just for a little humor, an imported Sea Org member is going to speak on "What is Love?" with all proceeds going to Miami Org. I expect this will be an absolutely riveting talk with some deep insights into how to raise and love your family. Could be as entertaining as Hitler giving a talk on holding a good seder.
                       Tampa OT Committee Meeting Minutes
                                 5 August 2014

Jill welcomed us all to Tampa OT Committee meeting. And welcome back to Daniel Corrado and to Aja Anderson!! Also a warm welcome to guest Jim Thompson, who lives in Tampa!!
 
New Postings:
Please intoduce new members to Lynette Barry Dir I & R – she can be reached at (813) 335 – 4422. This will be the best way to get them on the email lines and grooved in.
 
Book Selling:
Friday Night ALIVE! starts around 7 pm at the Org- go out into lively Ybor City Saturday Night ALIVE! 7pm at the Org–again, go out into Ybor. Women's Show coming in October. A great venue 

GAT II:
Come to the potluck next Tuesday and hear WINS and interesting stories of GAT II!! Early start at 6:15. Theme is Italian foods. 

We will also have tech terminals from the Org brief us on the progress made in this area.

IAS:
Daniel reported on the event in Washington DC to fundraise for the LRH Hall. Though this is technically not IAS, the report about the continuation of creating the Flag Mecca was inspiring.
 
4D Compaigns:
Natalie Mannechia and Ami Amolgy distributed 200 TWTH door-to-door this Sunday. Way to go, you two! Keep it up, and we need some more to go out on Sunday morning.

Saturday Aug 9 is East Tampa's Back – to – School Bash where volunteers hand out TWTH booklets to every child. You can help. Marlin Anderson has the details: marlin@tampabay.rr.com.
 
Oct 7 is National Night Out where we will have a TWTH table. The Tampa Chief-of-Police and possibly the Mayor will show up for this one. 

Jan 19 2015–Joyce Anderson's convertible is registered to be in the MLK parade with 50 kids from Washburn Academy marching behind!! There will be a TWTH banner and volunteers distributing booklets to the crowd. And beads! Yes, this is a long way away, but you have to register now and be invited to participate, and Marlin got 'er done!
 
VM:
Friday night will be a VM tent in Ocala – to flow POWER to Ocala. Sunday VM booth at Big Top Flea Market. Miracle WINS happen every week! Has been a great bookselling event.
 
Upcoming events:
This Sunday August 10, 11 am is the Field Briefing at Flag Auditorium. There will be hundreds of people and brunch. The Captain will speak on the most important issues including getting more people on service. There will be a reserved table up front for Tampa. Confirm with Debbie Phelps at 805-245-2669. Text is fine.

WISE meeting with Rich Byrd and his group., 6 pm at the Org, every Wed.   LRH data discussed and cogs about how to implement! Stay for…..

Next Wednesday August 13, 7 pm, Mike Fine will give a lecture on "What is Love?" Cost is $10 and proceeds go to Ideal Orgs. Pay with cash, check, or credit card. 25 confirms already!! OTC is SOOOOO behind this. Bring all your friends.
 
Birthday Game:
Tampa Org #6 weekly and #8 cumulative with Highest-ever: student points, SRD co-audit hours and SRD students!!!
 
Ended with LRH quote.

Then……..Deb, Lorraine, Louise and Marlin and..(did I miss anyone?) stayed and labeled some TWTH booklets because we have given all the others out! Thanks, guys.
 
Minutes submitted by Deborah Otto.    


Wow, that Jim Thompson really gets around… He is almost as popular as Kaye Champagne though it seems they can spell his name right. 
And in the "IAS" category was a report about "the fundraise" for the "LRH Hall."  I have to get around to this one of these days as the boondoggle of the "LRH Hall" is really something.  The usual gang of thieves are at it full bore — Charmaine, Bruce and Laurie. They have taken to conducting tours of LRH properties to try and raise money. Miscavige must rue the day he was forced to open the SP Building — income has plummeted as they HAD to stop fundraising, and the vast majority of people had already pre-paid for Sooper Power and the Running Program so it's not generating any real new income. And if there is one thing that gets his knickers in a twist, it is less money coming in (not because he needs the money, in his mind it reflects lessened support for him).
It sucks to be Miscavige.