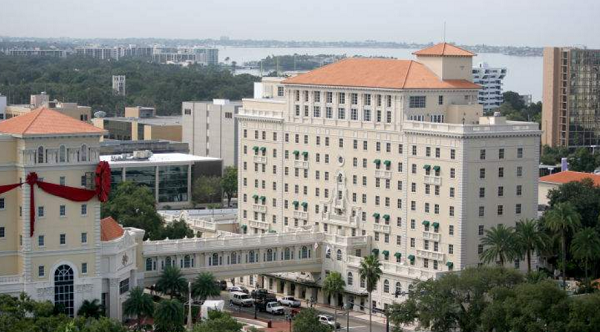 They're boasting about their accomplishments again — and their boasts are the best evidence of their complete failure.

Super Power and Cause Resurgence
A couple of notes at the outset. It seems they have adopted the IAS "successful action" — to get people to show up for reg events these days you need to offer free meals. Flag, being the Mecca of Technical Perfection and the Friendliest Place on Earth is going one better. Flying in their own chefs "as seen on [sort of] TV" to whip up some pizza and gelato. Should generate massive crowds. I do note they never show any pictures of my son in their team of chefs. He is one of them.
Also, how desperate are they to get some bodies in the shop. TWENTY Flag Registrars ("Consultants") in addition to the "Chef team" — for VALLEY ORG? What an enormous waste of resources.
Now, to their amazing statistics. Remember, this is Flag, the pinnacle of the scientology pile. It is also the ONLY place where you can get Super Power (even though Hubbard said it would be available at all St Hills in 6 weeks way back in 1980 or so…) and the Running Around in Circles ("Cause Resurgence") rundown.
Super Power Rundown completions now "exceed over" 6400.  Remember, there are 12 or so individual rundowns that make up the whole thing, so no doubt they count each one as a separate completion. Especially when they also list the Running Program completions as 6600. And that one people do more than once. They heavily promote the fact that Rafferty Pendery has done it 3 times (I guess he didn't get at cause the first two times — or maybe it was like a gym membership and he just keeps renewing to keep using the running track). In any event, the Running Program costs little compared to Super Power (and a LOT compared to a gym membership and really a lot compared to running in the park) so there is no doubt that 3 or 4 times as many people have done the running around in circles rundown than have done the Super Power rundown and conquered the oiliness table and the blood saline level perception drill.
Super Power was unleashed on the world in November 2013. This was promoted as THE thing that would make planetary clearing a reality (before that it was the Golden Age of Tech, before that it was SRD, before that it was OT VIII, before that it was KTL and LOC,  before that it was Solo NOTs, before that it was NOTs, OT III, Clearing Course, Grades etc etc etc
Let's give them the BEST case scenario. In excess of more than 6400 individual people have completed the entire Super Power Rundown and 6600 have Run in Circles.
This is about 1000 per YEAR. For ALL of scientology… Because anyone can do either of these "rundowns" no matter where you are on the Bridge — they were both invented by Hubbard to deal with incompetent, goofing staff, and if there was a requirement of being OT or even Clear, most staff would not have qualified.
At 1000 people per year, it will take them a mere 25,000 years to get just 10% of the population of the US through this level. That is a MODEST target, if you actually claim you are "Clearing the Planet" — just 10% of the US.
To get just 1% of the planet through the rundown will take them 70,000 years.
Here is what they were saying about Super Power in 2013:
WE ARE RIGHT NOW AT THE CROSSROADS OF WHOLE TRACK HISTORY AND NECESSITY LEVEL
"Super Power is the answer to a sick, a dying and dead society."   LRH
Super Power!
It's the series of technical rundowns that LRH most closely associated with planetary clearing.
It's been in the making for some 30 years. And for good reason.
It's a technology where small results simply aren't even conceived.
A 7th dynamic boost to our power as a religion and your potential as a thetan, in ways you can't even imagine.
Super Power's release is 21st Century Scientology to the core.
These are moments that haven't yet existed on the Scientology time track.
And moments that will be hard to surpass in our future.
Our next epic milestone is closer than ever……
SUPER POWER and the NEW FLAG BUILDING
"A Super-fantastic, but confidential series of Rundowns that can be done on anyone…   that puts the person into fantastic shape unleashing the Super Power of a Thetan…   It consists of 2 separate high-power rundowns which are brand new…."  LRH
This is the attainment of an LRH vision: the release of Super Power and opening of the new Flag building.
"Some time ago I realized the resolution of this scene would require a powerful tech, tailored to check this downward spiral at each step of the way and get it reverting upwards.
I set about to study and research and develop processes that would accomplish this.
The result of that work is Super Power.
Super Power is the answer to a sick, a dying and dead society.
With it, we literally revive the dead!
With it we have the means to put Scientologists into a new realm of ability enabling them to create a new world."   L Ron Hubbard
Super Power will be released and available for public sometime this year.   The building is ready. The perception equipment is installed.    The auditors and technicians are currently training.
The only prerequisites are drug handling complete and you can't be in the middle of any other actions.
I want to help you get there.
Call me or write anytime for anything.
Love,
Barbara Dews
Flag Service Consultant
Solo NOTs
Wow — they have "recently" made 6500 ON or THROUGH Solo NOTs. That is EVER. And it includes everyone who has died and everyone who has been declared if they were at one time ON or THROUGH Solo NOTs.
But apparently they don't think anyone is paying attention.
Here is the first part of an email sent out by Clive Rabey from Flag about the number of people on or through Solo NOTs that I published on this blog back in 2014.
Date: Sat, 01 Feb 2014
From: Clive Rabey 
Subject: Re: Completing the First 10,000 On Or Through Solo NOTs target
Hello!
I thought it was time for a quick update on the First 10,000 On Or Through Solo NOTs target as we need you heavily promoting this vital campaign out there to all your area Scientologists. As of last week we are now at 6,433 in our quest to get to that 10,000 figure – 3,367 to go! We are aiming to be at 6,500 by LRH's Birthday and 7,000 by the end of this year, so we do need to get you to urgently promote this message and get you area OT Vs to arrive ASAP!
Oh my goodness. They have added 67 people in 5 1/2 years.
There is no math to be done on this. It is simply proof positive that the number of scientologists in the world is actually shrinking.
No wonder the Freewinds can never get anyone onto OT VIII these days.
Yes, according to their OWN figures in more than 5 years, there have been 67 people added to the roster of those auditing on or completed OT VII. It's almost exactly ONE PER MONTH.