The Freewinds is sinking, unable to stay afloat in a sea of red ink.
Despite the fact that scientology screams "massive international expansion" at every opportunity and how they are opening "new churches" at a massive rate, the truth is a very different picture.
The Freewinds is the only place on earth (this sector of the galaxy? the entire time/space continuum?) where OT VIII is delivered. It should be bursting at the seams with thousands of scientologists clamoring to do the first "real" OT level if there were people "flooding up the bridge" as they claim and each "ideal org" results in "10X expansion" blah blah blah
Instead, they are so desperate to get ANYONE to show up they are selling themselves with "we have reduced the prices of our already very affordable accommodations" for "all scientologists." This is not a survey for people arriving to do OT VIII, it is asking people "what would you like to do when you are here"?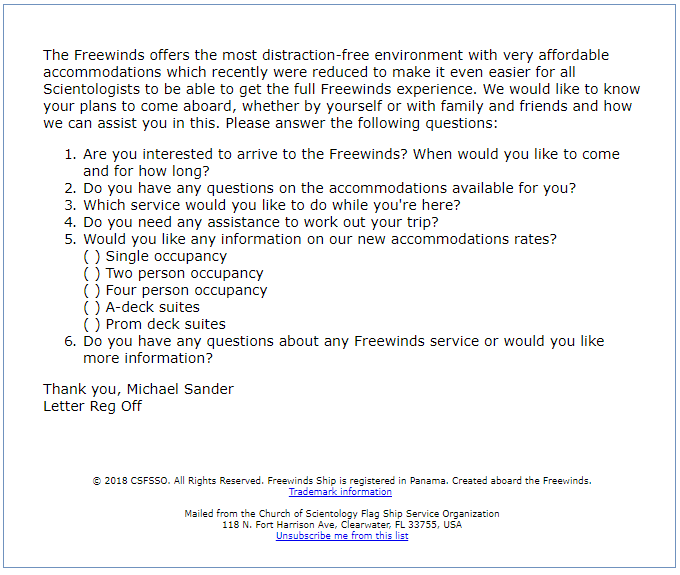 There can be no greater proof of the complete failure of scientology than this. They cannot even get a hundred people onto OT VIII at any given time FROM THE WHOLE WORLD.
Think of it this way — if Harvard couldn't get anyone to attend their university to earn degrees so they began offering dorm rooms on AirBNB to pay the groundskeeping staff.
Monumental, epic, watershed fail on the front porch to infinity.