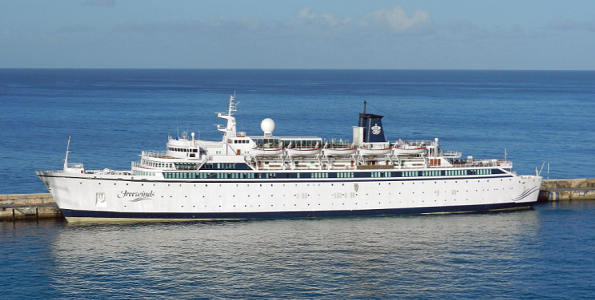 Every week in the Thursday Funnies we see promotional pieces for the latest Freewinds "seminar" about making money.
I usually make some snarky comment about them.  Frankly, they have become pretty tiresome.
But there is a more important point to be made than pointing out that the Moneywinds is consumed with trying to suck money out of people to the point where they are pretty much full time running seminars designed to teach people how to make money — so they can then get it from them as most people have run dry and do not have enough money to make it up the bridge.
The larger point is this. The Freewinds is the best proof that scientology is not expanding — despite the 46X, 63X, straight up and vertical, more expansion in 5 years than the 5 decades before combined etc etc statements that gush forth every time Miscavige takes the stage for one of his events.
This ship was purchased and launched in 1988 to deliver OT VIII. Exclusively. They bought something that would meet the demand and have some room for expansion.  Maybe to be outgrown in 10 years. Instead, they have steadily regressed.
First they added "OT Hatting Courses" as they could not get enough people onto OT VIII to cover the costs of keeping the ship afloat.
Then they added "OT Debug Service."
Still didn't do it. They started doing "Officer Training School."
Not enough.
Then it became "Officer Training School" for public — the "OT Competence and Leadership Course."
And they started adding "weeks" — like "Italian Week" and "Kids Week." Still couldn't keep their heads above water.
So they began promoting that OTs should do the Purif and Objectives on board.
And now, in addition to all that, they have moneymaking seminars literally EVERY WEEK.
The bottom line is this:  after nearly 30 years they cannot come anywhere near filling the Freewinds with OT VIII's. Or even OTs doing "OT Hatting" and "OT Debug Service."
Instead they try to get anyone they can from anywhere they can to do anything they think they can sucker them into, just to have SOME people taking services that they can reg.
How with all this "massive international expansion and people moving up the bridge faster than ever" can the head of the organization devoted to delivering OT VIII have enough time on her hands to conduct seminars attended by some lower bridge scientologists from Taiwan or Russia?