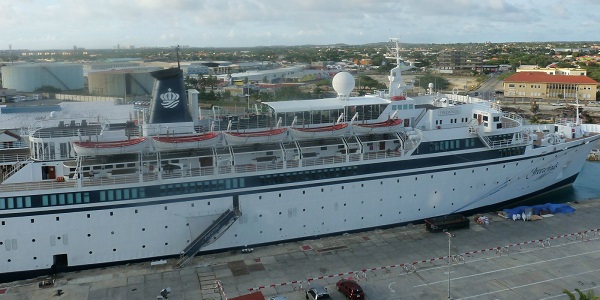 The Freewinds is having a rough time of it, rougher than usual in this pandemic. Typically they struggle to get enough people on board to cover their basic expenses, in these times they are having trouble getting ANYONE to show up. Being "off the crossroads of the world" has been one of their sales pitches since they set sail in 1988. It's got a whole new meaning now.
Never ones to take something like this lying down, the make it go right Sea Org officers on the Freewinds are trying to get their public to fill out a survey for the government of Aruba.
Of course, they want their people to let the government know they feel perfectly safe and want them to open up travel right now. After all, they are not PTS, so they've got nothing to worry about with this "planetary bullbait."
I am not sure the Freewinds public are really the people the government of Aruba is interested in hearing from. They land at the airport, drive straight to the Freewinds, and may never get off again until they return to the airport. They certainly aren't going to have a lot of spendable cash even if they do manage to escape from the ship for a few hours. The regges have grabbed all that before they can reach the gangplank. They are absolutely NOT going to stay in any hotel on the island. They might eat in a local restaurant once a week, but most won't even venture out to the "wog world" to do that. They are cocooned from the wogs "off the crossroads of the world" remember. And that is a good thing in their minds.
Here is the email they are circulating:
Dear Samantha,
The Aruba Government wants to hear from as many people as possible to be able to make a decision on opening its borders for international flights.
The below is a link that leads you to the survey. This is being done by the Aruba Government.
Please fill out the survey and let us know that you have done so!
Thank you and we hope to see you soon!
ML, Christine McNocher
D/CO for Delivery and Exchange FSSO