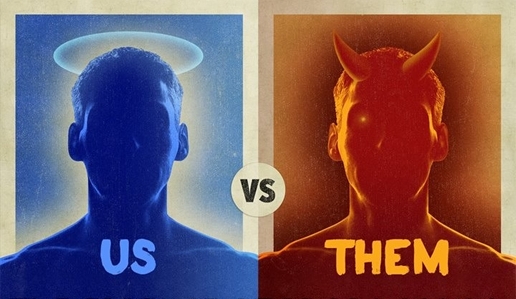 This is a perfect example of the "dangerous environment" and "us v them" that are the mainstays of Miscavige and his IAS.
Every fundamentalist movement must have forces of evil they are waging a holy war against — and in turn those forces of evil must threaten the good guys' very existence and require the ultimate sacrifice from their loyal minions to defeat the evil that is seeking to consume the world.
Are there abuses in the field of psychiatry? Without doubt. (Though these days it is "the psyches", meaning any profession that has "psych" in its name — psychiatrist, psychotherapist, psychologist).
Is there value in cleaning up the field of mental healing? Of course.
Are the "psychs" hell-bent on stopping Scientology? That is ridiculous.
Scientology is becoming increasingly irrelevant and laughable all on its own. Go to an APA Convention — CCHR holds demonstrations outside and that is the ONLY attention "the psychs" ever pay to Scientology. Try and find any literature on the subject by "the psychs" or any media articles or reports about their efforts to destroy Scientology?  See if you can locate a seminar or briefing at one of these conventions to address the "problem" of Scientology? These days there aren't even any big bad guy psychiatrists to kick around to symbolize the evil —  no Jolly West or Ewan Cameron. The "war against the psychs" AND the "psychs war against Scientology" are complete illusions. They don't exist anywhere other than in the minds of Scientology event-goers who are indoctrinated into believing what they are told is reality. They are no different than the fundamentalists at Westboro Baptist Church who are convinced that the devil is destroying society through the evils of homosexuality. And they will stand on the streets making absolute fools of themselves, convinced they are moral, right and know the truth that nobody other than those inside their bubble know. And so they rage on insanely proclaiming "God Hate Fags" while the rest of the world looks on them with a mixture of contempt and amusement. 
So too fundamentalist Scientologists.
And by the way, I bet there was not a single completion at "Friday Night Graduation." This is not really an org and never has been.
And why no name? Couldn't be anyone really important. Of course, if it was someone important, they would not be wasting their time in Orlando when there are a lot bigger fish to be caught in Tampa Bay.
But I would like to hear the presentation so I can find out what covert activities the SP's are engaged in. I wonder if that includes the unemployed-bloggers-on-the-fringes-of-the-internet-SP's?
 
From: "Dianetics & Scientology Orlando" <orlando@scientology.net>
To: "ORL" <orlando@scientology.net>
Subject: IAS Friday Night Graduation
Date: Wed, 26 Feb 2014 22:20:48 -0500
Very Special
I.A.S. 
Friday Night Graduation
Don't miss this Friday Night's Graduation where,
in addition to the Wins, Graduates, Announcements and Ideal Org News,
you will also receive a very relevant briefing from a veteran
Scientologist who participated personally in the main battles for
Religious Freedom in Italy and the U.S.
He is one of the key staff responsible for Milano booming in the 1980's
and was the ED CCHR Italy who created "big flaps" for the psyches.
Now a Class VIII PR, Flag PR Briefing Course Graduate!
At this one – time – only briefing he will provide you
vital information on what covert activities the SP's are engaged in,
in order to destroy this civilization, build up police states, and stop Scientology!
This information is extremely valuable to you in adjusting your
efforts in order to achieve YOUR FREEDOM!
 Friday, February 28th, 2014
8:30 PM
Come early and join in the creative and constructive endeavors of your OT Committee which meets at 7:00!
Call or email to confirm you are coming:
407-895-9917
or
Orlando@Scientology.net