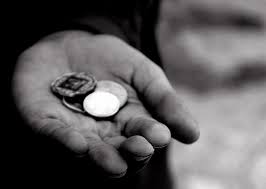 This is the state of "Ideal Orgs" in the UK.  
The guy in charge of "Ideal Orgs" is begging for money to set up a Purif in HAPI.  Could it really be true that in more than 30 YEARS AFTER the release of the Purif, this org, still in the same building they OWN since 1968 STILL has no sauna?  This is straight up and vertical expansion in action. 
And they are so hard up for donators in the UK they are trying to shame people into "completing before the end of the year" by announcing their partial donation and letting everyone know they will be the next "Humanitarian".
Really this is just pathetic. 
It's not even up to the level of "Ideal Orgs", it is just begging for money to try and operate existing orgs under the guise that this is somehow "Ideal Org fundraising"…. 
This is the ONLY org in the entirety of Scotland. It has been there for a LONG time. And in the era of straight up and vertical it remains prostrate and on life support. Can you imagine how far away they are from having "all orgs Ideal" in the UK when they are having trouble building a sauna in HAPI? 
I guess the need for "release" of OT IX and X remains so far in the distant future that it isnt even worth talking about….
Date: Fri, 13 Dec 2013
From: Aaron Sheppard <ukideal@scientology.net>
Reply-To: aaron@scientology.net
Subject: An Ideal Christmas

Hello Xxxxx,

Its Friday the 13th!!! Its 12 Days till Christmas. So exciting!!!!!!

What do we want for Christmas this year?

Well we want all orgs in the UK able to deliver the Purification Program in-house and that is the immediate target I am working on. I am currently up in HAPI with a team here getting the HAPI Purif Center built as well as the restoration of the final section of their building. that is why you have been hearing from ED HAPI regarding flowing towards making that happen so please keep up the good work.

The other thing we want for Christmas is Humanitarians for the UK Ideal Orgs. We should acknowledge our most recent key contributor to the Ideal Orgs in the UK, Mr Wilf Adams has pledged to do his Humanitarian for the UK to become one of the first 100 and he did a significant donation towards that this last week and will be one of the next UK Humanitarians before the end of 2013!!!!

So now is the time, its Christmas and its going to be great. So lets get the party started and make the end of this amazing year something to remember and help make the first Cleared Country!!!

Cheers,

Aaron
UK Landlord 

Date: Fri, 13 Dec 2013
From: Aaron Sheppard <ukideal@scientology.net>
Reply-To: aaron@scientology.net

Dear Xxxxx, 

The Hubbard Academy of Personal Independence which is the original name for the Church of Scientology here in Scotland, is expanding!!!

Did you know that in the very building they are in today is the original building where the first land based Advanced Org started in 1968?

Did you know that the org here has been able to perform religious ceremonies since 2007 and have performed marriages, naming ceremonies, etc… Since that time and you know about the big win in London!!! 

There is a great team up here and they are on their way to making an Ideal Org here in Scotland.

With the release of Golden Age of Tech II they are on a mission to get their whole public and field up The Bridge and this is the time for huge expansion in Scotland.

So if you want to help, please contact me or the org and do something to push this campaign forward in a big way and you will be greatly acknowledged and appreciated for your help.

Kind Regards, 

Aaron
UK Landlord