The good news?
Things are falling to pieces at the Mecca of Technical Perfection and Vulture Capital of The World.
In the face of GAG II, the brilliant ideal org strategy, the most massive international dissemination campaigns in history and the period of greatest expansion ever, the stats are crashing and the crowds are dwindling. Even with He Who Shall Not Be Named present.
Check out these numbers and compare them to the previous reports below. Perhaps the worst week we have a record of (since the release of GAT II in the circus tent)… And now they are trying to cover it up with "success stories" right in their "stat report." When stats are bad, wax enthusiastic.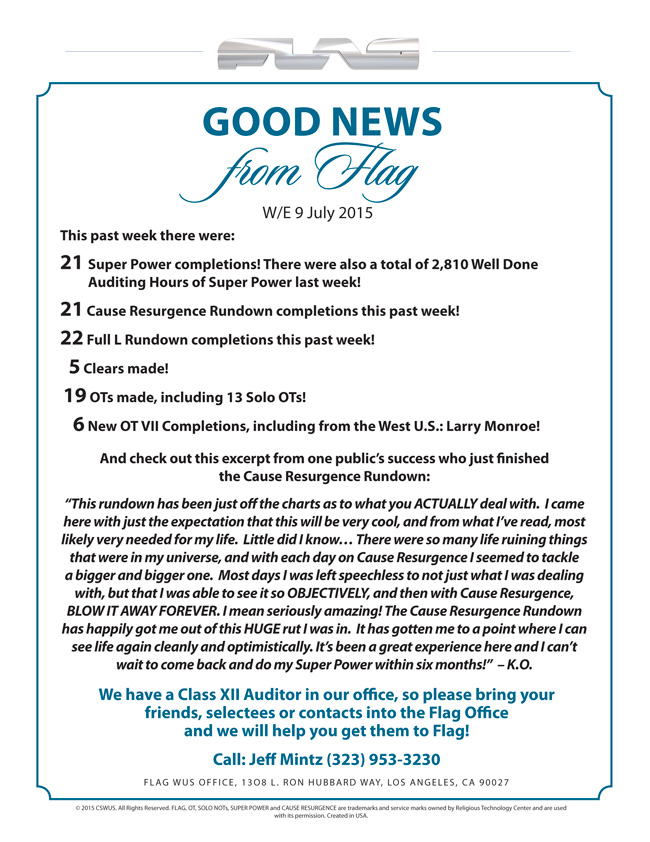 Compared to the earlier postings, this is how the stats look (these figures are earliest weeks first, the latest reports added to the end).
Super Power: 21  24  23  21  20  10  15  23  25  31  11  12  16  19  15  19  19  19  18  14  28  24  25  26  40  24  22  14  21  21  21
Cause Resurgence: 8  9  6  9  11 9  6  22  24  20  17  21  15  19  22  19  20  16  20  24  24  21  20  25  30  18  18  14  20  21  21
L's: 27  29  NR  22 21  17  7  18  23  26  30  22  63  25  23  22 16  29  29  32  28  32  25  33  29  24  35  26  32  22  22
Clears: 8  9  6  9  11  9  6  11  NR  19  8  8  NR  16  9  10  9  10  8  11  13  7  10  13  13 10  10  11  9  5  5
OT VIIs: 9  7  6  11  7  6  10  7  11  NR  8  8  8  16  9  6  9  9  9  9  8  6  6  5  9  5  7  5  7  7  6
Objectives: NR  28  22  18  20  21  NR  NR  NR  26  20  NR  19  19  23  25  25  25  18  21  20  15  23  25  16  19  25  17  25  NR  NR
Purif: NR  18  11  21  15  NR  NR NR  NR  NR  NR  NR  NR  NR  NR  14  17  16  11  13  18  25  19  NR  NR  NR  NR  NR  NR  NR  NR
Purif and Objectives have run their course.
But you can predict we will be seeing more "clears" as they round up all the old people who were once declared clear, then undeclared and with the "new tech just as LRH wanted" they will be announced as clear all over again. It's amazing how many times one person can mock up, realize they mocked up, forget about mocking up, unmock, re-mock and rep-unmock their reactive mind.
But, there is more "Good News" from Flag as lipstick is liberally applied to another pig and presented to the world as Miss Universe.
He Who Shall Not Be Named is baaacckk at Flag for the "grand opening" of the new "Information Center" (Tony Ortega appropriately dubbed it a "Potemkin Village").
Of course, the instant they put up their hype-release I am sent a link by some anonymous "OSA good news" bot. Thank goodness they keep me in the loop with all the good news.
In case you were wondering, Shermanspeak is alive and well. And there were a few gems I couldn't allow to go by uncommented upon.
Four thousand Scientologists and their guests converged on downtown Clearwater for a ribbon-cutting dedication Saturday, July 11 in celebration of the new Church of Scientology Information Center, expanding the religion's renowned and globally impactful humanitarian programs into a central expansive hub astride the religion's spiritual headquarters, the Flag Land Base….
Of course, the photo on scientology.org shows nowhere near that number – but their exaggerations are getting less. Remember the absurd numbers for the SP Building opening?
But significantly, later in the hypefest they repeat their claim that Clearwater is home to 10,000 scientologists.
Clearwater is the permanent home to more than 10,000 Scientology parishioners. Moreover, tens of thousands of Scientologists travel to the city each year from around the world to participate in religious services at the Church's spiritual home.
So, I guess an appearance of Dear Leader only attracts 40% of the dedicated scientologists in Clearwater?  Oh, but they also claim they have 2000 staff and 2000 public from around the world at any given time. And you know THEY were ALL there.  So I guess that means the remaining 6000 local scientology parishioners just didnt bother to show up at all… Dear Leader's magnetism appears to be wearing off.
Of course, the "Information Center" is a DUPLICATE of the ground floor of the SP Building which was always presented to the city as being where people could come in and get the answers about scientology. And the entire floor IS a "public information" center.
But after building that monster, Miscavige decided he didn't want any "wogs" in a building where he has an office, so they have sat empty and unused for more than a year.
A few million dollars later, and "presto" a Potemkin Village of Disneyworld storefronts to promote the "impactful" humanitarian programs (sadly, no Narconon presence, though there is a Criminon, wonder why…)
Clearwater is known as the spiritual headquarters of the Church of Scientology, and to answer questions about the religion for residents and those visiting the city, the Church opens the doors on this information center.
Designed as an open-door informational meeting spot, the Information Center features a full biographical display illuminating the extraordinary life and legacy of Scientology Founder L. Ron Hubbard—from his childhood to his career as an author before the advent of Dianetics and Scientology, as well as his revolutionary body of work in establishing and defining the religion itself.
This is virtually identical to what was said about the SP Building.
I wonder how long it will be before the windows of this new "open-door informational meeting spot" are covered up like the windows of the ground floor of the SP building and EVERY other scientology building in downtown Clearwater?  Because people CAN actually see in and observe that absolutely NOTHING is happening and once a few more shots appear on the internet (Mark Bunker put up the first of them on Tony Ortega's blog yesterday) I guarantee you "hiding tech" is going to be visible.
Plenty of tourists come to visit the "Winter" dolphin aquarium display just a block away, but not a single one of them would ever venture into the Potemkin Village, and of course, no Clearwater resident is going to visit the "dead zone" of downtown Clearwater. And no public at Flag are going to be walking the street to go see the WTH — those regges will be collaring them in the restaurants and by the pool…
Once again, this is a show for the clubbed seals. And so Miscavige can watch himself in a video clip yanking a ribbon at the next IAS event in the UK in October.