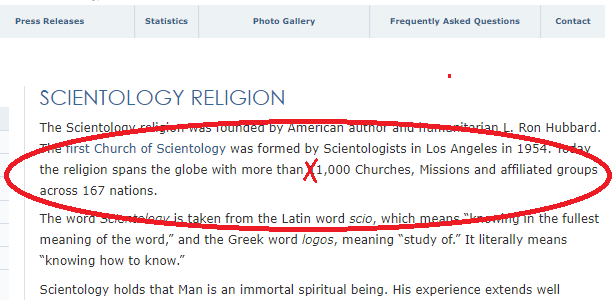 Just how many churches of scientology are there?
If you ask scientology, they will never tell you.
You can look up on scientology.org and count the number of listed churches of scientology — but it's tedious and they don't make it easy. But it is around 150, the same as it has been for decades.
You can also try to count the number of missions, that is even more difficult. But again, it is around 300 (and many of these are VERY part time affairs, open a day or two a week).
The best they will do is offer that there are "10,000 Churches, Missions and affiliated groups" without defining what "affiliated groups" is. Yet we DO know what a "scientology church" is and what a scientology "mission" is. They are the official, licensed organizations that deliver Dianetics and Scientology auditing and training. Nobody else is authorized to do so. And they have a very exact count of them because they are all expected to send in money.  It they never state this number. Only the fudged numbers with the undefined "affiliated organizations".
Here you can see them promoting this number.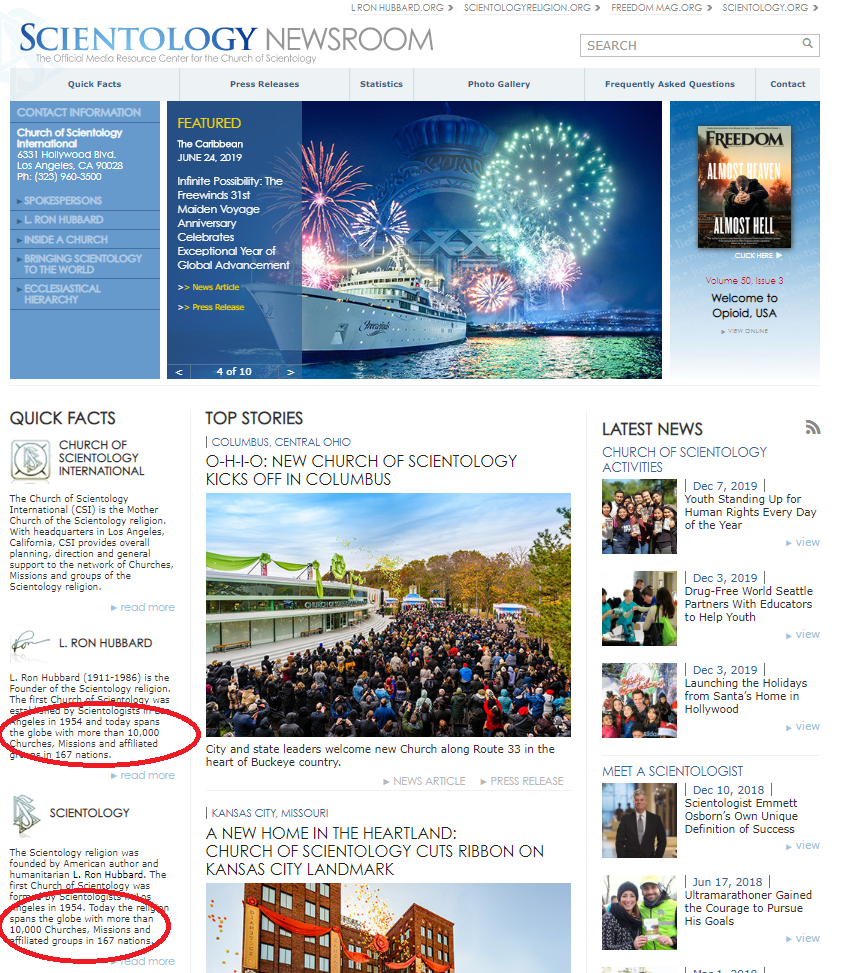 But if you click on the link to "Scientology" above it takes you to this entry which claims there are 11,000 of these nebulous activities: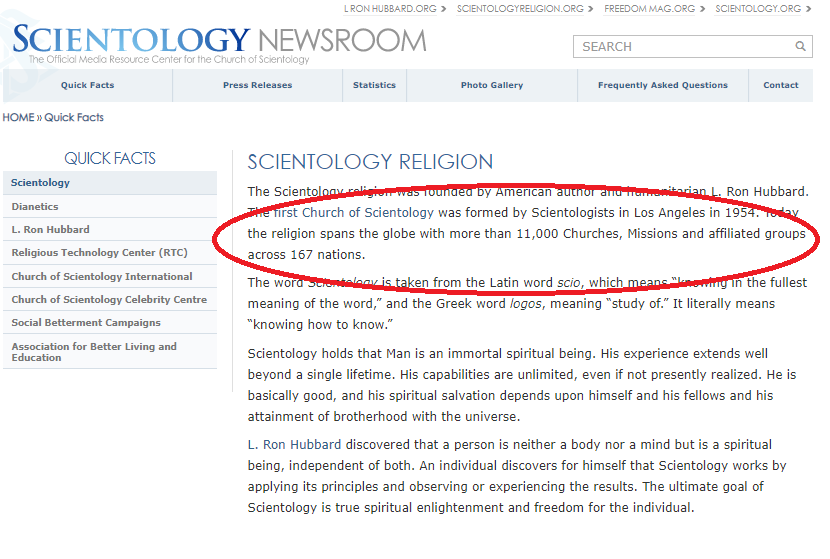 Clearly, this number is amorphous. In fact, like the 14, 12, 10 million scientologists number they toss around, it is simply plucked out of the sky to sound better than it did previously, because, of course, scientology is always in a period of "massive expansion."
The truth hurts. Badly.
There are in fact approximately 500 scientology churches and missions (give or take 50, but it's a rounding error in the 11,000 figure).
A few new orgs have opened in the last 30 years — Inglewood, Budapest, Taiwan, Moscow, St, Petersburg, Harlem (there may be some others, but I don't think so) the same number or more have been "consolidated" (closed) — many "Celebrity Centers" and "Day and Foundation" orgs have been combined. Today there are still many, many states in the US that do not have a single "church of scientology" and many don't even have a solitary "Mission of scientology." There are numerous countries that have no church of scientology at all.
The number of missions has been steadily DECREASING since the 1980's.
As for the "Affiliated groups" nobody has ever been able to identify what these things are.
It certainly includes Dianetics "groups", Narconons, WTH "chapters" and Applied Scholastics schools. But even this category is 500 grand total maximum and that is being very generous. A lot of those 500 are NOT part of the "church of scientology" — they are secular and claim no connection to scientology. But it does not stop scientology from counting them or promoting them in the category of "scientology organizations."
That leaves "WISE businesses" to make up the remaining 10,000. Which is a bad joke. If you take every business and individual that is actually a WISE member, it is no more than 1,000. And the largest number of those are dental and chiropractic practices — they have NO scientology association.
It would be like asking "How many Walmarts are there?" and their official website says: "There are over 4 million WalMarts, Walmart Neighborhood markets and affiliated Walmart parking spaces."
The truth is, scientology cannot disclose how many organizations they actually have as it demonstrates their LACK of expansion. They talk endlessly about purchasing new buildings for their old organizations and calling them "new churches." They pretend new buildings are evidence of "expansion" when all it proves is that scientology is increasing its real estate portfolio.
This is a rehash of things I have written before. Every now and then I am reminded of the brazen lies scientology foists on the unsuspecting. Almost as if they are certain that if they announce their "facts" with enough certainty and repeat them often enough it makes them true. But no matter how many times you recount a lie, or how sincerely you deliver it, it is still a lie.
There are not 11,000 or 10,000 scientology organizations on earth or anywhere near this number.
And that is not a lie.