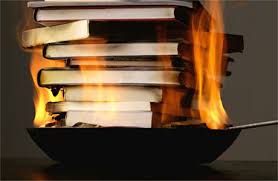 One of our Special Correspondents conducted a review of the "LRH Books Into Libraries Campaign" in Ireland.
Before you review the results, this is another COUNTRY that has been announced as a DONE.
These figures come from a study of the computer system used to track books in all Irish libraries.
The catalogue of each library in each county were reviewed to find out how many "Basics" and "L. Ron Hubbard Encyclopedia" volumes are actually IN the library system (or ANY other LRH non-fiction title).
The breakdown by County follows:
Clare: 1, Carlow: 1, Cork: 14, Donegal: 28, Dun Laoghaire Rathdown: 12, Fingal: 26, Galway: 36, Kerry: 0, Kildare: 2, Kilkenny: 5, Laois: 9, Leitrim: 1, Limerick: 14, Longford: 0, Louth: 7,  Mayo: 3, Monaghan: 4, Offaly: 1, Roscommon: 1, Sligo: 1, Tipperary: 0, Waterford: 1, Westmeath: 2, Wexford: computer down, Wicklow: 2, National Library: 0, Dublin City:19
This is a grand total of 171 books for more than 345 libraries.
That is not even half a book per library in the country.
And these are books that are sold to public AT FULL PRICE because it is "so important to have LRH books available in libraries."
But the books never make it, and the people that are collecting the money KNOW THIS. They might as well just burn the books once they are sold. It would save the shipping cost and provide a little heat for the unheated Ideal Orgs that cannot afford their electricity bill.
It could be a new campaign with a lot of status assigned to it. You could start out as a "Match Lighter" and buy your way up to "Firestarter" and finally to "Humanitarian Pyromaniac." 
I have to be careful about making these sort of suggestions as pretty soon the RCS starts implementing them (like the "ID cards")….