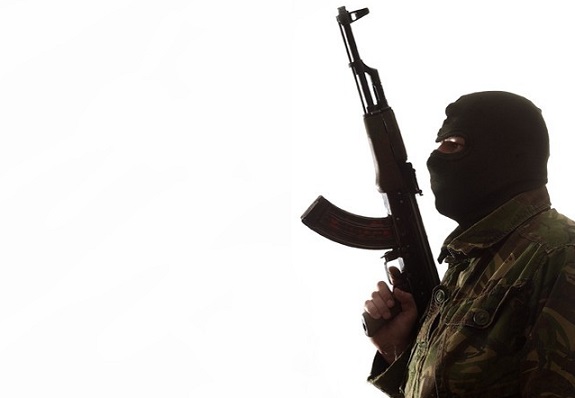 Scientology has for many years made outrageous claims about "Anonymous" — calling it a "group of terrorists." They inflate everything that is ever said or done by anyone with even the remotest connection to Anonymous and by association, attempt to paint anyone they think is criticizing them with the "terrorist" brush.
There are NUMEROUS examples of this — perhaps the earliest was Keith Henson who joked about shooting a "Tom Cru9ise Missile" in Miscavige's window. This was then used to have him prosecuted under the Hate Crimes statute. Miscavige complained bitterly about "death threats" and cried about how he was "under personal assault." And the whining has never ceased.
I haven't bothered to try and find everything they have said about "threats" and "terrorists" and what victims they are. They put it in letters to the media. In legal filings. On their "Religious Freedom Watch" website and of course in Freedom Magazine.
I picked the first two items that showed up in a search on "terrorist" on the Freedom website for illustration purposes. Jeff Hawkins and Anderson Cooper. Yes, really.
Jeff Hawkins:
For within no time at all he had joined a small cadre of kindred souls who call themselves Anonymous.
The tabloid host himself makes passing mention of it, and "innocently" describes them as an "anti-Scientology" protest group—which, in a sense, is correct.
Although for "protest" read: bomb threats leveled at Churches of Scientology, death threats leveled at prominent Scientologists, threats of anthrax attacks leveled at the congregation in general and cyberattacks leveled at Scientology computer networks. 
Somehow Jeff Hawkins became a member of Anonymous (he isn't though he apparently was on the same sidewalk with some protesters who were "anonymous" once or something) and thus is now painted as a perpetrator of bomb threats, death threats, anthrax attacks and cyberattacks.
Anderson Cooper:
CooperSpeak: How Terrorists Become "Protesters"
"The Church says [he] is lying and is out to destroy the religion. He supports a group called Anonymous which promotes an anti-Scientology movement."
—Anderson Cooper
But what Cooper very well knew and chose to ignore, much less inform his viewers, is that Anonymous is neither a "merry prankster" protest group nor anything that would remotely touch the style of a peaceful civil disobedience organization.
Moreover, by merely referencing Anonymous and televising the group's so-called logo, Cooper and CNN were tacitly endorsing a coordinated organization that the U.S. Department of Justice has identified as a terrorist group—with members engaged in hate crimes and convicted of other federal criminal offenses.
Church of Scientology letters and documents sent to Jonathan Klein, president of CNN/US, before the program aired, established three salient facts:
1) The top CNN executive and his chief legal counsel knew all about Anonymous' violent perpetration of hate crimes well in advance of the week-long broadcast.
2) Cooper himself was personally advised as to the true nature of the organization that he benignly called a "protest" group.
3) CNN brass knew that Cooper's principal sources, besides being in league with each other, were allied with and, indeed, some are members of Anonymous.
Point of fact, Cooper's "Kingpin" source [Marty Rathbun] is more than just connected to this mob; he is actively furthering their hate-filled agenda, stating in an on-line conversation with Anonymous, "I have your back," and referring to members as "pals."
Another one of Cooper's sources has personally participated in Anonymous demonstrations in front of Churches of Scientology and has publicly endorsed this cyberterrorist hate group in the media and on the Internet.
This writing is typical "conspiracy theory" logic. We saw someone who was with someone who we believe is guilty of a crime, so they are OBVIOUSLY in league with them and are criminals themselves.
Neither Anderson Cooper, nor Jeff Hawkins (nor Marty Rathbun for that matter) have anything to do with "Anonymous" and it is highly doubtful that the alleged "crimes" of "Anonymous" even exist.
So, let's put the shoe on the other foot and see how David Miscavige and scientology stands up to scrutiny.
Here is an email I received shortly after my appearance on the TimesTalk and other media in New York.
Date: Thu, 05 Mar 2015 01:42:49 +0000
Subject: New submission from youreajackass rinder (via Blog)
To:
idealorg14@hushmail.com
Name
youreajackass rinder
Email
shutthefuckupasshole@shithead.com
Untitled
You're an SP. Why? You are actively trying to STOP the expansion of Scientology. You claim to have a beef with COB, yet your actions seek to cut public affinity lines with Scientology in general. Get that? CUT AFFINITY LINES WITH SCIENTOLOGY IN GENERAL. What would LRH think? Rather, what DOES LRH think? Would he side with you if he was here? Reinstate you? No, Rinder. He'd cut your fuckin balls off and hang them from a tree. Something I would LOVE to do. And I mean, actually do. Unfortunately, its illegal in this country. Shut the fuck up Rinder. Shut up you fucking SP. Just shut your fucking mouth. You are being watched, 24-7. TWENTY FOUR SEVEN RINDER. TWENTY FOUR SEVEN.
It would seem apparent that this person is aligned with COB.
And that he (or she) is a scientologist.
And that they are anonymous.
And are making direct threats of physical harm.
So, I guess that by scientology standards, David Miscavige and his "church" are anonymous terrorists, threatening grave bodily injury and 24/7 stalking.
Except the connection to Miscavige and scientology is far more direct than the specious conclusions about Jeff Hawkins and Anderson Cooper. And I have witnessed Miscavige threatening to commit grave bodily injury and physically assaulting people, and he has certainly ordered people to be watched 24/7 many, many times.
Miscavige's victim of terrorism card looks pretty tattered.
Pot. Kettle. Black.
PS: This has been reported to the appropriate agencies