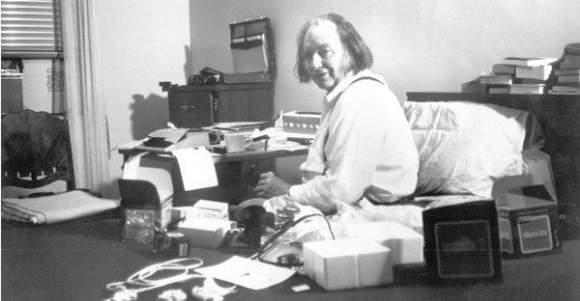 This is an amazing piece from Jeanie Franks/Bogvad's current husband.
It is a distillation of how fundamentalist scientologists view the world and their role in it.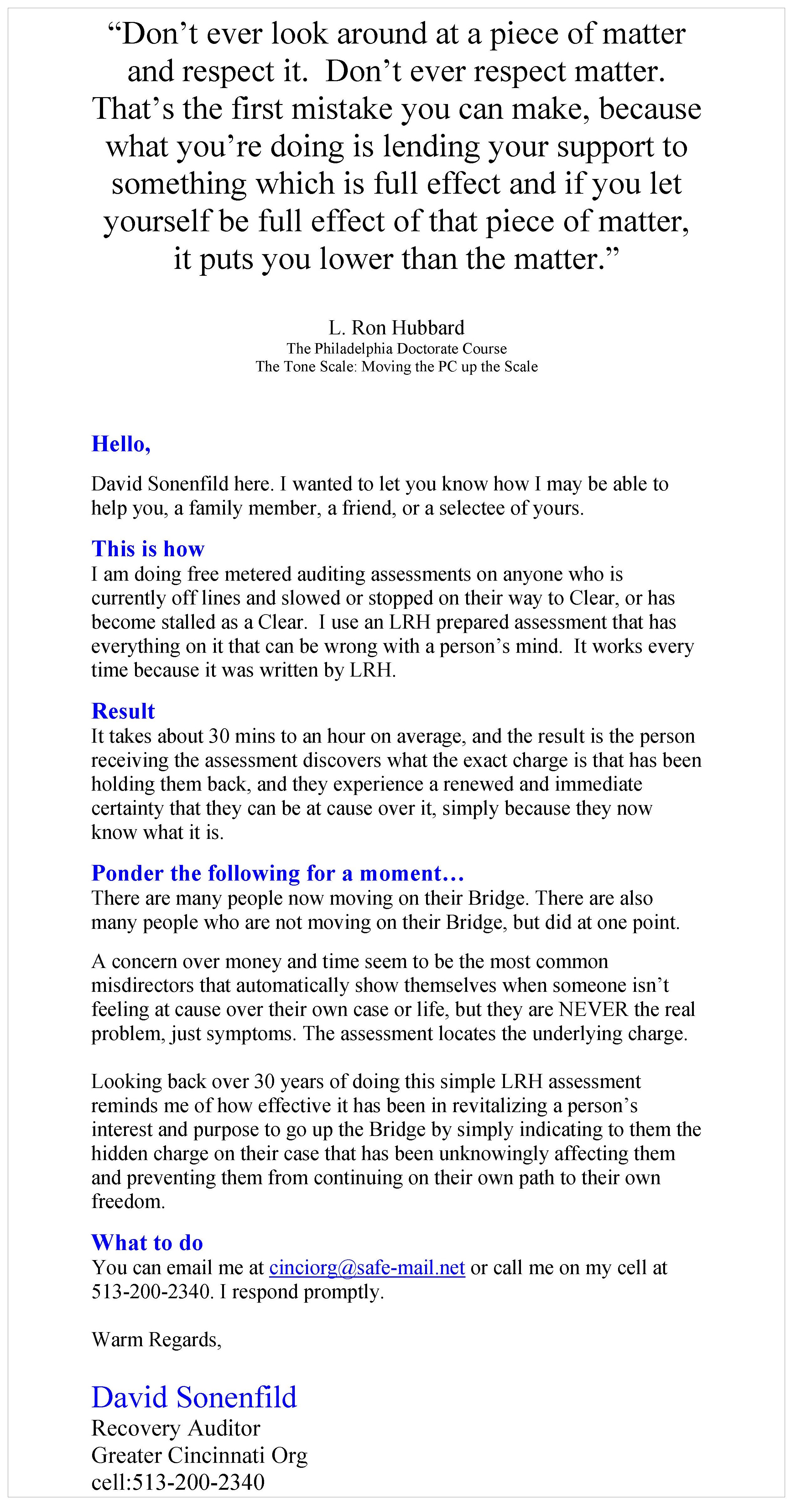 First off for every good scientologist, an "LRH quote" must set the stage and prove to everyone how "On-Source" you are. It is proudly proffered, without irony, to demonstrate that one is "with the program" as a true scientologist and thus can think for themselves. This one especially picked to be used to overcome sales barriers. "I don't have any money for that auditing you say I need" is responded to with "You are just effect of MEST, look what LRH says."
David knows "Everything that can be wrong with a person's mind" — such conceit. Mr. Jeanie knows he is the world's foremost authority on the mind because he has studied what L. Ron Hubbard says about it. This IS the hallmark of a true scientologist. Absolute certainty they know all there is to know about the mind, man, the spirit and window washing because LRH told them so. When you take an objective look at this, it is really quite mad.
A "renewed and immediate certainty that they can be cause over it, simply because they now know what it is" — more craziness. And if they know that they are not progressing on the Bridge because they have no money, knowing this is really going to make a difference?
Well, ponder this Mr. Jeanie. If what you say is true, and you perform these miracles in 30 minutes, and you have been doing this for years, how come the Florence, Kentucky org isn't bursting at the seams? Even if it is ONLY you that is working on getting people moving on the Bridge? You could do 5 of these "free assessments" in a day (you could actually do 15 if they really take 30 minutes — and still have time to watch TV in the evening). If you have been doing this for 10 years — that's 3,650 days. Minus a day off each year for SO Day, March 13th and New Years that is 3,620 days. Multiply that by 5 and you should have had 18,100 people making their way to Clear in the last decade. And if this works so well, surely you would allocate at least 3 other people to doing this amazing free thing that works every time because it's LRH.
Your org has probably not made 18 Clears in that time.
Funny how money is everyone's problem, but according to you it is not the "real problem."  It never is when it is someone else. But it is ALWAYS the problem in the org. No org EVER has enough money and they are obsessed with making it. So how come this doesn't apply to you, Jeanie and the rest of the Florence faithful?
Have you ever noticed in scientology, there are numerous "laws of the universe" they use to "enlighten" people about how to handle themselves — but they somehow do not apply to the org:
Money isn't the real problem
If something bad happens, it's because you pulled it in
You have to take responsibility for your overts
You cannot be out exchange by taking something and giving nothing in return
You are responsible for your own condition
etc etc etc
By no means a complete list.