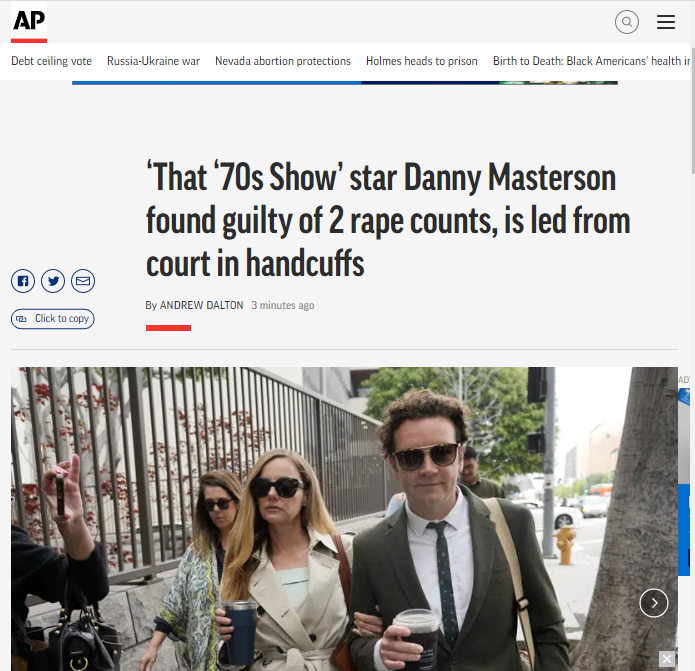 At last, a measure of justice for the victims of Danny Masterson. It has been too long coming. And these women have had to endure WAY too much to get to this point.
Each of them are strong beyond comprehension to have survived the ordeal they were put through: first by Masterson, then by scientology, then by law enforcement and finally having to relive the horrendous events in not just one, but two trials. If you think you have any idea the emotional, mental and physical toll this sort of experience exacts, unless you have endured it personally, you cannot know.
I hope these 3 victims, and the others who were abused by Masterson, sleep peacefully tonight, knowing this monster is off the streets and they have made the world a safer place by their heroism.
An excellent piece by Associated Press covers the events of the day.
A final thought — this is catastrophic for scientology. They have harbored and protected a convicted rapist. Their sordid dirty laundry has only begun to be aired in this matter, the civil suit will now proceed and that will open the door to enormous amounts of discovery into scientology's role in this that was not available in a criminal case.
David Miscavige and his minions will NOT be sleeping well tonight. They have to decide whether they are going to do as they have so often done in the past and lie that Masterson was "unable to live up to the ethical standards of scientology and so we threw him out long ago but did not say so publicly because we did not want to jeopardize his legal defense," or now sit mum for fear that if they do throw him under the bus, he will turn on them in the civil case.
One thing is for sure, scientology will come out waving the victim card, claiming they have been "persecuted" and "the catholic church isn't blamed when a mafiosi is convicted." It's as predictable as day follows night. The obvious difference is that the Catholic church doesn't have written policies to not go to law enforcement or protect celebrities or intimidate witnesses.