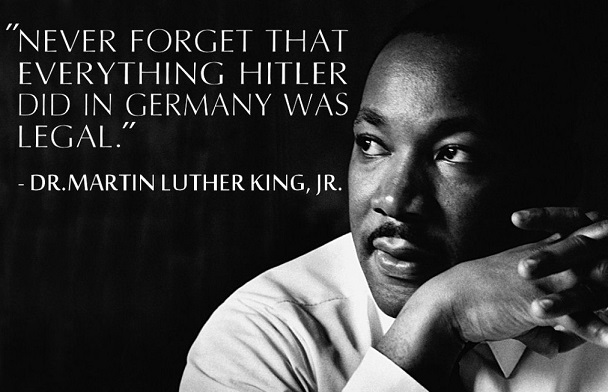 There are many wonderful quotes from this truly inspirational man who had the courage to stand for what he thought was right and good and just.
I had intended this post to come earlier in the day, where in the US we are celebrating Martin Luther King Jnr Day today. But things got away from me, so it is a little tardy.
Someone pointed out this quote to me the other day, and it stuck with me. It was written by Dr. King from a jail cell in Birmingham Alabama on 16 April, 1963, and this is the paragraph from which the quote above is lifted:
We should never forget that everything Adolf Hitler did in Germany was "legal" and everything the Hungarian freedom fighters did in Hungary was "illegal." It was "illegal" to aid and comfort a Jew in Hitler's Germany. Even so, I am sure that, had I lived in Germany at the time, I would have aided and comforted my Jewish brothers. If today I lived in a Communist country where certain principles dear to the Christian faith are suppressed, I would openly advocate disobeying that country's antireligious laws.
I have often equated the church's practice of disconnection (they are now seeking to call it "shunning" to make it appear somehow religiosier) with segregation and the Jim Crow laws.
Dr. King summed it up perfectly.
And Monique Yingling, David Miscavige's personal attorney, brought it home in the recent New York Times article about the church attack on the upcoming HBO documentary:
Monique E. Yingling, a lawyer for the church, said shunning was practiced by a number of religions, has been upheld as legally permissible by courts, and in the case of Scientology, is reserved for those who have started "attacking the religion."
Isn't is ironic that the organization that proclaims itself the champion of human rights uses the argument that their abuses are LEGAL.
The REAL human rights advocate champions what is MORAL and RIGHT.
As usual, scientology takes the low road.