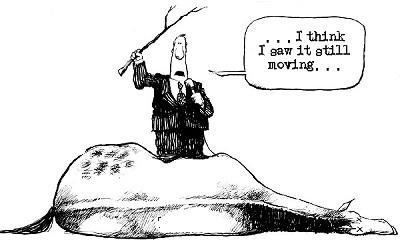 Of course, there are ALWAYS one or more "campaigns" to get books into libraries. There have been plenty of reports of people subsequently checking the libraries and finding no or few books, return of books from numerous libraries and copies of still wrapped books on the "10 cent table" at library "get rid of the junk we don't want" sales.
So, it is hardly a surprise to see a new campaign (this one has been sent out again recently even though it says they are shooting to have it "done for Maiden Voyage") for an old book that supposedly was ALREADY in all libraries around the world when it was first published. It has not been "revised" as it was a compilation of HCOB's to begin with. And unless there is something I am not aware of — the only changes in the GAG II Purif are the "standard" vitamin dispenser and uniforms all participants are expected to wear. Nothing that appears in CBCM even so.
But, there are some interesting things in this "new campaign."

Somehow they have a terrific A = A = A going.
Internet searches for "detox" are increasing (who knows if this is really true — the way their graph is drawn you could check the "number of searches for poopiepants" and it too would be steadily increasing in direct proportion to the increase in internet use as a means of searching for information about any subject) and therefore they will be finding the solution in libraries and this will "drive them to their first step on the Bridge."
Just a few problems with the logic here:
a. If they are searching for detox on the INTERNET they are going to read what comes up in the search — NOT go to a library. And as you don't put LRH books on the internet, they WON'T FIND THIS BOOK.
b. Detox is NOT what "churches of scientology" deliver. That is Narconon (at least until they are forced out of business). But the church of scientology states they have nothing to do with Narconon and that it is NOT a "route onto the Bridge." Seems like this is a position taken in lawsuits that isn't known to Bridge Publications.
c. Even IF someone got the book and "detoxed" themselves, how does this get them "onto the Bridge"?
Then they list the areas where ALL libraries are "completed" — N and S Dakota, New Mexico, Michigan, Indiana, Arkansas, Mississippi, Tennessee, W Virginia, Delaware, S Carolina and Vermont in the US.  Only NM, Michigan and Tennessee even have orgs. What about the other states with "ideal orgs" taking over control of their environments? Or even other states that just have "orgs." Or even Missions. How are these people supposed to "take their first steps on the bridge" if there is nowhere to do it?
And across the rest of the Americas, Paraguay (why Paraguay??) is "done" but they don't even have a Mission… Wonder what Bridge they are driving people onto there?
And then for some reason there are African countries even though this is Bridge Publications and that is New Era Publications territory. Again, Burkina Faso, Cameroon, Angola and Botswana? Huh?
If this was REALLY intended to do anything at all other than collecting money at Bridge, they would be focused on areas of high drug use where there were orgs and missions.
I am not even going to comment on the phony and horribly misleading "stats" they use to show how effective the "library campaign" is, or what a big problem drugs are in society… This is sheer buffoonery.
It is not difficult to conclude that there is NOTHING that happens in scientology at this point that is not an effort to make money.  Even the false "humanitarian" cloakings are becoming so thin they are virtually transparent.
It's getting harder and harder to even tell good lies any more.