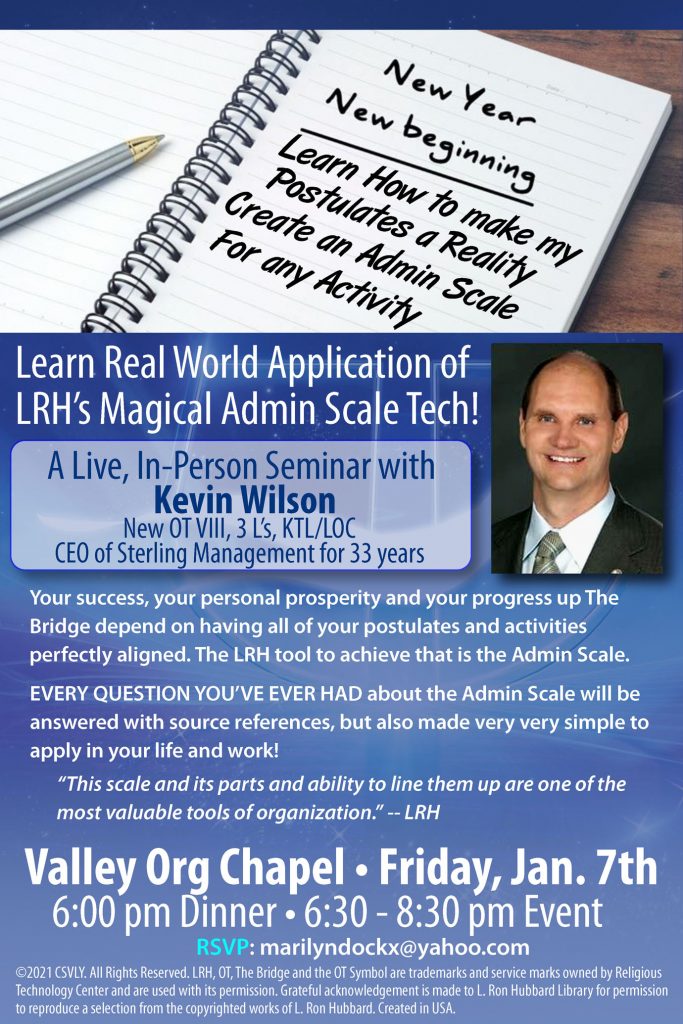 Another piece of insight into the scientology world of bait and switch from our old friend Clearly Not Clear. Not as snarky as the last one, but just as revelatory. This IS what scientology is about, getting your money, no matter how they try to paint it.
Years ago our local org decided to harness the New Year's Resolution urge, and get the wayward Scientologists to come in for an LRH tech-inspired boost. I'd found Admin Scales to be problematic in the past. I liked the step-by-step aspect, but somehow, I found making lists more satisfying than the multi-page overwritten piles of duties that a fully written up Admin Scale could easily turn into.
This LA Scientology businessman presenting this seminar was supposedly the man where understanding the Admin Scale was concerned. He did taxes or some three-piece-suit profession. And supposedly, he made the non-Scientology competitors look like idiots compared to his Admin Scale know-how and mastery, blah, blah, blah.
The full-court press was on, to get the Scientologists into the Org for this six-hour hands-on event.
I was mildly interested in giving it another try. I wanted to do an Admin Scale on trying a new promotional idea for my business. I told the Scientologist who called me repeatedly to get my commitment to attend, that I had a project I wanted to do an Admin Scale on. The promo piece pushed that this seminar would help you get up the bridge faster. And since all you had to do to get up the bridge faster, was get yet another credit card and go more into debt, that didn't interest me. I had plenty of credit card debt thanks to the excellent manipulation of our local reg.
I told her I'd only go if I could work on my project and not focus on an Admin Scale for my bridge. She said no problem.
Yeah, it was a problem.
I rearranged my schedule, missing a day with my son and some sports thing that his dad would take him to without me. That made me kind of sad.
I brought notes and ideas and listened to this guy talk about how if you started at this one place on the admin scale and jumped to this other part that it went easier. Then he pressed the bridge as the focus of this admin scale. I did my own thing because that's what I was there for.
At some point the leader dude discovered that I was, gasp, working on my business and not my bridge to total freedom as my admin scale focus. I guess there actually was a price for this 'free' event. I see now, when I look back, that his purpose was to make some 10% commissions on Scientologists who would bump up their purpose to do the bridge and plunk down some real dough or melt some credit card plastic in the reg's slide-y credit card thingie on her desk. Come to think of it, the reg didn't usually attend these things, but there she was, 'helping out.' It was actually the reg who discovered that I was spending my precious time inside the cherch on my selfish, capitalistic, off-purpose, admin scale. I told her I had to okay to do this. She gave me a tight little smile and moved off to help someone who might actually buy something.
It was the out of town, three-piece-suit dude who called me out and publicly shamed me for deviating from the on purpose plan.
I caved, and made a new admin scale for my future bridge to total freedom. It went straight into the trash when I got home. But in the good news department, I didn't have a knowledge report written up on me, sending me straight to hell. Oops, I mean Ethics.
Today, when I saw this promo piece in my in-basket, with the predictable old white guy in a suit, I had this physical reaction. This remembrance of the manipulative way these events usually went. They were supposedly created to help you improve your life through a better understanding of LRH's dense and conflicting tech. And that Admin Scale was a whopper of a conflicting and confusing tool, if you asked me. Even though I knew these events were manipulative, I'd somehow thought I could do me. Ha ha. This event's push was to funnel you into an activity where you spent lots of time thinking about your Scientology purpose. Then you were supposed to spend more time writing up how you could get more bridge faster. The end phenomenon to be hoped for by the commission-getting presenter, and the local reg, was that every single attendee would shell out for their next step, or two or three, on their bridge to total disaster. Oh yeah, freedom.
Boy am I glad I'm out. I'm feeling quite smiley now.
Clearly Not Clear