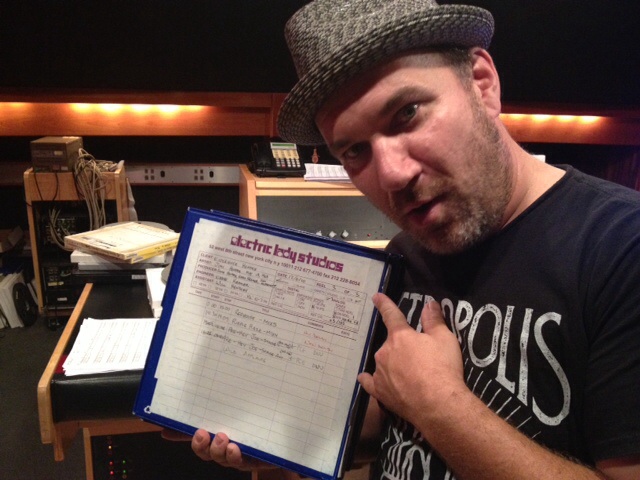 Ok, so my name is Ian Lee. Back on August 15th I wrote an article for Mike's blog.
At the time I was in good standing and wanted to voice my opinions of some things that are happening within Scientology.
You can and should read that article here before you continue.
The specific reason I wrote it was that a friend of mine had posted a voicemail of a mutual friend of ours "disconnecting" from her. The practice which the church of Scientology denies exists.
So I decided to put that assertion to a test. I was in good standing. I'm free to communicate. I'll say some stuff and see what happens.
So I wrote an article "anonymously", meaning I left my name out but wrote details about myself that only people who are in the church would know. My purpose was to sort of set the trap. If the church acted on my post, then all this talk about the fringe people would obviously be proven wrong. The church read every word. They obviously investigate every post written on all blogs and then employ their covert tactics or whispering campaigns and counter espionage and attempt to discredit the people making claims against them blah blah blah. No surprises to most of you here.
So the result of this is that apparently about 3 weeks after I made that post, I was declared a suppressive person by the international justice chief. Not by Chicago where I spent years on staff or San Francisco where I trained in 2009-2011 to ClassV. IJC Almighty. 
Now, in my article I basically dared OSA or IJC to fuck with me. I did this to really drive the point home that in my opinion they actually have absolutely zero power over me or you or anyone else. I was truthfully anticipating a phone call or better yet a visit.
But I guess I'm only a VIP in the real world. Nothing happened. Or so I thought.
I went on tour. Played sold out shows. Painted. Kite surfed. My usual fun life. Made other people happy. Told dirty jokes….
The week of GAT2 release I got a bunch of calls from SF org to come to the event. I saved the voicemails. No big deal. These guys used to be my bros, but hadn't reached out to me in over 2 years. No worries.
Then out of nowhere on December 18th I get a message on Facebook from my old roommate, one of my best friends asking me if I got my SP declare? I thought he was fuckin with me. They were just inviting me to an event a couple of weeks before? He had it right beside him. I asked him to send it to me, which you can see here.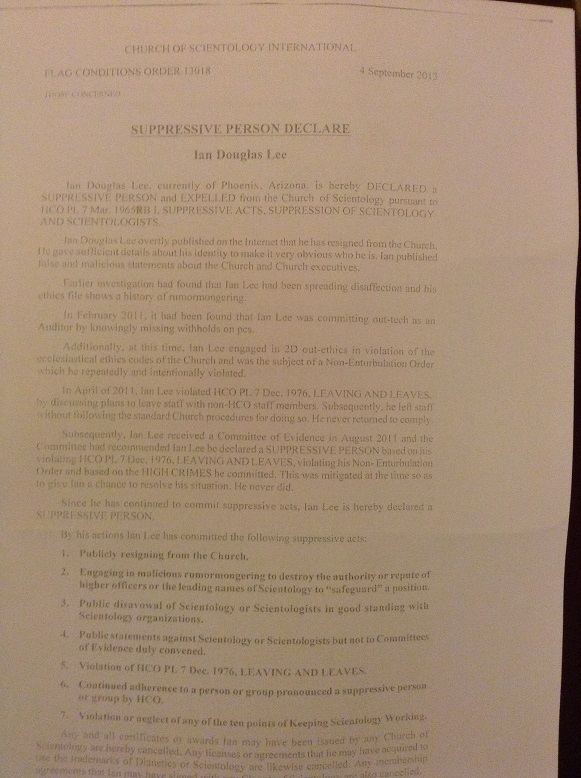 He went on to tell me that he thought I was an idiot for not keeping my mouth shut ( I never had before, why would I start now?)
I asked him if he was going to disconnect from me and we went back and forth.
His main assertion was that he was 100% certain that the tech had been fully restored. He said that the tech was in the best hands. It sounded like he was reading a GAT2 postcard, but I digress.
I came up with the best solution to all of this, but I'm going to save it to the end.
We sort of left it at an " agree to disagree for now " Since I had been anticipating the knock on the door from OSA, I was a bit caught off guard by having my friend come after me. I checked 2 other of my best friends and found they had silently un friended me on the Facebook machine. That was 3 of the 4 people I truly love and consider dear friends disconnecting from me. I was bummed about it for a bit. But then I remembered that I really did set it all in motion. I did open my big mouth and decided to fight for the big justice of this Scientology saga.
I demanded Miscavige resign. So, I repeat. "Step down or meet me in the alley you little pussy"
Full disclosure, I've never hit another human being. But I'm a drummer and I could totally kick his ass. Again, no power.
So, when I realized that I had caused it, I was no longer bummed.
My friends are still people I love and I know with all my heart  that they'll come around. There's no choice. You can't stay connected to a non survival group. They'll figure it out.
So, now I just want to say a couple of things I find funny about my actual SP declare.
Point #1. You'll notice that at no point in either of my articles have I ever resigned from Scientology. So point #1 is a lie. I love Scientology. I just recognize it for what it is. It's a subject. It's words on paper. It's a tool kit if you want to extend it a bit. And, I love the subject. It's helped me. I've helped others using those tools. I won't defend a single other point on that declare except to say that it's all awesome bullshit.
What I will point out as I head to the finish line here is that an SP declare is supposed to be the high point of Scientology justice.
And one of the main points of Scientology justice is to blow charge for the group.
You find out through investigation who the SP is and if it's true, everybody kind of breathes a sigh of relief. So, if you feel relief reading my declare. Sorry.
Here's an article I wrote for my website about a recent experience I had. http://thebestdrummerintheworld.com/what-is-the-best/ Do me a favor and read it and then determine if it was written by an anti-social personality. If you decide I am. Don't come see my band and you'll be safe. 
As for my exchange with my roommate. This is the best.
As I realized that his basic viewpoint was that Scientology was safe because Miscavige was in charge and everything was now fixed, I figured out the best solution. I offered him a plea bargain. Since we all know the mantra of KSW that "if it's standard it'll expand" I told him that if the GAT2 is really the handling for all our woes, then I'll happily admit I was wrong. (I've actually had my service facs run and have no desire to be right on any of it).  He liked that and encouraged me to do A-E. I agreed. On one condition. Since it's all about KSW and expansion, I made the following deal.
Send me the main GDSs of the org 6 months from now and if they're in normal or above on trend, I will do A-E.
Pretty sweet right?
I think anyone reading this can offer the simple challenge to any and all of your friends inside the bubble. Maybe we're all wrong. Maybe Scientology was something different than I thought. Maybe the church is bursting at the seams.
I put the disconnection PR line to the test and that was bullshit.
Obviously they are telling my friends to disconnect from me now that I'm a big bad wolf.
But I'll give it all the benefit of the doubt. Let's see those stats baby.
Since I'm now a known guy, feel free to say hey iandouglaslee@hushmail.com
And I didn't publicly resign, I just opened my mouth.
As always
Ian
NOTE TO BLOG READERS:
We are leaving today for a week of fun in the snow with the Headley family.
I have enlisted the help of a trusted poster to assist with moderating in my absence. Not always good connections on the ski slopes or snowmobile trails!
I will be checking in and there are a number of postings prepared that will be forthcoming over the next week. I won't be totally out of touch, but probably not as many comments from me, though the moderation of your comments may even be faster with someone else on the job :).