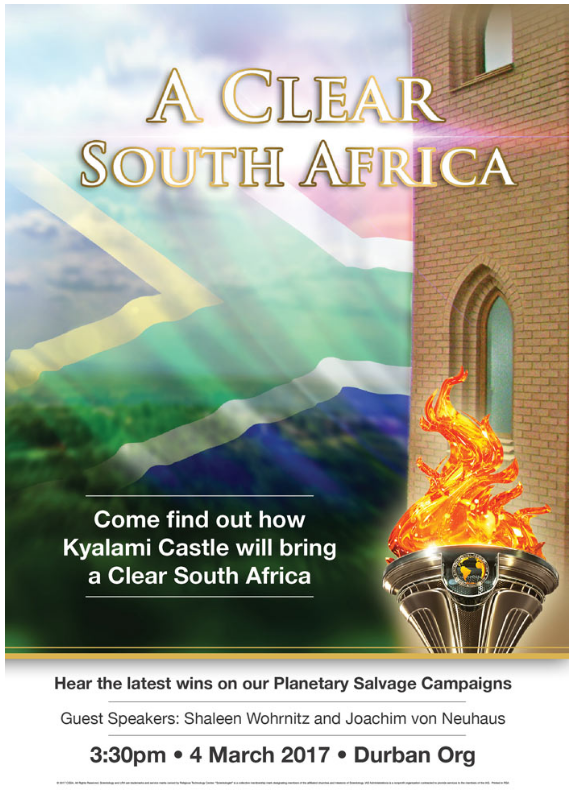 The string of promises concerning "planetary clearing" and ideal orgs is a long one.
But perhaps nowhere illustrates the miserable failure of this "planet clearing strategy" than South Africa.
The "Kyalami Castle" referred to above is the empty building that was purchased in 2008 to be the home of the "new AO Africa." (Similar buildings were purchased in Canada and Mexico to "open" AO Canada and AO Mexico – they too remain abandoned shells).
Eight years later, this building remains unused. Except to hold pep rallies (read fundraisers) every now and then.
That this particular empty will "bring a Clear South Africa" is even more bizarre when you know that it is Class V orgs that do the "clearing." People are supposed to move on to the AO AFTER they are cleared in a Class V Org. An AO exists because clears exist, not to generate clears.
Of course, the problem is that after 12 years, the ideal org in Joburg has accomplished nothing. The letters are falling off its "ideal sign" and it isn't paying its utility bills. This was one of the 3 original "ideal orgs" (along with Buffalo and Tampa).
There is another "ideal" org in S. Africa — Pretoria. A dismal failure that didn't even warrant Miscavige showing up to yank the ribbon (he DID go to Sydney, Melbourne, Auckland, Taiwan and Tokyo). It sits empty and forgotten like others around the word. Nobody ever hears a peep from the "ideal" orgs in Malmö or Buffalo or Pordenone or, or, or…
But let's take a look at the other orgs in Africa and how they are progressing towards "ideal" and "clearing S. Africa."
Cape Town building was purchased in 2005. It has sat empty since then. More than a DECADE.
Harare & Bulawayo buildings were purchased in 2006 and have been occupied by squatters.  These two buildings, as well as the Kyalami Castle were purchased with IAS funds that they could not get out of the country due to exchange control laws.
Joburg Org Test Centre was purchased in 2008 and opened in 2009 – by 2011 it was closed down, re-opened briefly in 2011/2012 and is now abandoned.
Durban building was purchased in 2009 & demolished in 2010. Durban's ideal is an empty lot.
Port Elizabeth was purchased in 2010. Also unoccupied.
Joburg North was finally purchased in 2015. This org was originally the "Jory Mission" (owned by Bronwyn & Neville Jory – Lois Reisdorf's parents).  The Jorys "gifted" their very successful mission to the church. The org has never been as big or strong as it was since it was the Jory Mission in the 70's. A bunch of money raised for Jbg North was spent on cost overruns on Pretoria ideal org renovations.
This is the magnificent expansion in South Africa. And remember, there has not been a single new org to serve the 1.2 billion people of Africa since the Jory mission was handed over in the early 80's, and before that it was the 1960's.  Not one.
At this rate, the AO will NEVER open. It serves no purpose when no Clears are being made in Africa.