David Miscavige, leader of "the world's youngest and fastest growing major religion" is unwilling to appear in public, and afraid of ever doing a media interview (let alone appearing in court). So, he relies on his in-house propaganda organs to hype his accomplishments as a "true leader". The "Dear Leader" moniker has already been claimed, so it seems he is trying out a new one for himself.
Here is one of the promotional items for the latest puff piece in Freedom magazine.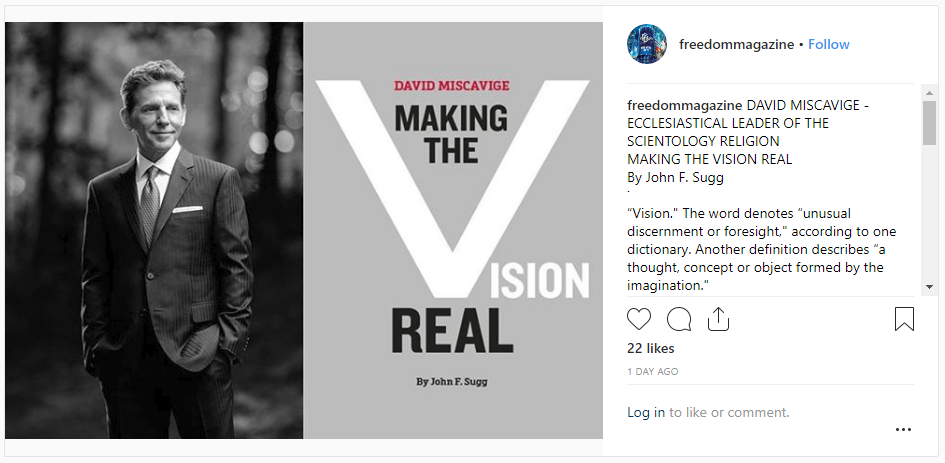 22 likes in a day? That's not impressive. I guess they didn't info the click farms on this one. Probably once this blog post appears they will crank it up.
Why this article now? Season 3 of Aftermath is looming. New books from Nathan Rich, Michelle Sewar and now Jesse Prince are searing indictments of both Miscavige and scientology. He cares far more about the former than the latter, but either way, he has nowhere to go to counteract the barrage of "attacks" other than to his own outlets.
Here is the latest article on the Freedom website. Seems there is a new edict not to show True Leader too close up — it's full length shots only. Perhaps the evidence of Botox or hairplugs is getting hard to hide?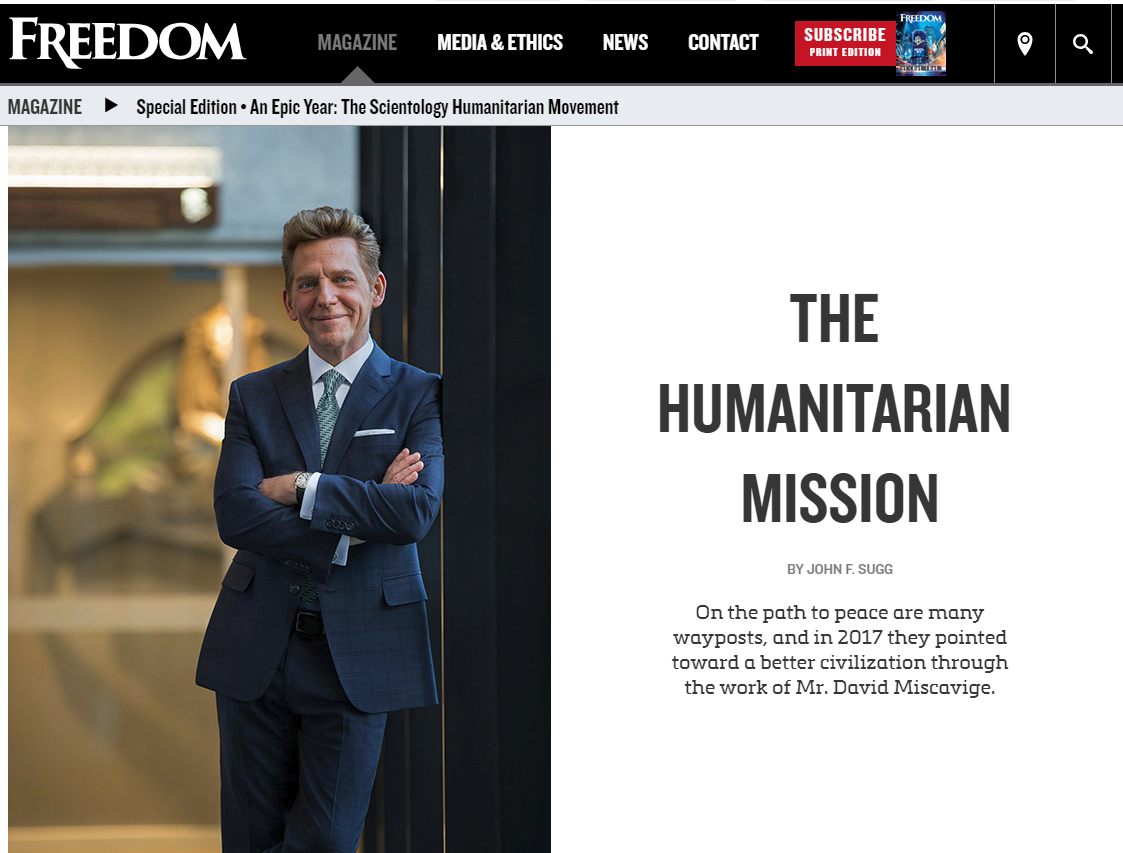 Some excerpts from the article itself:
Leadership. It is a powerful word that summarizes a phenomenon of faith. It encompasses trust, defines responsibility, and is built upon goals, the passion of belief, a dedication to the commonweal and a perception of things to come. It is also what has defined the life of the ecclesiastical leader of Scientology, David Miscavige. He leads people toward a more peaceful, compassionate and ascendant civilization, following a path first trekked by Scientology Founder L. Ron Hubbard. How is leadership displayed? Location and words are not the defining ingredients of leaders, but they can be signposts indicating the intense commitment of people who command allegiance—David Miscavige. In 2017, those signposts were emblazoned with accomplishment, deeds that could only be achieved by a true leader.
Wow, that is a lot of words to say nothing. It's the opening paragraph of a lengthy article short on specifics. Admittedly it is not easy puffing up a puffer fish…
Unsurprisingly, they peg his True Leader status to the "expansion" of scientology.
In broad strokes, Mr. Miscavige's leadership depicted the continuing expansion of the Scientology religion, which this year was marked by the opening of new Churches in eight major cities on four continents, by official religious recognition declarations in three countries, and by the Church's able response to natural disasters around the planet.
Of course, this is the only measure of his True Leadership: yanking the ribbons on more empty buildings in 8 cities that demonstrated no interest in scientology. It is the only thing that is EVER mentioned in scientology.
They are not shy about this. It is THE crowning accomplishment of Miscavige: …the implementation of those "ideal" Churches is a cornerstone of David Miscavige's leadership.
The only detail offered concerning this magnificent achievement is that Mr. Miscavige repeatedly traversed the globe, inspiring Scientologists, embracing humanitarian leaders, bringing the religion's spiritual and secular solutions to communities on every continent.
It then literally offers up his travel itinerary: Auckland, New Zealand; San Fernando Valley, California; Miami, Florida; Copenhagen, Denmark; aboard the Scientology ship Freewinds in the Caribbean; Saint Hill Manor, West Sussex, England; Dublin, Ireland; Birmingham, England; Amsterdam, Netherlands; Johannesburg, South Africa.
Wow, if that's the criteria for being a "True Leader" there are a lot of airline pilots (and flight attendants) far more qualified than Mr. Miscavige to be glorified with that overblown title.
They also describe his voice as "a commanding and inspired clarion call" that spoke "In tones that ranged from understanding to triumphant" — perhaps Dan Sherman had a hand in this article? Though I didn't spot one "moreover" or "not to mention" or "notwithstanding" so perhaps not.
They do make reference to True Leader's phony "humanitarian" medal as proof of the gratitude of the world for his true leadership but that's just unfortunate timing it seems given the uproar in Colombia. How was Freedom to know this fakery would be exposed and not something else. It's hard when everything they write is fakery.
The grandiose fluffery just keeps rolling:
The words Mr. Miscavige uttered, the places he brought his message of goodwill—had real impact for the world. And it is one of the highest degrees of leadership.
Say what? Garbled garbage is proof of degrees of leadership?
And then this:
As emergencies multiplied in 2017, as war, famine, massive population displacement and terrorism burned across the world—modern day's apocalyptic horsemen—Mr. Miscavige unleashed his religion's resources and leadership to salvage Mankind.
Well, if that was "unleashing his [?] religion's resources" then his religion doesn't have much in the way of resources. As there was NO impact in "salvaging mankind" in 2017 or any other year.
And the final words:
Leadership. Vision. Commitment.
David Miscavige.
Isn't he even slightly embarrassed to have such drivel put out in the publication of HIS religion?
Obviously he has completely lost touch with reality, living entirely in the bubble of scientology where sycophants are conditioned to tell him what a great man and True Leader he is. He has bought his own bs. True Leader is emulating Dear Leader in more ways than one. But no matter how critical you are of Mr. Miscavige- there is one measure of the man where he has Dear Leader beat. Hairplugs or not, his trademark bouffant smokes whatever you call that weird mess atop Kim Jong-un.