Another recent story from Tracey McManus, Scientology's David Miscavige discusses 'partnership' with Clearwater recounts a recent meeting between Miscavige, the Mayor Frank Hibbard, the new City Attorney David Margolis and new City Manager Jon Jennings. It was typical Miscavige, all smiles, handshakes and positivity to try to persuade the new guys in town that he is a nice guy. Just wait until he doesn't get what he wants.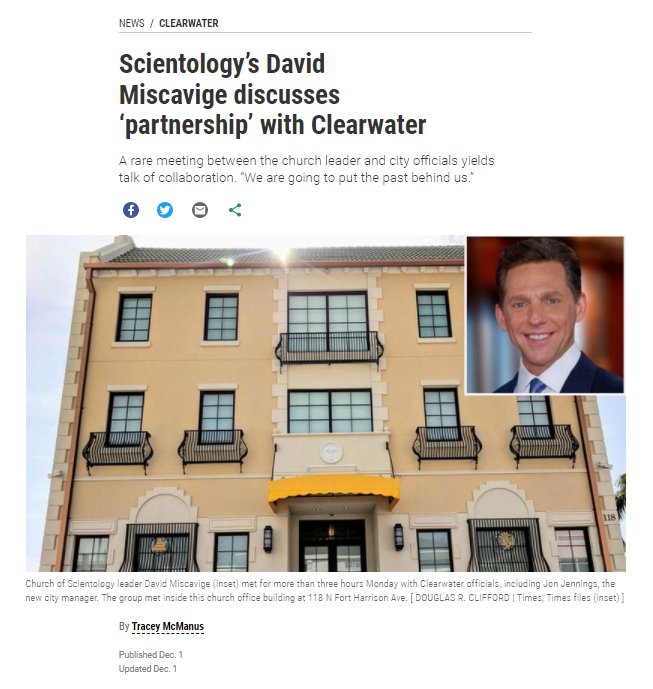 Stefani Hutchinson covered the reporting on her excellent blog: Miscavige's Fresh Start: Not New, Not True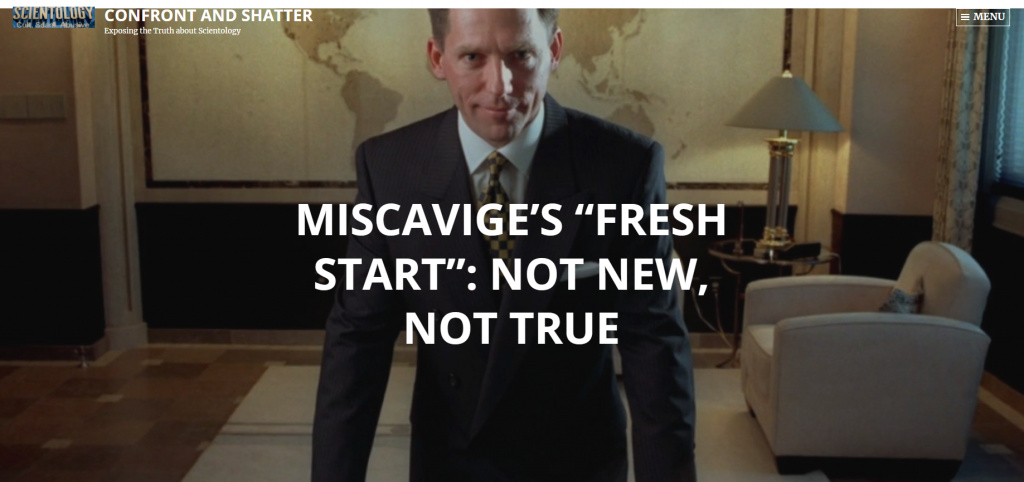 For someone who has never been a scientologist, Stefani has a remarkable grasp of both the policies and mindset of scientology.
But I also want to highlight a comment put on my blog by someone who IS a very experienced former scientologist: Mockingbird. This comment deserves far more notice, so I am including it here. Especially the policy quotes. These should be read by the City Officials, as these dictate what Miscavige will DO. Not what he SAYS. He gave the same pitch back in 2017. As soon as he didn't get what he wanted, he threw a hissy fit and stopped talking to the City. Then he proceeded to take action to "put them into a more amenable frame of mind" (another Hubbard dictate) by buying up huge tracts of property. Now he is back with the schmooze approach. It will last as long as he thinks he is getting what he wants
Here is Mockingbird's quote in full:
Whenever David Miscavige or any representative of Scientology is presenting information if possible the event should be recorded on video and with full audio if possible.
The person should be asked if they accept and support Scientology doctrine and simply asked about a few bits of Scientology doctrine. It can be different doctrine at different times.
Here are a few as examples.
"In the face of danger from Govts or courts there are only two errors one can make: (a) do nothing and (b) defend. The right things to do with any threat are to (1) Find out if we want to play the offered game or not, (2) If not, to derail the offered game with a feint or attack upon the most vulnerable point. which can be disclosed in the enemy ranks, (3) Make enough threat or clamor to cause the enemy to quail, (4) Don't try to get any money out of it, (5) Make every attack by us also sell Scientology and (6) Win. If attacked on some vulnerable point by anyone or anything or any organization, always find or manufacture enough threat against them to cause them to sue for peace. Peace is bought with an exchange of advantage, so make the advantage and then settle. Don't ever defend. Always attack. Don't ever do nothing. Unexpected attacks in the rear of the enemy's front ranks work best"
HCO POLICY LETTER OF 15 AUGUST 1960 DEPT OF GOVT AFFAIRS Ron Hubbard
Here Hubbard specifically said if attacked to find or manufacture evidence and don't ever do nothing. Very specific and leaving no room for discretion or respecting legitimate authorities.
"The goal of the Department is to bring the government and hostile philosophies or societies into a state of complete compliance with the goals of Scientology. This is done by high level ability to control and in its absence by low level ability to overwhelm. Introvert such agencies. Control such agencies. Scientology is the only game on Earth where everybody wins. There is no overt in bringing good order."
HCO POLICY LETTER OF 15 AUGUST 1960 DEPT OF GOVT AFFAIRS Ron Hubbard
Here Hubbard made it clear he wanted philosophies or societies to be in complete compliance with the goals of Scientology. And notably he stated there is no overt in bringing good order. In the context of his other statements in the first entry in this series it is clear anything is allowed to be done to anyone Scientology decrees low tones or suppressive persons, meaning anyone unwilling to comply with Scientology's authority. Anything including lying to or about them or murder.
"You want to know what happens when you clear everybody in that neighborhood, the only thing that [Scientology] center can become used for is a political center. Because by the time you've done all this, you are the government…" — Ron Hubbard. Taped Lecture – 9 January 1962: Future Org Trends.
Hubbard's goals, Scientology's ultimate goals, were totalitarian. He wanted his creation to take over the entire world and replace all governments.
"Once the world is Clear – a nation, a state, a city or a village – the Scientology-organization in the area becomes its government! And once this has taken place the only policy accepted as valid is Scientology policy." — Ron Hubbard. Taped Lecture – 9 January 1962: Future Org Trends.
He here makes it perfectly clear that all laws of any kind, including any on human rights, are subordinate to Scientology policy – his policy, his ideas.