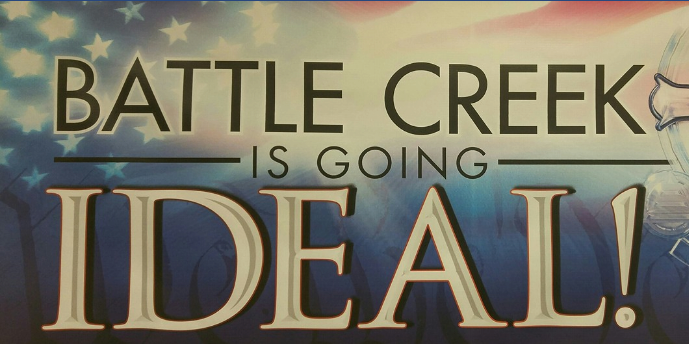 Here is more insanity from the poor sheeple that are still struggling to keep the dream alive. Which is ALL they have.
Remember, this was one of the hugely hyped "ideal org buildings" — a derelict old building that was part of the Kellogg empire. It was purchased MORE THAN 15 YEARS AGO.
And now they have "new and exciting news"? (A clue — that new and exciting news is that you need to hand over more money, a LOT more money…. that is not really "new" and not really "exciting").
The real story of the "massive international expansion" is that it does not exist. Anywhere.
Hello friends,
As you have undoubtedly heard, next weekend we are presenting something NEW and EXCITING to you about the Ideal Org project in Battle Creek.
You may wonder why it is that we want you to attend this particular presentation?
First, this is unlike any presentation we've held before about our Ideal Org.  Of course, we've been promoting it as a "big mystery".  That remains true, for the data you will be hearing is not for public issue yet.  This data is private, and it is for you.  But of course, you have to come to the presentation in order to hear it for yourself.  You must be curious!  And quite honestly, this is some of the most exciting news regarding our Ideal Org project in quite some time!
But the primary reason we want you here in attendance for this is because of the power that can be generated by numbers.  It has been proven time and time again that the more of us who gather– to form postulates together and work together as a third dynamic– the more momentum we can achieve.  And momentum is exactly what is needed and wanted.
We have special guests arriving this week from management, to help unveil the news we have for you.  You may have noticed over the past few years that something seems to be hindering our flows with regards to our Ideal Org.  Think of the presentation next weekend as the solvent that will clear debris that has been blocking our progress toward having an Ideal Org in Battle Creek.
It will be a new adventure.  Imagine how fond your memories will be when you look back at this time in the future, and reminisce on the obstacles that you helped overcome.
Please, join us next Saturday, April 15th.  The presentation will be shown at the Masonic Center at 133 East Michigan Avenue, Battle Creek, Michigan.  We'll open the doors at 5pm.
Respond to this email or give me a call.  Even if you don't think you can make it, we'd still like to hear from you.  (269) 965-5203.
Thank you,
Tim Jones
PES Battle Creek