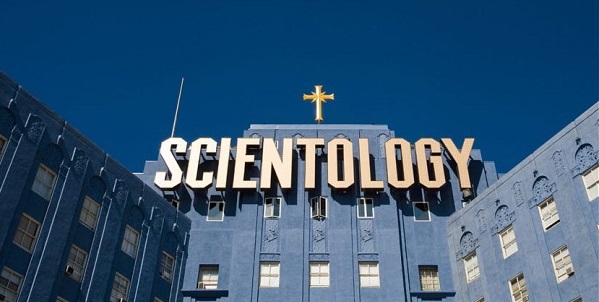 It's SaTerraDay!
More on Past Lives: Real or Imagined?
One of the most vexing questions for me when I was in Scientology was whether past lives were real or imagined. Before I ever went in session for the first time, past lives had been solely a component of fantasy novels. In fact, until I routed onto the OT Levels, I avoided going "beyond this lifetime" whenever I could.
I was always reluctant to declare I'd lived before this life, and for as long as I could, I limited myself to looking at incidents I knew had happened since that birth date on my driver's license. Images earlier than birth were as real as the ones I'd mock up while reading the likes of Robert Heinlein, Isaac Asimov, and Ray Bradbury. And just like those worlds I painted while flipping the pages of those novels, I could manipulate scenes at will while in session. I could just as easily take the point of view of the hero as the one receiving the sharp end of the spear through his chest. I could change and manipulate wardrobes, scenery, characters and viewpoints—pretty much anything—without any one version being more or less real than the others.
"Is there an earlier/similar incident?"
As any Scientologist who's ever gone in session knows, at some point he will be asked to go "earlier, similar" in order to reach the "basic" on the chain of incidents he's running. LRH wrote that one could release the "charge" and experience relief by getting back to the earliest one. I would certainly "get pictures" when asked go earlier, similar. I just didn't know if they had really happened or were a figment of my imagination. Inevitably, my auditor would tell me to "just go with it," or "just tell me what you see." So I did. What was the harm, right? I figured running a few fantasies might actually have been therapeutic.
The problem was, I never developed certainty that these "past life" incidents were real. I didn't know for sure if these mental image pictures had been conjured up inside my head or had really happened—many of them, trillions of years ago.
Science vs Scientology
Since the scientific method was developed hundreds of years ago, mocking up a clinical trial to prove the existence of past lives should have been easy.
Audit 1000 people, concentrating on their most recent past lives. Collect as many details as possible: where they lived last lifetime; addresses; family members; profession; public records; hidden treasure…those sorts of things.
Verify these "recollections" by going out into the field.
Tabulate the results.
Simple, right?
Suppose our experiment showed that 24.8% of our lab rats recalled past life incidents. For instance they were able to recall past life families, where they'd lived, the schools they'd attended, etc. Would this conclusively prove the existence of past lives? The answer is no. It would be easy to assume these subjects must have lived before—that there was no other way they could have known about people, places, and events that happened before they were born.
All we could say with certainty is that the test subjects described scenes and incidents that hadn't happened in their present lives. They might have made things up based on what they'd read and watched on TV. They might have extrapolated based on tales from Aunt Janie. We'd have to go onto step B of our experiment to see if their recollections panned out.
In my thirty-plus years associated with Scientology, I'd never heard of one person who'd confirmed the reality of a past life by investigating what they'd uncovered in session. You'd think this would have been easy for all those who attested to going "clear" last lifetime. Apparently, not.
As many have asked before, why didn't LRH conduct a similar experiment himself? Maybe he was afraid of what actual scientific experimentation would reveal. After all, his half-baked attempt as chronicled in his book, Mission into Time had failed.
And by the way, what about the other 75.2% of test subjects who didn't go "past life?" Did they simply receive inferior auditing or were there other factors at play?
The Body
Cellular memory can't be dismissed as an answer to people's supposed past life images. What if memory is stored in the brain on complex combinations of cells? And what if specific sequences of these cellular memories get genetically passed down from parent to child, much the same way as does height, weight, and hair color?
And what if a particular cellular "memory" gets recorded beside some other memory so that when commingled, the two form a completely "new memory?" Suppose these memory cells get mixed up so that a person is—or becomes—a musical prodigy without having had any formal training? Or thinks they're a woman who's been born into a man's body.
Lobotomies and Blows to the Head
Whether memories are stored in the brain or some other-dimensional mind, the scientific community and I know one thing for sure: trauma to the brain effects not only memory, but cognitive function, as well. Unfortunately for many, traumatic incidents such as these happen every day.
If memories were stored "off-site," I'd think that an upset to the brain wouldn't affect such mental facsimiles. If the brain is simply a switchboard between the mind/spirit and the body, why do memories get lost and scrambled when its cells are disturbed?
In fact, why does something as powerful as a thetan even need a gray-matter switchboard? Why not directly manipulate the body? Wouldn't this be much easier and less labyrinthine? LRH essentially said it was because that's the game all we thetans mocked up quadrillions of years ago. Another answer—unsavory to many—might be: because we thetans aren't really thetans. Still a third: because that's just the way God created things: in his image, gray cells and all.
Strapped to the Dentist's Chair
We can't talk about memory without mentioning implants. According to LRH our ability to remember has been severely stunted by spending time at special "between-life" stations designed to implant harmful commands into our minds. Like, "You're a piece of meat; Jesus was your dad; fedoras are cool; and you can't remember anything prior to turning three."
If this model is correct, wouldn't it be easier to fully restore our memories by going in session and "auditing out" and "erasing" everything that went on in these stations rather than suffering up a long and torturous "Bridge." Why can't past life memories be restored all at once? And once they have been—presumably—why can't we seem to remember any really cool stuff? Stuff that would reverse global warming; increase gas mileage to infinity; and fly us to Alpha Centauri before lunch.
If past lives were real, I would think that out of the billions of people here on Earth, at least a few would have recalled something extra special. On the contrary, Scientologists seemingly remember just the mundane—like how they were born on Jariix III, jilted on Quran IV, and destroyed Zebulon VI in a fit of rage after a bad haircut. Apparently, the really big, life-changing, spectacular stuff is beyond their ken. Does this inconsistency strike anybody else as just a bit odd?
The Either
Proving that memories are stored outside the body has never been proved—scientifically. We only have anecdotal "evidence"—the subjective word of human beings—on what to believe or not to believe as to whether their past life pictures are legitimate.
Just because Tom swears his "past-track" is completely real and he's lived millions of lifetimes, proves nothing. Tom may be right; Tom may be wrong; Tom may be under the influence of a higher force; he may have spent too much time strapped to a dentist's chair at the Implant Station; Tom may be drunk on Kool Aid. All of his friends supporting his claims still doesn't constitute proof that he lived as Jesus's right hand man a couple of thousand years ago. Tom can swear up and down that he and Socrates broke bread and talked philosophy together. It won't make a difference. Tom can insist he feels lighter after every auditing session. These subjective feelings prove nothing except that talking with another individual made him feel better.
Last Words
Just like Tom, LRH couldn't prove the existence of past lives. He told us we'd lived before. He told us where all our memories were stored. In the end, though, he couldn't prove any of it.
Instead of involving others and going the scientific route, he created a religion.
Still not Declared,
Terra Cognita