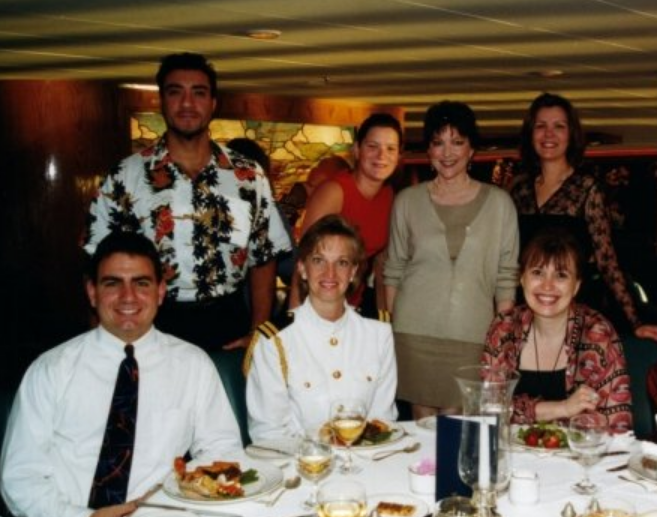 This is a follow up to the recent post about Carol Miles: The Face of the Freewinds: A "Wog".
Valeska sent me this write up with some further information, and it is an opportunity to republish the photo of Carol that was sent in by a reader. Also at the end I have included a comment posted by Jeff Hawkins about how Carol came to be the "Face of the Freewinds".
Valeska wrote:
Carol was sent to the RPF in late 2008 for being suicidal and having "case on post" and for wanting to leave the Sea Org. This was orchestrated by Lurie Belotti, (RTC Rep Ship) and Sue Price, (CO CMO Ship). She came to the ANZO RPF when I was there and was refusing to sign the legal papers giving her consent to start the RPF as she wanted to leave the Sea Org. As the D/Bosun Tech RPF I was assigned to talk to her and convince her to do the RPF to no avail.
On November 19 2008 I graduated the RPF and was put in Snr HCO CLO ANZO doing auditing, ethics interviews and Sec Checking. In around Feb 2009 Carol was still refusing to sign papers to do the RPF and was insisting she wanted to leave the Sea Org. She had been on decks for months as they had to get her to sign the papers before she could actually start the RPF. Again, I was asked to talk to her and "convince" her that she needed to do the RPF. Unbeknownst to the Sea Org members in Australia it was the CO CMO Ship and RTC Rep Ship who were ordering that I had to talk to Carol. At this point, I was completely "disaffected" after being abused by Sue Price and Lurie Belotti after finishing the RPF, (I won't go into details as that is another long story). Anyway, I was secretly sneaking off to the library and reading Marty Rathbun's blog and wanted out myself. I just didn't know how I was going to accomplish my escape.
I went and spoke to Carol in a small auditing room. She was in tears and told me that she wanted to leave the Sea Org and that she REALLY wanted to have kids. she was in her early 40's at this point and told me she didn't have much time left. She said that Sue Price had told her that she was NOT ALLOWED TO EVER LEAVE THE SEA ORG. That she was the face of the Freewinds and unfortunately it would be out PR for her to leave. So, she had no choice but to stay. She was married to the Ship's drummer, John Politakis and told me that she loved him but wanted out so was willing to divorce him as she was so desperate to leave the Sea Org and go back to England where her parents were and find someone to love and have kids with. I did not try and "handle" her to stay as I thought it was all bullshit. I agreed with her and we both talked very badly about Sue Price which later got me in big trouble when she turned me in after she was interrogated by someone else. I was supposed to go back to the RPF in LA as I was "disaffected with management".
In around July 2009 there was some kind of PR flap which I heard about as I was routing out and being "handled" by OSA ANZO. I know that they were running around getting PC folders  packed up and sent out of the country to LA. I believe they were folders that had been requested by government authorities.  There was also a leak of some sort on RPFers being on the RPF against their will. This included Carol Miles and a young guy named Mat Fay, (son of Mick Fay who was James Packer's auditor). Carol Miles and Mat were shipped out of Australia and as far as I know sent to do the RPF in LA because they were being held against their will on the RPF in Australia and the media was getting to close to exposing this. So Carol was human trafficked to (I am pretty sure) the RPF in LA where she could be better controlled.
This was in 2009. As far as I know she is still in the Sea Org. I do not know where but it would be in a place where it is hard to escape from. Maybe back on the Freewinds. If she got out I do not know about it and I doubt that she did as there is no media footprint of her anywhere. I have sent a message to my friend who is under the radar and who was in the Sea Org longer than me to see if I can find out anything else.
Nick Cifarelli actually blew while on the RPF and started reading social media and the truth about Scientology. He was recovered and had to have an ethics interview which was to remain top secret about everything that he had read.  The interview had to be done by someone who had been at Int. I was then assigned to regrettably give him TRD (The Truth Rundown) auditing to "handle" his "black PR."   All the sessions were sent to the Snr C/S ANZO as well as the RTC Rep ANZO. He ended up finishing the RPF the first time with Shimona who was a minor and RPFed at the age of 15. He then had to do it a second time which he did do. He graduated I think in around 2010 and was posted on a low post where he could NEVER hold any kind of senior position as ordered by David Miscavige. I think he may be out of the Sea Org now and in Australia.
Karl (Whitcher) and Kip (Engen) both graduated the RPF after only doing it once because the RPF was such a "PR flap" with all the media Bryan Seymour was doing with Kevin Mackey stirring up trouble etc… I know when we were on the RPF we couldn't wear black because of the "horrible SP's" who were exposing the RPF.  Kip and Karl graduated in around 2010 as far as I know. Karl was posted on a lowly post in ANZO and Kip was sent back to LA but never to hold any executive post.
Rikki was in ANZO when I was there and she ran the RPF on decks. She had been there for years and was in charge of maintenance at Dundas (the CLO ANZO facility). She also was never allowed in a Senior position and in fact when COB was coming to Australia to open some Ideal Org Rikki had to be hidden as apparently COB was NOT to see her as she would be too "enturbulative" for him. See married Chris Beany who was the son of a well off public. Chris Beany was also sent off to ANZO to never be heard from again by COB for some Ideal Org project mess up. Chris Beany was diagnosed cancer when I was there and was VERY lucky to survive as it had spread into his lymph nodes but they caught it just in time.
Hope this helps.
The more information that is available, the better. I hope this helps too. It may not see any immediate result, but perhaps someone will read this and have further information to add.
Now, as promised, here is Jeff Hawkins comment on how Carol Miles came to be a public figure:
A bit of backstory on Carol Miles. In the 1990's I was in Marketing and we were tasked with scripting and producing a promotional video for the Freewinds. We wrote the script and then got to the stage of casting – who would be the spokesperson for the Freewinds? The most obvious choice was the Commanding Officer. For the life of me I can't remember his name now – a somewhat overweight, shlubby guy – ex GO as I remember. He was filmed doing the script and was truly awful. So we cast a wider net. Someone suggested Carol. At the time she was a singer at the onboard cabaret. She was filmed doing the script and was great. Good presence, very confident, and very attractive. She was approved. But we had to give her some sort of title as we couldn't just put "Carol Miles, Freewinds Cabaret Singer." So we brainstormed a bit and came up with "Executive Officer." It was meaningless, she was not in charge of anything, but it sounded good. And so it went – She was put in an officer's uniform, the video was filmed and approved, and Carol became the face of the Freewinds.