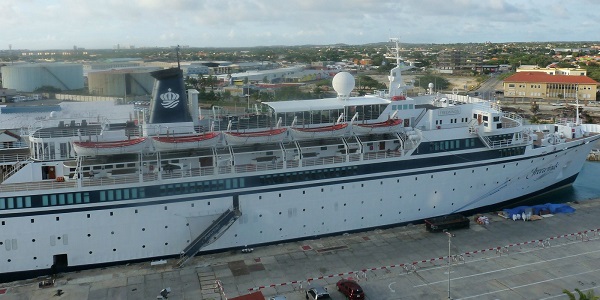 For many years in the early 2000's, the "face" of the Freewinds was Carol Miles, the "Executive Officer"/"Public Officer."
She was the face and voice (with a wonderfully genteel english accent) of Freewinds promotional videos. She narrated tours of the ship and appeared at the end of each Freewinds video  with a pitch for people to come and partake in the Freewinds experience.
There has been some earlier commentary on the internet that mentioned Carol. She disappeared from public view around 2007 (like me), and as with Heber, Ray Mithoff, Guillaume Lesevre and so many others, nobody dared to ask where she was and eventually she was forgotten.  Mention of her has been erased. Videos she appeared in have been destroyed. She, like the others, became a "non-entity."
In fact, she was being "handled" under the brilliant guidance of CO CMO Ship (Sue Price) with her special style of "executive C/Sing".  Carol's "handlings" didn't go well.   She made threats and became a security risk.  And what happens when someone becomes too much of a PR threat?  They get shipped off to an outer area and ultimately to the scientology prison colony that is the RPF in CLO ANZO, in Sydney Australia.
Quite a number of "problem" staff have been routed to the ANZO RPF.  It is thought to be so remote that anyone sent there has effectively been "disappeared".  This includes the 3 Gold staff who were banished to the ANZO RPF after they pissed off Dear Leader.  Those 3 (Karl Whitcher, Kip Engen and Nicolai Ciferrelli) were assigned to do the RPF twice through.  They ended up being on the RPF for years and years. They may still be there for all I know. So too Chris Guider who refused an order from Miscavige to physically assault someone when he was the "IG MAA." (Chris long since left the Sea Org with his wife Valeska Paris Guider who was also sent to the ANZO RPF). Another was Rikke Jenssen/Galbiatti/(now something else) who was one of the RTC Reps who oversaw the "handling" of Lisa McPherson.
But I was reminded of all of this when I came across this message from the then CO CMO Ship, Sue Price. Valeska Guider had given this to me many years ago and I had forgotten it even existed.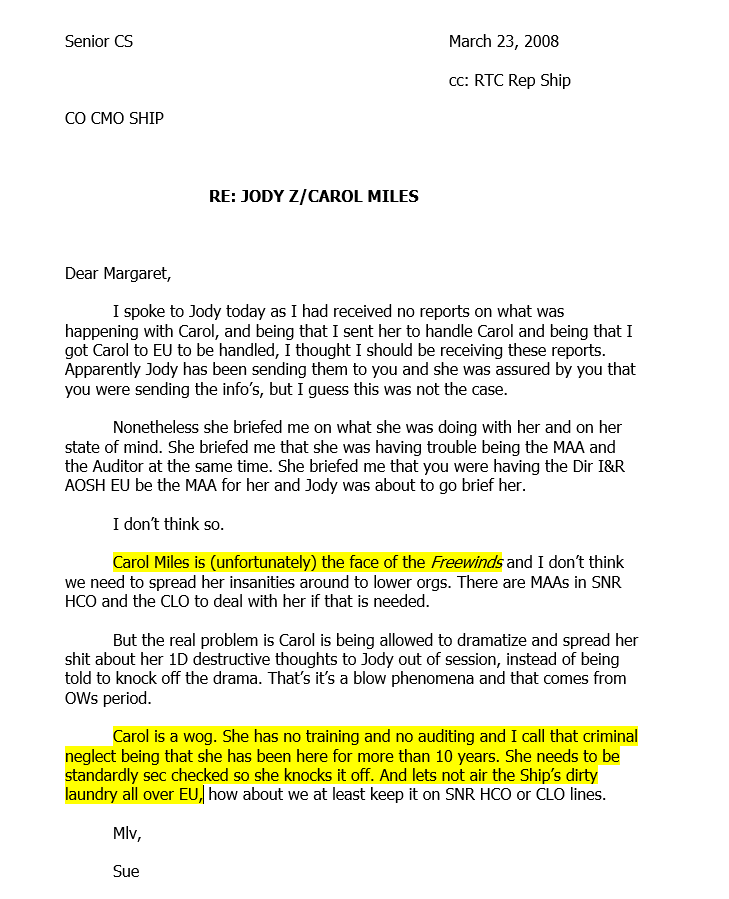 Sue Price calls the "face of the Freewinds" a wog. The most derogatory term she can think of apparently.
And she admits that in 10 years aboard the Freewinds as an "executive" she got "no auditing and training."
She apparently became suicidal ("1D destructive thoughts" is a scientology euphemism for threatening suicide") and Sue Price's handling is to tell her to "knock off the drama" and that this is caused by "O/W's". Period.
Such compassion and care. But this is such a typically Sea Org attitude and view.
Of course, her concern is the bad PR, so information about her must be kept under wraps.
ADDITION:
A very rare photo of Carol provided by one of our readers: