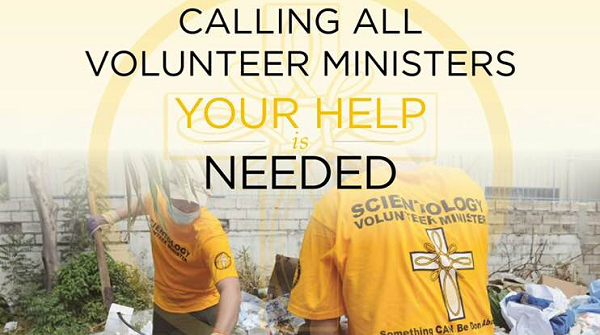 This is an update on the VM's activities in the Bahamas since I posted this:  Scientology Volunteer Ministers scam exposed once again
First up, the urgent call to get a photographer to accompany the "1,000 VM's we are activating for immediate deployment" to the Bahamas (yes, that IS what they said was happening). What could be more important to get to the disaster site than a photographer?
Seriously? They put this on social media and don't even care.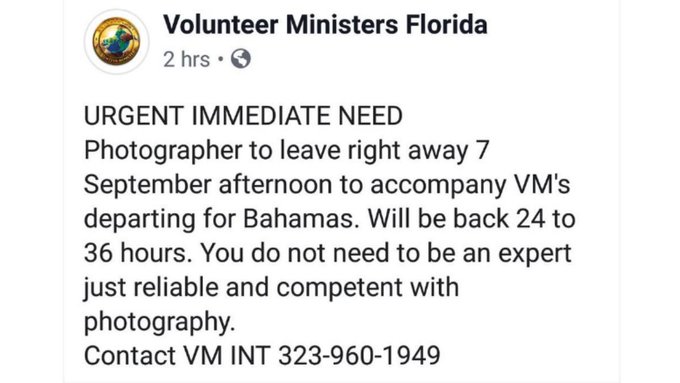 Now, here is the latest update sent out by the VM's on Tuesday night.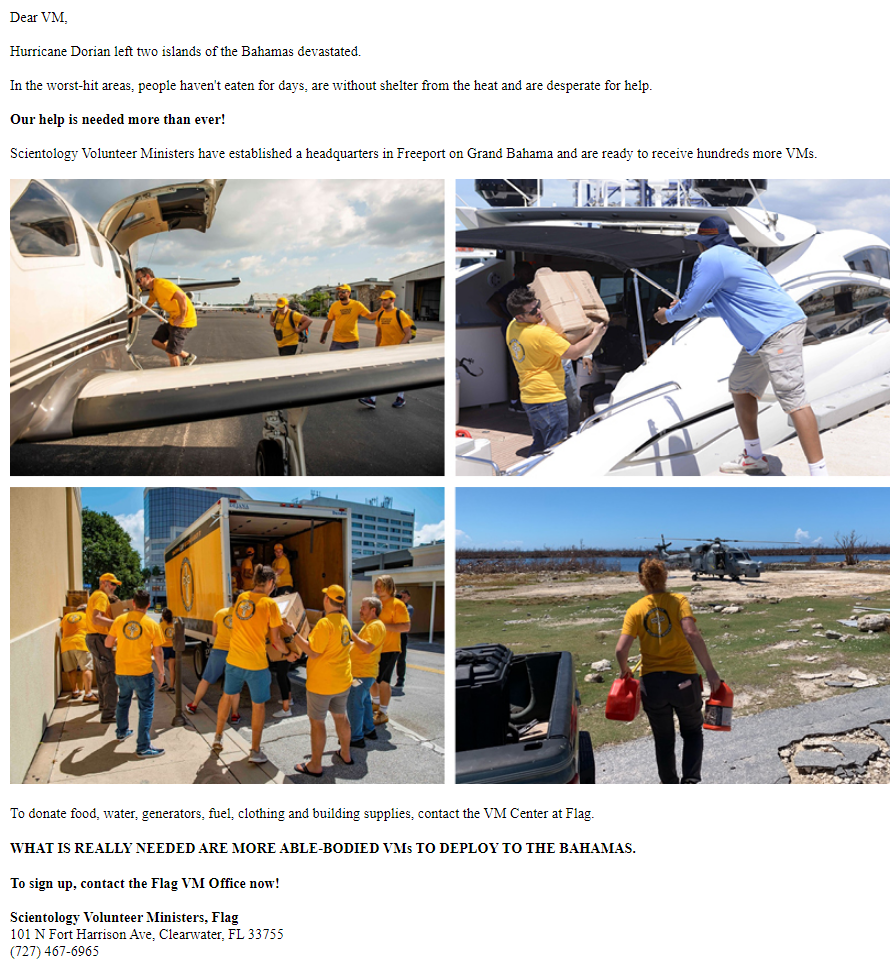 I guess they didn't find a photographer after all. They got 2 photos in Clearwater of VM's in their brand new pristine yellow T-shirts, loading stuff into a truck and 4 VM's boarding a plane.
Then in the Bahamas, they got one guy handing a box to someone, and one lady carrying a gas can towards a helicopter.
A thousand VM's??
Perhaps I missed something, so I went to the Volunteerministers.org website and clicked on "News" — here is a screencap of that page.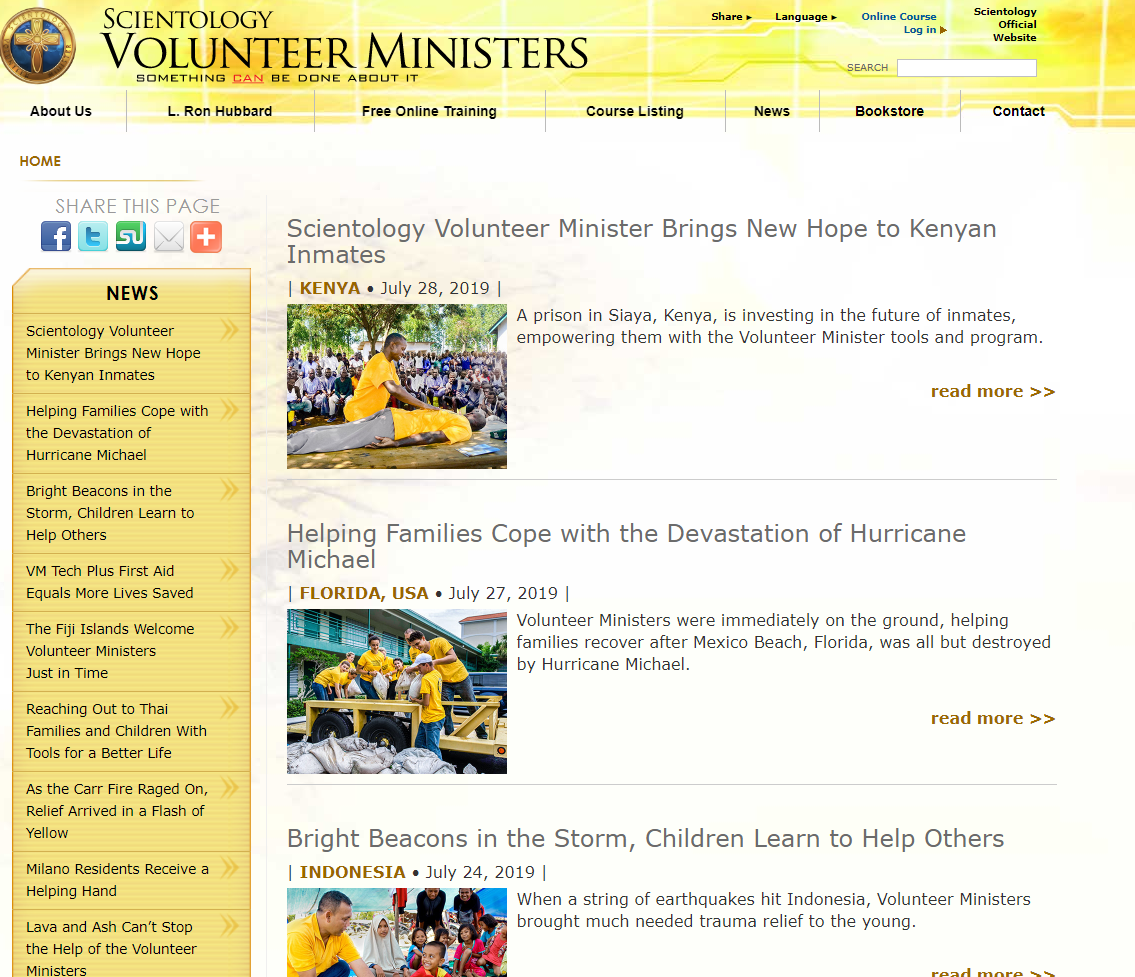 Surely if they had an army of VM's in the Bahamas, they would be saying so on their website? Not even a MENTION…
So, I went to the Facebook page of the VM's.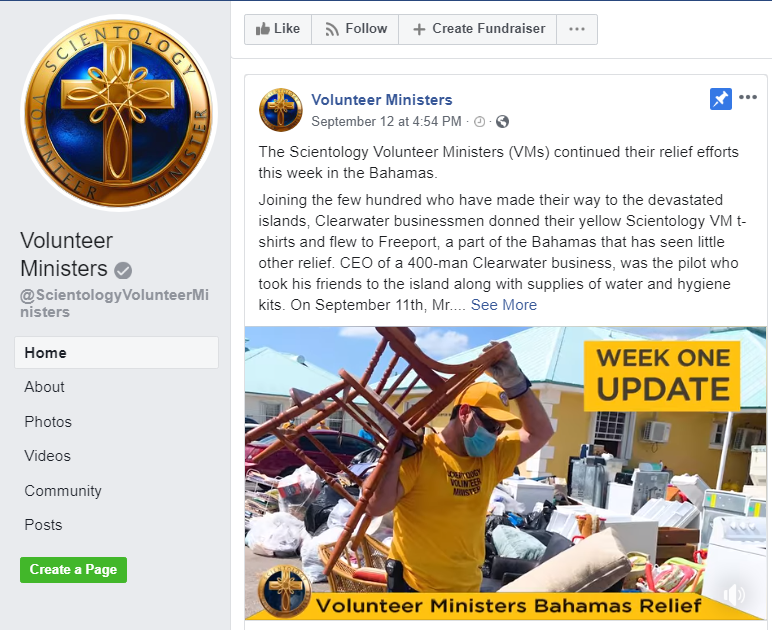 Their forces have "joined the few hundred" non-VM's on Grand Bahama. No mention of how many they are but the pictures show just a few of the same people over and over.
BTW, this video has 156,000 views, but only 150 comments — and scanning through them the majority are from South America? That's a little odd…
Below this is the latest post on their Facebook page: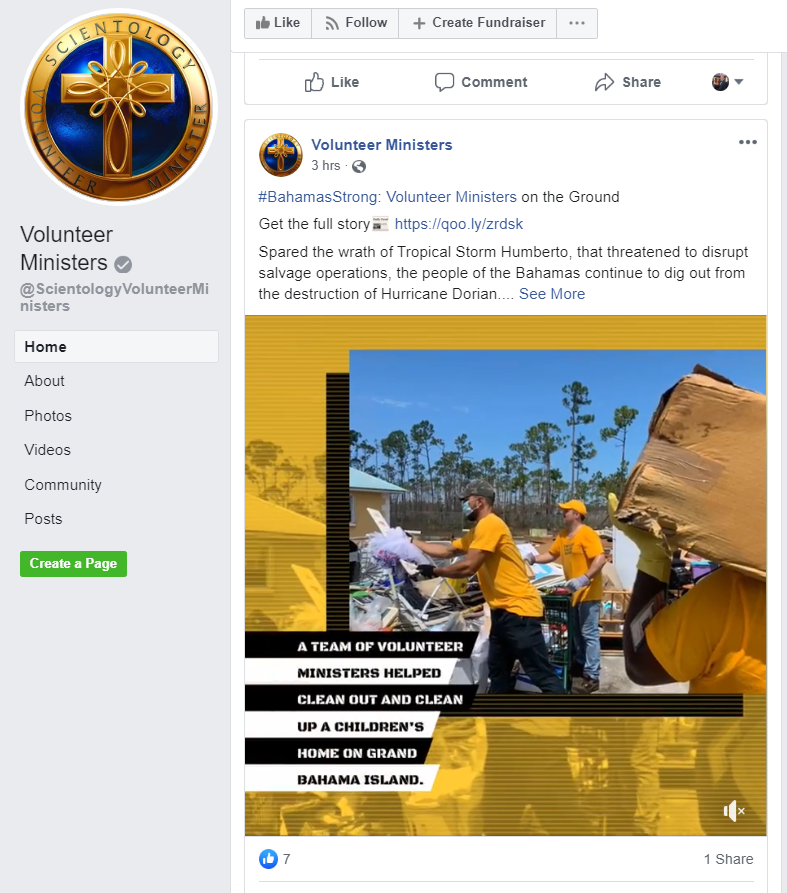 Their entire report seems to be about cleaning out a children's home.
Look, I thank the people who ARE there for the work they are doing. It is necessary. It is back-breaking. These are good people giving up their time and making sacrifices to help others. Some of them are purely altruistic. Some are probably trying to get themselves out of an ethics condition or it becomes an excuse as to why they don't have to give more money. Even that doesn't matter, they are there and they are doing some good.
They point here is to expose the incessant scientology lies.
They constantly claim they have an ARMY of VM's ready to mobilize at the drop of a hat. In fact, they have claimed they are the "largest private relief force on earth." I didn't go back to find that quote, I just pulled up the description of Volunteer Ministers on the scientology.org official website, and now they have toned it down just a bit to "one of the largest and most visible independent international relief forces"…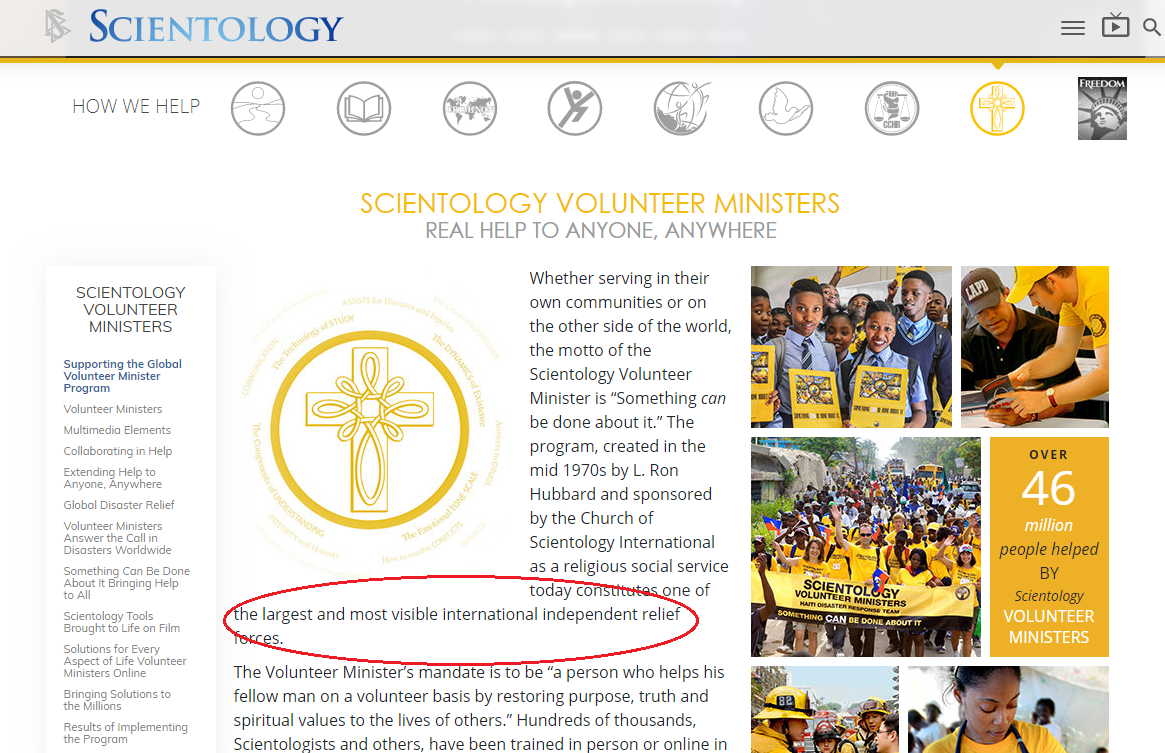 The Volunteer Ministers don't lack money. They are also over-funded. The IAS has billions of dollars they CLAIM is used for this sort of thing (it is not).
This was a massive, devastating natural disaster within 100 miles of Florida. This is the sort of thing scientology claims they are expert at. Florida has the largest population of scientologists on earth outside California. They claim to have 12,000 just in the bay area. Two other ideal orgs — in Miami and Orlando. It was their chance to show to the world that they are in fact what they claim to be.
Believe me, they do NOT miss out on opportunities to video and photograph ANYTHING they do. This is a mantra of scientology. You must ALWAYS get the images to use for PR. It is why I put that as the first thing in this post.
For scientology, everything aligned here:
A massive, catastrophic natural disaster,
right alongside the second largest concentration of scientologists on earth,
with the biggest and most effective "OT Committee" on earth,
and even an entire building in the Potemkin village in Clearwater devoted to the Volunteer Ministers,
with unlimited funds — hell between Florida residents Cardone, Bridgeforth, Clouden, Sjouerman and Cummins they have probably handed over $50 million to the IAS.
It was the true test of just how big and how effective the VM's are.
The pictures tell the story. No shot has more than 5 VM's visible — except the ones in Clearwater.
This is yet more proof that the claims made by scientology of their massive size and continued growth are, every one of them, hollow lies.