Tony Ortega published an article by Rod Keller Saturday about the Volunteer Ministers response to Hurricane Dorian: Hurricane Dorian's destruction provides scientology another chance at make-believe. 
It includes a photo op of 7 "VM's" pushing around a half full shopping cart at Walmart…
This is the "largest private relief force on earth" and they dress up in yellow jackets, grab a few kids and shop for supplies at Walmart.
They have the deluded chutzpah to announce "we are activating 1,000 Volunteers for immediate deployment…"
Not in a million years.
Despite the fact that Florida is "ideal" — with 3 Class V "ideal orgs" and Flag, as well as an "ideal" mission in Ocala and Belleair — they couldn't round up 1,000 people to volunteer for anything, Hell, they still struggle to get 2,000 just to attend the March 13 event and that includes 1000 staff.
Turns out, the "immediate deployment" was 30 VM's who were going to leave on 4 September. No telling if any of them actually did leave.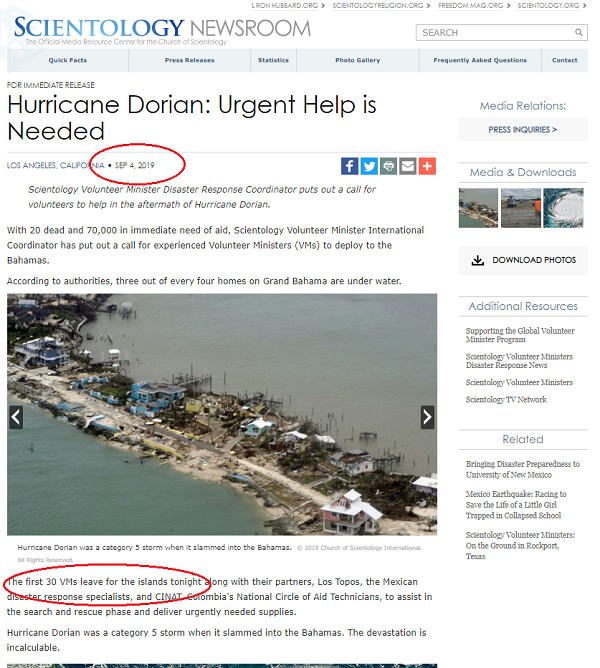 There is no update since then — they followed up their press release about how they were going to do something about Dorian with a press release about VM's hosting a Cavalcade in Canada and Valley Org holding an open mic night…
No further mention of the VM's and Dorian.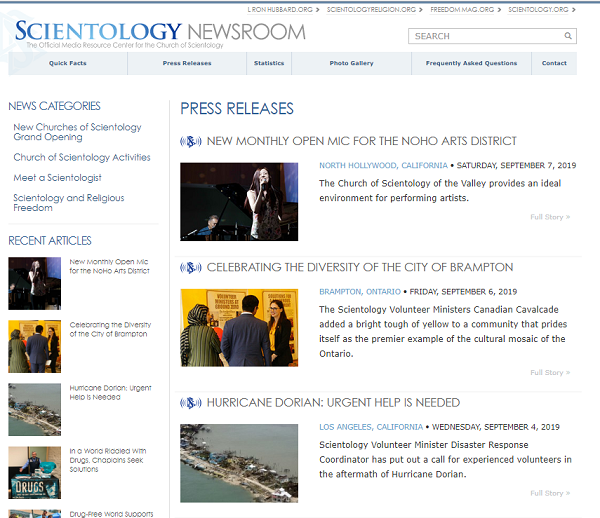 And this is the VM's FB page — nothing since their announcement of "Urgent Help is Needed"…
Obviously, in the world of scientology this is NOT an urgent situation, worthy of any updates or efforts beyond rehashing news stories about how terrible the destruction was and then falsely claiming they are sending 1,000 people to help out.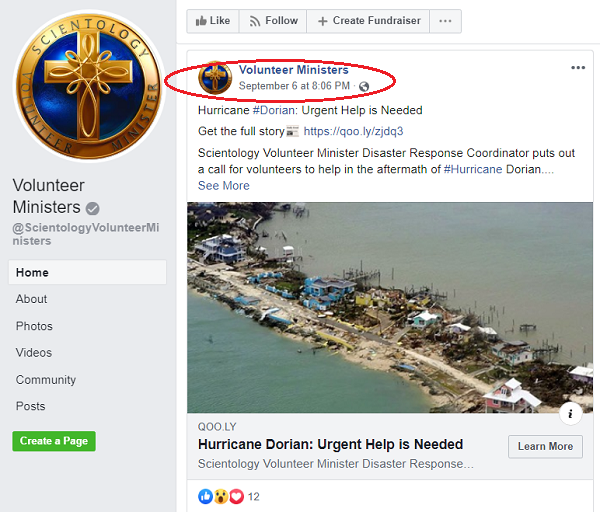 The Volunteer Ministers program, like so much else in scientology, has as its primary reason for existence:
a. Generating good PR for scientology
b. Generating income for the IAS
NOTHING in scientology survives if it does not benefit scientology. And when anything appears to be a public benefit, a quick look behind the smokescreen of photo ops, press releases and self-congratulatory hype will always reveal the true nature of the beast.