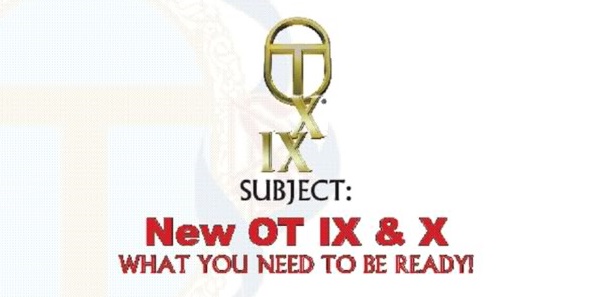 This email, perhaps more clearly than anything I have seen demonstrates the insanity that pervades scientology's endless carrot dangling for "eternal spiritual freedom."
When you have finally spent enough time and money to make your way through OT VIII "the first real OT level" — you are now instructed that in order to continue to long-promised OT IX and X (which do not exist) you will have to start at the VERY bottom and repeat all that over again in order to be eligible to take the next step.
The illogic of this is astonishing. The only reason to do the Student Hat, Purif and Objectives when you come INTO scientology is to "prepare you" for getting "real auditing" on the Bridge. They are "undercuts" to being able to run Grades Processes and Dianetics. You will be too enmeshed in misunderstood words, drug induced stupors and "out of present time" to really benefit from auditing.
But when you finally get to the top, you apparently haven't proven that you are not hindered from making case gain. Even if you spent 10 years auditing on Solo NOTs. NOW you have to ensure you have your Objectives redone (because the first time or two or three you did them didnt count as they were not "Golden Age of Tech II").
They have truly begun to dangle plastic carrots. They have run out of real ones, and the plastic ones are cheaper and last longer. They believe if they keep telling the donkeys what wonderful carrots they are with flowery language and exclamation points they will keep pulling the cart. Eventually, even donkeys realize the plastic carrots are a scam.
Look, here is a thought for all your OT VIII's that actually makes MORE sense.
If you can become PTS and lose all your gains by remaining connected to an SP — and this IS what the tech says — then it stands to reason that an SP is more powerful than you. Thus you can save decades and hundreds of thousands of dollars and become more powerful than the most powerful OT: simply get yourself declared. You will be able to completely dominate and control even OT VIII's. For free! Instantly. Think about it.
Dear New OT VIII,
You have made it all the way through New OT VIII with your technical skill and your persistence. Well Done!
You are one of a very elite group of beings who qualifies to do OT IX and X when they are released. To be ready for these levels you must have completed your Purif (if you were CSed for it), the SRD, the new Student Hat course and the Advanced Solo Auditors course.
Let me ask you a few questions:
Would you like to greatly increase your havingness?
Do you ever feel you should be able to operate more stably as an OT?
Do you desire to be a more competent OT, more in control of your environment and more able to quickly complete cycles of action with no procrastination?
The SRD gives you all these gains. It is one of the most powerful levels on the Grade Chart. And doing it as an OT VII completion is truly very special.
LRH wrote,
"Without objectives, no being is likely to recover in his infinity of future".
Well, the objectives give you so much positive case gain that not only do they change your level of competence but they greatly enhance the gains you get from any further auditing.
I want you to come to the Freewinds to do your SRD.
We deliver the SRD only to OT VIIs and OT VIIIs. The course is delivered in an environment that is completely removed from the day to day distractions that you are living with.
If you add up the amount of time you spend driving back and forth to the org (all lost production time), the cost of the gas and parking, the cost of the food you eat, you can see that stretching the SRD out over a long period can be expensive. Here on the Freewinds your accommodations cover your room and food. There is no commuting, no parking, no lost time. Everything you need for high velocity progress through your SRD is right here.
The point is that you need to get ready for your OT IX and X right now! OT IX is "Orders of Magnitude" and OT X is "Character". These are the OT levels you have been waiting for ever since you completed New OT VIII. We are pushing hard to get everything in place so these levels can be released. Now we need YOU as a New OT VIII to be ready for these levels so they can be released.
In Ron's Journal 35 Ron wrote:
"In this time and in this place — for possibly just a little while, we have this chance. To go free and to make it. Planets and cultures are frail things. They do not endure.
I cannot promise you that you will make it. I can only provide the knowledge and give you your chance.
The rest is up to you.
I strongly advise you to work hard at it — don't waste this brief breath in eternity.
It will be good for you or bad.
And for you, my dearest friend, I've done what I could to make it good for you."
Come to the Ship. Do your SRD intensively. Get ready for OT IX and X. Ron created these levels for you and is it up to you to avail yourself of it.
I look forward to hearing back from you.
ML, Russ McKevitt, D of T FSSO