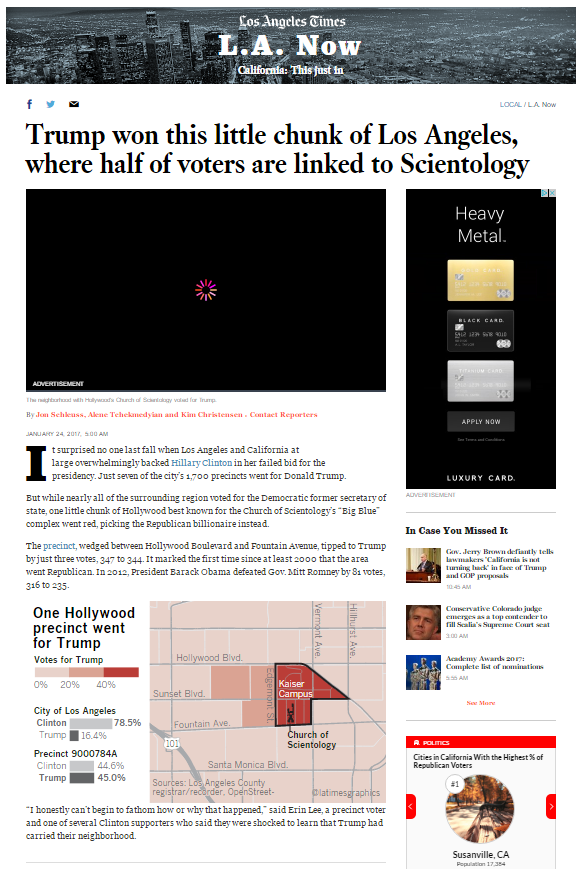 You may have seen this Los Angeles Times article mentioned on Tony Ortega's blog yesterday.
A lone outlier precinct in Hollywood voted for Trump — the precinct that has half its registered voters living in "Big Blue."
So what is the lie?
"The Church does not engage in election activities and cannot do so," Scientology spokeswoman Karin Pouw said in an emailed statement. "Such decisions are not a matter of faith. The Creed of the Church makes clear that Scientology is open to all. This would include anyone regardless of their race, color, creed or political affiliation."
Well, let's start there.
As everyone who has ever been in the Sea Org knows, they cannot access normal media. So they do not have a CLUE about the issues or who to vote for. So, they are given a briefing "about the issues" and it goes something like this:
"Hillary Clinton sees a psychiatrist and has supported 30 pro-psych bills. Her husband is a notorious philanderer. She supports abortion and gay rights."
"Donald Trump is a self-made man who is drug free and has raised a drug free family. He believes in protecting the First Amendment and the Constitution. He is against social welfare. Oh, and he called a psych "sad" on Twitter."
The Sea Org members are then allowed to "make up their own mind."
This is NOT an exaggeration.
Technically, it is not telling someone how to vote. But it is in fact doing just that.
Which is why the next statement is an even bigger lie:
Pouw said that nothing in The Times' analysis of results "suggests a significant difference to the general leanings of the American people," noting that Trump won by just a few votes, with neither candidate landing a majority. She also said the Times' findings "inaccurately suggest a unique trend about a single religion."
"Scientologists live and work in many other precincts in Los Angeles," Pouw said. "The Church remained neutral in the presidential election as we always do. We support this country's electoral process and America's representative form of government, and respect the right of parishioners, our staff and clergy to vote for the candidate of their choice."
Well, it was a SIGNIFICANT shift in the leanings of people in Hollywood. Like REALLY significant. In fact it is virtually impossible for this precinct outcome without almost every single person who listed their address as L. Ron Hubbard Way voting for Trump. As always, the obfuscation is clear. Ms. Pouw KNOWS that all those people voted for Trump because that is how they were steered. But she doesn't want to say that because it will look bad to the IRS.
Not even owning up to their convictions — her statement could have been "Of course Scientologists prefer any candidate over a pro-psych person like Ms. Clinton has proven herself to be" — or whatever the pitch was they used to "brief" the staff.
And of course, they make things worse by harassing the reporters sent to speak to people on the street. How typical.
But the one scientologist they did manage to get to agree to speak told the truth. In Pouw's mind that person is a traitor and next time they need to do better keeping the damned merchants of chaos away from from their people. The guy who said "we don't speak to the press" is getting a commendation today.
Scientology is SO defensive and scared of its own shadow it lies even when it doesn't need to. If they simply had the conviction of their beliefs they would be seen as a bit strange perhaps but would not be constantly exposed as liars.  They're anti-gay but won't admit it.  They practice disconnection but won't admit it.  They don't believe in being a Christian and a scientologist but won't admit it.  Etc etc etc for some reason they think this is "good PR."
And just a note for any elected officials out there. Scientology will not tell you they don't influence voters, instead they will tell you they have a captive audience. That you can appear at a "voter forum" or "candidate briefing" or whatever and give your pitch. For those they favor they will tell you what to say to convince the scientologists to vote for you. Tip #1 "psychiatry is evil" is always a crowd pleaser, as is "all drugs are bad and marijuana should not be legalized" and a total vote grabber "L. Ron Hubbard was a great humanitarian". It's a game of political grab-ass. Every now and then you see some politicians falling for it like insects to a Venus Flytrap. Pam Bondi, looking at you.
But you would do well to remember, that if you say the wrong thing, associate with the wrong people, support the wrong bill, are seen with SP's, don't rave about a Tom Cruise movie, say Mission Earth was garbage  – or any of a myriad of offenses – that "support" will turn instantly into enmity. And you will become their target. And believe me when I tell you, scientology reserves its most hateful and vicious attacks for those it considers once supported them and then became traitors.