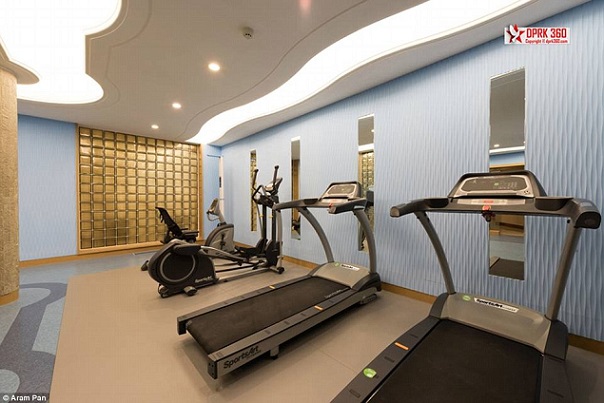 An eagle eyed Special correspondent sent me this Daily Mail story which could be about scientology. I have excerpted some of it below, there are more photos at the Daily Mail site.
Apparently the North Koreans are envious of the scientology "ideal buildings" strategy for placating the sheeple with photos of empty facilities, all set up for action, but with nobody to use them.
The motto seems to be "Build it and they won't come — but they will be certain other people are and that proves how well things are going inside our bubble."
Empty corridors, restaurants with fake grass and no SNOW: Inside North Korea's only ski resort which Kim Jong-un says is 'impeccable'
The communist enclave's one and only ski destination, on top of Taehwa Peak, boasts a hotel with wood cabin style rooms, complimentary toiletries, and spa facilities and 110 kilometres (70 miles) of multi-level slopes.
However, photographer Aram Pan, from Singapore, who took the photos while on his fourth trip to North Korea from 16-20 October, did not find any other tourists to mingle with.
'I saw one western tourist on a "private tour" at the Ski resort. I'm not sure who he was. I didn't ask,' Mr Pan told Daily Mail Australia.
The Masikryong ski resort was built on top of Taehwa Peak, near the port city and naval base Wonsan, in just 10 months
Photographer Aram Pan was given access to photograph the wood cabin style bedrooms, including this one in the 'Second Class Accommodation'
The Dome Cafe at Masikryong Ski Resort has a fake green grass floor and wicker chairs for skiers to enjoy refreshments in
The sprawling 1,400-hectare resort was built in just ten months as part of a push by leader Kim Jong-un to increase overseas tourist numbers from 200,000 to 1 million per annum by 2016.
Although tourists and official regime photographers have taken some photos of the resort before, Mr Pan was given exclusive access to all parts of the destination – apart from two prized new areas that are still under construction…
'I was permitted to photograph a comprehensive collection of images of the entire facility. The only stuff I wasn't permitted to photograph was the new helicopter landing pad currently being built and the latest extension to their ski lift system that is also under construction,' he explained.
Mr Pan stayed in the onsite hotel in a 'third-class room' and tried out the facilities, including a gym, sauna, hairdressers, and restaurant and had the whole place to himself.